Tanessa Noll was simply doing a favor for a friend when she made an appointment for a mammogram back in 2014. "My friend was making weekly social media posts about breast health, using hash tags like #mammogrammonday to remind people the importance of getting tested," shares Noll.
As a young mom with no family history of breast cancer, she was unconcerned but wanted her friend to know that she was listening. "I just thought that I would call her when it came back normal and tell her that I was paying attention to her posts," Noll adds. She was shocked when her mammogram indicated that there was a cancerous lesion in her breast. When further tests proved that there was lymph node involvement, Noll opted to have a bilateral mastectomy and went through chemotherapy at the Providence Regional Cancer Center in Lacey.
Today, Noll is cancer free and grateful for the excellent care she received at Providence. "I went to Seattle for a second opinion and was told that I would receive the best care and latest treatment right here in Thurston County," she says. Noll was impressed with not only the care she received from the physicians and nurses through Providence Regional Cancer System, but also the emotional support.
Noll's family had been through a rough year, losing three close family members. "My family was already grieving, and I didn't want to scare my young children with my cancer diagnosis," explains Noll. She was able to rely on the support systems offered through the patient navigator program at Providence. These services help guide patients through the diagnostic and treatment processes as well as help patients access educational and support services such as the Young Survivor Coalition.
The Young Survival Coalition group meets at local coffee shops and ensures that no one has to go through cancer alone. This was a lifeline for Noll, who was fairly new to her community and still trying to make friends. These local groups are safe places where people can be open and honest about their true feelings when they may be putting up a strong front for their families and loved ones. "Your cancer experience is not over when the treatment ends," shares Noll. Cancer survivors have many conflicted feelings that may include guilt that they survived when others did not. They still suffer side effects and mourn the loss of their lives before cancer. "Sometimes as survivors we don't feel that we can complain." Support groups allow cancer patients to let their guard down.
Noll was so inspired by her group and the support it had given her that she wanted to get more involved. She applied to the RISE breast cancer advocacy training program. RISE: Respected Influences through Science and Education teaches advocates the science of breast cancer and how to advocate for others like them who have been impacted by the disease. Noll attended a weeklong intense training that included scientific research talks by researchers and oncologists, coupled with training on how to find her "voice" as an advocate.
Noll recently represented RISE at the San Antonio Breast Cancer Symposium. She was tasked with interviewing an oncologist who works with women 40 years old and younger in Mexico and writing a blog about it for the Young Survival Coalition. Noll looks forward to sharing what she learned at the San Antonio symposium with not only the Young Survival Coalition but local cancer patients as well. Noll will be a speaker at the upcoming annual Providence Regional Cancer System Cancer Survivor Celebration event on Saturday, June 2, 2018, at the St. Martin's University's Worthington Center.  "I am so grateful for the care that I received here at Providence Cancer Care Center," shares Noll. "I have heard horror stories from all over the country and know that I got the best care right here in my own backyard."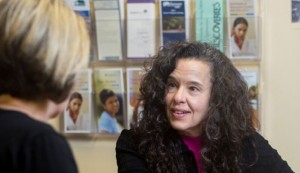 Cobie Whitten is a pyscho-oncology consultant at Providence and is thrilled to have Noll as a speaker. "Tanessa emerged from the treatment process with the desire to use her experiences as a launch pad to learn more and support others," Whitten explains. "She is extraordinary!"
Noll has also served as a cancer ambassador to Peru with Fresh Chapter. She spent two weeks volunteering at a home for girls in Peru that had been involved in trafficking. They did not speak English very well, but nonetheless, bonds of trust were formed quickly. These experiences have helped Noll and others allow for personal growth outside of their cancer experience.
What is the most important thing for friends and family to do when their loved one is faced with a cancer diagnosis and the ensuing treatment? "Just be present," says Noll.
Providence Regional Cancer System offers classes, educational events, support groups, counseling, integrative cancer care and more for their patients and loved ones for all points throughout the cancer continuum. Visit them online to learn more.
Sponsored