Whether it's grabbing a sizzling Philly Cheesesteak (one of the most popular options) or trying a crunchy new salad, most locals in Thurston County praise Meconi's Italian Subs for their quality ingredients and friendly staff. Their menu is made from scratch and your sandwich is tailored to your liking with fresh ingredients cut earlier that morning. However, while Meconi's may serve hundreds of guests every week across their four locations, very few community members ever get to see behind-the-scenes of the fast-paced restaurant. What does it take to prepare for a day at Meconi's? How do they make such a tasty Italian sub?
As part of our new "Employees Only" series, ThurstonTalk Community Talker Spencer Spotts had the opportunity to visit Meconi's at their Hawks Prairie location to experience the shop from an employee perspective.
"What I think customers don't know a lot about is that most of our stuff is made fresh that day," said Joelle Hughes, District Manager for Meconi's. "We slice our meat everyday, we slice our veggies everyday, we slice our cheese everyday. All of our rolls and cookies and meatballs and chili – it all comes fresh from the bakery every morning."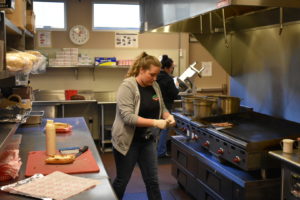 While Meconi's opens at 10:00 a.m., staff starts their morning at the shops a few hours before (bakery staff even starts their morning when most of us are asleep.) "The two hours that we get here [in the restaurant] before we really open to the public is the prep time we need to get everything set up so that it's the freshest for our customers as soon as they come in for the day," said Hughes.
Though this time includes cutting all the ingredients for the day ahead, customers may also not know that each location makes their own egg salad and tuna salad in house. Hughes added that their menu comes from homemade family recipes that have been passed down through the company.
The top three most popular customer choices are usually the Combo, the Italian, and then either the Meatball Sub or Philly Cheesesteak. After having spent many years with the company, Hughes has tried every menu item. Her personal favorite, however, is either the Ham or the Italian – but always has her sandwich toasted for that tasty cheese-melt on top of the meat.
Watch our videos above on how they make two of their most popular sandwiches and check out our photos below of Meconi's before opening their doors in the morning.
Meconi's Italian Subs – Hawks Prairie Location
2527 Marvin Rd NE
Lacey, WA
Monday – Friday: 10 a.m.-8 p.m.
Saturday: 10 a.m.-7 p.m.