Buying your Intercity Transit Bus Pass is now easier than ever.
Intercity Transit and Timberland Regional Library (TRL) have partnered to offer transit riders a greater number of locations to purchase monthly passes. You may have already seen the partnership advertised on transit busses, internally and externally, and within the Intercity Transit and TRL newsletters.
Intercity Transit's general manager, Ann Freeman-Manzanares and TRL's library director, Cheryl Heywood made the decision to team together after seeing the success of a similar partnership in Grays Harbor County. In 2015, TRL began selling bus passes for Grays Harbor Transit, at all eight Grays Harbor library locations. The program was immediately popular with patrons and extending this opportunity to Thurston County was a natural next step.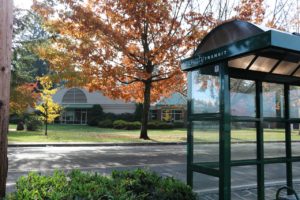 The goals behind the partnership are three-fold. Ann hopes that by increasing access to bus passes, ridership on city transit will also increase. She also sees the partnership as a chance to enhance the overall customer service experience by making passes more convenient. Last, Ann sees this as an opportunity to support an invaluable community resource, our public libraries, through the bus pass promotional advertising.
"The collaboration just makes sense as many of the 150,000 library patrons are also transit riders," explained Ann. "Together, we're offering a convenience that gives people time back in their busy days."
Participating TRL branches include Lacey, Olympia, Tumwater, and Yelm, which are served by Intercity Transit, and Tenino, which is served by Rural Transit and has connecting stops with Intercity Transit routes.
Passes for the following month go on sale the 24th day of each month. For example, February passes go on sale January 24. The following passes will be available for purchase at the Thurston County Timberland libraries mentioned above:
Adult Monthly Pass for $36
Youth Monthly Pass for $15

Ages 6-18
Children five and under ride free.

Reduced Fare Monthly Pass for $15

Click here for eligibility information.

Ticket Booklets for $25 (regular fare)/$15 (reduced fare)
Summer Youth Pass

Available Memorial Day to Labor Day
Cheryl shared "This important partnership was primarily created to give Thurston County residents more convenient options for purchasing passes. We also want you to know your local Timberland library is more than just your life-long learning connection. We are also your go-to place for community services as well."
Already a transit rider but wondering how a stop at the public library will benefit you? In addition to buying your bus pass, you can take part in services and amenities such as:
Free books! Timberland Regional Library is home to books on every topic and interest. If your local branch doesn't have what you need, just have someone check the online catalog and find the branch that does and they can place a hold and have it brought to your preferred branch. TRL also has a wide selection of audio books, eBooks and books for purchase at low prices.
Movies and Music. Libraries aren't just for books. They have your favorite movies, television shows and music available for checkout online and in their branches.
Internet Access and Computer Support. Whether you need a quiet place to study, a place to print an article or help uploading that resume to your latest job application, TRL has the resources and staff to get the job done.
To Learn. TRL offers classes and events year-round for adults and kids alike. Check out their calendar to see what's coming up and make the day you buy your bus pass a day to remember.
Already a TRL patron but new to the benefits of traveling via Intercity Transit?  Here are a few of the reasons to ride:
It saves money. A monthly bus pass is more affordable than a month's worth of filling up your gas tank. Plus, less stress on your car means less money spent on oil changes and other vehicle maintenance.
It's safe. Riding the bus reduces the number of cars on the road. Less congestion means less opportunities for accidents.
It's healthy. Bus riders tend to enjoy better overall health because they walk during the day, to and from stops, and experience less stress because they aren't navigating through heavy traffic.
It's good for the environment. Not only do busses emit less carbon monoxide than the average car but they also reduce dependence on gas by reducing the number of cars on the road.
It's easy. Intercity Transit offers route planning tools on their website to make each trip as smooth and efficient as possible.
Whether you are a new or returning Intercity Transit rider, purchase your February pass at your neighborhood TRL and savor the benefits and convenience of this partnership.
Check out Intercity Transit or TRL online for more information on bus passes, current news, events and schedules.
Sponsored