Every high school has little quirks, traditions and activities that set it apart. Avanti High School in downtown Olympia has several. Avanti is a small alternative learning program with approximately 150 students attending either a morning or afternoon session, four days a week. The half-day schedule allows students to work at their own pace and to be self-directed in their studies. The AHS population is diverse in interests, personalities, and learning styles, all of which are celebrated.
One activity unique to Avanti is their week long "Mini Units." Twice a year, the school replaces regular classes with longer workshops. This year, Avanti's first Mini Units occurred the week before winter break. In addition to the extended class periods, Mini Units give the students a chance to learn something new, relax before winter break, and connect with their teachers and peers in new ways. Avanti's social studies teacher, Scott Hendrix, describes Mini Units as a way for the high school to build community, an emphasis at AHS.
For example, a mini unit offered every year is Christmas Caroling with Todd and Kate Thedell. Kate is a para educator and librarian at Avanti and Todd teaches math, new student orientation, music, and physics. The students practice for one day and then travel to local nursing homes the rest of the week, singing classic holiday songs. This popular Mini Unit captures Avanti's focus on service. Other interesting Mini Units offered in past years include: Solving Rubix Cubes, Intro to Comics, and Watching Star Wars, in which participants viewed the Star Wars movies and went on a field trip to see the newest release.
While some Mini Units return every year, some are new. Quasar Surprise, the environmental agriculture teacher at AHS, taught a workshop about environmental rhetoric in several of Japanese filmmaker, Hayao Miyazaki's animated movies. Participants in this class watched Nausicaä of the Valley of the Wind and Princess Mononoke and learned about how environmental messages are delivered. Students also learned about the elements that contribute to creating a rhetoric including ethos, pathos, and logos.
In addition to Christmas Caroling, Todd Thedell also taught a Yarn and Hemp workshop and Tom Hanks Movie Watching unit. "I inherited Yarn and Hemp from my predecessor. When I arrived at Avanti, students said, 'You have to teach yarn!' and I added macrame," Thedell said. This class was smaller and had a very relaxed feel. Students joked and conversed with each other and Thedell while working on bracelets or other handmade creations. Last year, senior Natalia Gavrysh knitted a blanket during the Yarn and Hemp mini unit, which she gave as a gift.
Gift making is a big part of the week before winter break. There were two Mini Units  specifically designed so participants would have presents to take home: Beauty Gifts (students made products like sugar scrubs) and Holiday Cards and Crafts. Groups made orange pomander balls and holiday cards for the carolers to pass out at nursing homes and others made hats to donate. High school students need to log service learning hours to graduate. Some Mini Units count towards service learning hours, otherwise Mini Unit hours offer elective credit.
Grace Young, a new student at AHS shared, "I like Mini Units because you can meet new people and become closer with your teachers." Grace took Holiday Arts and Crafts, Dodgeball, and Yarn and Hemp. "A lot of the crafts I'm making are going to a retirement home," she said, expressing appreciation for the opportunity to give. "In high school, you often don't get to play dodgeball, but I got to play it here and that made me really happy." Mini Units can be a confusing concept to new students, but they soon enjoy the week before break.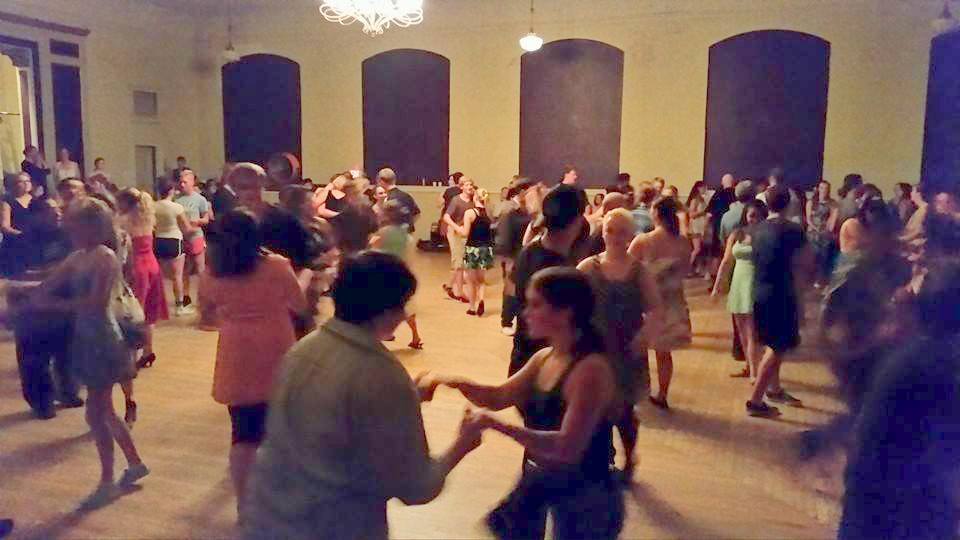 Elijah Suarez-Orr, a freshman, took Script Selection and Swing Dancing workshops. The Script Selection participants read scripts and talked about what show Avanti's drama class might perform in the spring. This gives students a voice in the play selection process. Swing Dancing was taught by student, Juliet Huttar, and was an extended workshop lasting almost three hours. Elijah said that Mini Units are a lot of fun and that he enjoyed "dancing for the whole afternoon." The Swing Dance class also went to the Eagles Ballroom on Tuesday night and attended the weekly swing dance event.
All around, staff and students enjoy the break from the regular schedule and a chance to connect with each other. "It's a good break from the rigor of academia. It allows me to bond with my students in a different modality," Thedell said. The whole week has a fun, community feel ending with a holiday luncheon on Thursday afternoon. Avanti High School's principal, Mike Velasquez, buys traditional holiday foods for the staff and students and everyone can bring desserts to share.
This week brings a small, tight-knit community even closer together. And, it will happen again this spring – something everyone looks forward to.