I have yet to meet a South Sound resident who hasn't heard the name Meconi's, who hasn't savored one of their fresh made subs or delicious soups. Just the other day, my mother called from New Mexico to make plans for her upcoming trip to Washington. Her one request? Lunch at Meconi's.
The idea behind Meconi's is simple:  homemade, high-quality soups, salads and subs. But the result is nothing less than magical. Over the years, Meconi's has grown from a converted three-car garage at their flagship location in Lacey to four expansive, modern restaurants in Tumwater, downtown Olympia, Hawks Prairie and the original, now remodeled, property in Lacey.
Meconi's has a long tradition of retaining employees, promoting from within and identifying strengths and potential in people who don't always see it in themselves. This month, Meconi's recognizes two employees, Danielle Brodbeck and Joelle Hughes, for their outstanding commitment to the company and sandwiches we all love. 
Store Manager Danielle Brodbeck, downtown Olympia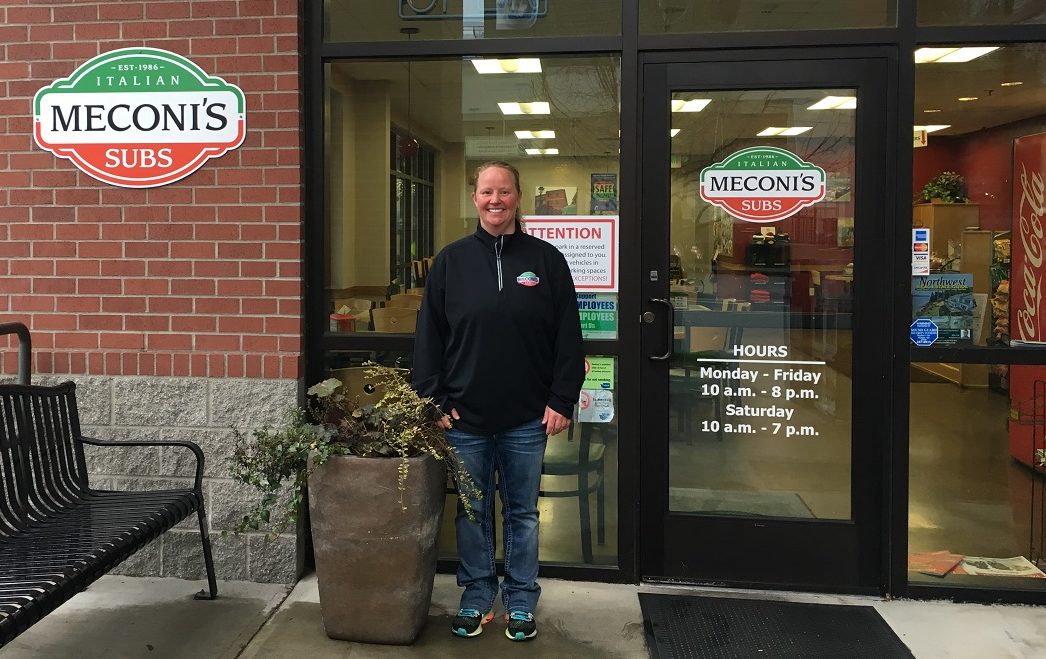 You may not always have the opportunity to see Danielle on your visits to the downtown Meconi's. That's because she is the mastermind behind the scenes, scheduling employees, ordering product, overseeing the flow of the kitchen during the busy lunch hour and most importantly, ensuring your orders make it out the door on time.
"I started working for Meconi's in 1998 and have seen so many changes over the years. When I first started, we were still in the old state building kitty corner from our current location at the corner of Capital Way and Union Ave. It was small, old, had no grill and no air conditioning!" Danielle recalls.
Yet, Danielle wasn't put off.  She knew she was part of the most delicious, highest-quality sub shop in town and that's all that mattered.
"Danielle's hard work and commitment to Meconi's all these years has been appreciated so much," shared operations manager Robin Vaughn. "She has managed to grow with the company's changes and now successfully runs one the of busiest sub shops in Thurston County."
You might think managing such a busy restaurant would bring its share of struggles. For Danielle, though, the hardest part of the job is actually not so bad at all.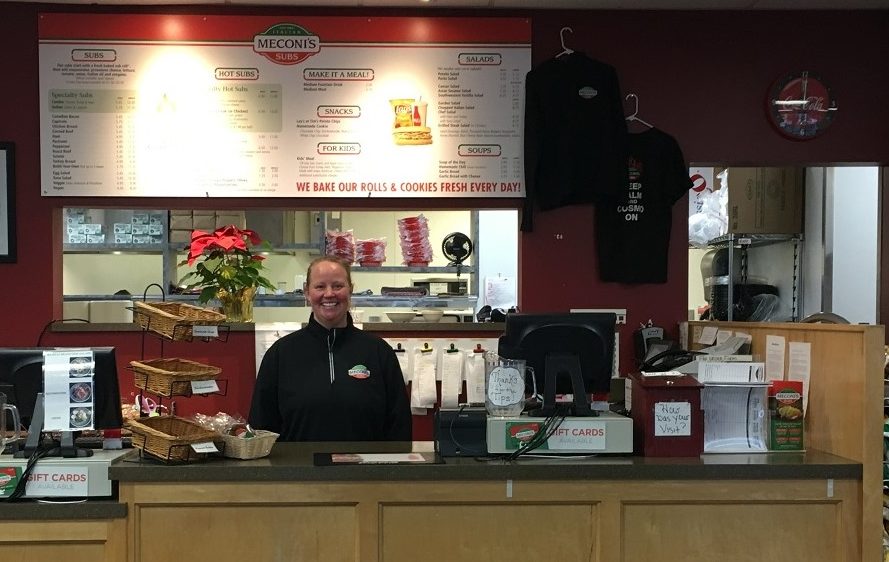 "One of our biggest challenges is keeping up with the popularity of our restaurant," Danielle proudly admitted. "We have twice as many employees in the new downtown location than we did in the original building to keep up with the demand. I think our continued success is due mostly to our homemade bread, salads and cookies. Customers really appreciate the freshness and can taste the difference of it being made locally in our bakery."
This May, Danielle will be celebrating her 20th anniversary with Meconi's, an incredible feat. Wondering what keeps her coming back all these years?
"My long-term commitment to the company can be attributed to the owners. The Meconi family has been part of the community for decades and they honestly care about their employees and the people that live here. And even though the work can be unbelievably hectic at times, the fun atmosphere keeps things light and enjoyable. I can't wait to see the changes and growth the future has to bring."
District Manager Joelle Hughes 
"The Meconi's family business has doubled in size over the last 10 years," explained Robin. "In 2007 our Tumwater location opened, followed in 2013 with our restaurant in Hawks Prairie. As a company, we doubled in employees and duties. Maria Meconi and I found ourselves filling in wherever needed, working the line, taking orders at the front counter, but not quite getting to all the back-room tasks that need to be done to keep the business running smoothly."
Together, they came up with a plan to create a new position, district manager, and they looked in house for an already extraordinary employees to fill the role, landing on Joelle as their top candidate.
"My journey with Meconi's started in Tumwater. I moved from the grill to night supervisor and then store manager, training employees and handling other back room responsibilities. I am currently store manager at the Hawk's Prairie Location and District Manager for the company. I didn't initially see myself in these roles, but Robin and Maria saw potential in me and helped me every step of the way to ensure I was successful."
"We are always looking for those employees within the company that show the qualities and characteristics that will make them a great fit for leadership roles," Robin added. "Hard work seems like a stereotypical thing to say, but it's something both Danielle and Joelle display and a quality that is essential to the success of our business. For the district manager position, we were also looking for someone with strong communication skills and Joelle has exceeded our expectations, making genuine connections with staff and managers and establishing positive business relationships."
Joelle echoed Danielle's gratitude towards the Meconi family and gratefulness for the opportunities they have afforded her over the years.
"I love the staff and managers and that Meconi's is family owned and operated. That family feeling trickles down through the managers to the staff. Robin and Maria are present in the stores and are mentors and role models to everyone else. They are there to help you succeed every step of the way. I love what I do and everyone I work with. It's easy to be loyal to a company that has so much to offer."
Both Danielle and Joelle started at the company in entry level positions and have worked their way up the ladder. "It's a testament not only to their work ethic and loyalty to the company, but also to Meconi's efforts to promote from within and reward staff for their excellent work," added Robin.
"What makes Meconi's so great," reflected Joelle, "is that it is the whole package. You don't just have colleagues you connect with or leaders you look up to. Many jobs just have one of these things. Meconi's has both and when you find both, there simply isn't any reason to ever leave."
You can visit Meconi's neighborhood sub shops six days a week.  Check out their current hours and locations here.
Sponsored