By now, Gaylord Strand could easily be excused for coasting, for taking his foot off the accelerator.
But on this afternoon at yet another wrestling practice at Yelm High School where he has coached for 44 years, Strand intently instructs a roomful of kids about takedowns, reverses and pinning moves. There's no lackadaisical tone to Strand's delivery in yet another two-hour practice. He's intense.

"You need to reach across like this," Strand said, demonstrating a move on one of the athletes.
This – Yelm High School's wrestling gym – is Strand's home away from home. He's living a dream – one that keeps reoccurring. Since 1974 when Strand first arrived as Yelm's wrestling coach, this is where he spent his afternoons throughout the winter months, sweating and leading.
"I love it," Strand said.
And, it shows. His accomplishments – 14 league titles, 102 kids qualifying for state and an induction into the National Wrestling Hall of Fame – haven't gone unnoticed. Strand's commitment to coaching hasn't just been about teaching takedowns and reverses, either. It's about teaching life lessons.
What Strand learned from wrestling at Oregon's Woodburn High School in the late 1960s, what he learned wrestling at Seattle Pacific University in the early 70s, attending nationals three times, he passes along to his wrestlers.
"I like the kids," Strand said at a recent practice. "If they can get the same thing out of wrestling that I got when I was in high school, that would be great. It's all about passing on to the next generation."
When asked what was it that he learned from wrestling and what he was passing on, Strand didn't ponder before answering.
"Well, it's a lot of sacrifice," Strand said. "And, all the rewards from all the sacrifice. The accomplishments you get help you through life. More than anything, if they can get through my practices, get through a season and get a sense of confidence and accomplishment, that's more than they'll get in a lot of other programs."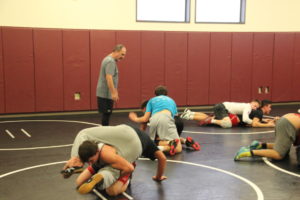 For Strand, the takeaways, the life lessons learned from wrestling, are teamwork, sacrifice and discipline. And standing atop the awards platform isn't the only reward.
"It doesn't have to be success and reward," Strand said. "It's what you learn along the way."
Tim Beaudin knows Strand's story, his emphasis on pushing yourself to do your best. Beaudin wrestled at Yelm for Strand from 1991-94, winning a state title his senior year. For the past 19 years, Beaudin has been an assistant coach with Strand. Strand's impact on Beaudin has been significant.
"Besides my father, he was one of those who helped mold me," said Beaudin, who teaches at Yelm's Ridgeline Middle School. "He made me want to come back and work with kids. I've been coaching with him for 19 years now."
Since 1974, Strand has been impacting and shaping young lives, helping them learn to work hard.
"He loves molding young men into what is a dying breed," Beaudin said. "The work ethic that it takes to be on this wrestling team the way society is now, it's hard to do."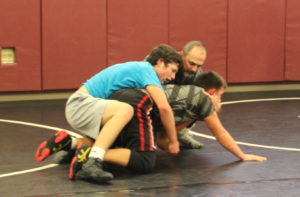 After nearly a half century, Strand is still dedicated to the wrestling program he's helped build. And, there's no drop off in his commitment.
"He's hard working, dedicated to the kids, consistent, firm and believes that all kids can be successful in his wrestling program," said Ron Barnard, Yelm's athletic director. "He retired from teaching. This is what he gets to do now."
Strand continues to build individuals into a team, pulling them together with a common goal – to get better.
"He believes in the team," Barnard said. "They build together. That's the same thing you do in life: persevere, show dedication, a willingness to go the extra mile to accomplish the goals that are set, setting goals and accomplishing them, setting new goals and going after the next set. He teaches by example. He's out on the mat himself."
"He always pushes us to be our best," said Gavin Stewart, a senior and returning state qualifier. "I think that's why I like him as my favorite coach. He's not here for him, he's here for us – for us to succeed and be that state team that we are."
Barnard compared Strand to another coaching icon, Dick Hannula, the long-time swim coach at Wilson High School who led the Rams to 24 consecutive state championships.
"All his success and the work Hannula had with kids that leave his program and go on, I see the exact same thing in Gaylord Strand," Barnard said.
All along Strand's incredible journey and commitment to Yelm wrestling, his biggest cheerleader has been his wife, Sarah Strand. They've known each other since they were sixth graders, growing up Woodburn, a small Oregon town north of Salem.
"Our lives have revolved around wrestling," Sarah said. "It's meant everything. The kids mean so much to him. You can remind him of some kid and he remembers their whole match sometimes. With a big match he can recite everything that happened. It's just been really important to him – I don't know if he'll ever give it up."
Just last spring, Strand retired from teaching P.E. after 43 years. But he's not ready to say goodbye to coaching.
"It's been such a part of our lifestyle that I'm used to it," Sarah said.
Sarah used to attend every Yelm home wrestling match, cheering. But she's not as mobile now and she doesn't attend as many matches.
"I can't go anymore," Sarah said. "It was really a fun part for both of us and I've enjoyed it."
And Gaylord continues to enjoy every practice, every match and every challenge. He's still shaping and influencing young lives, helping them get to state and to a better life.