Submitted by Harlequin Productions
A Broadway investor has been right here among us in Olympia for some time. And now, as of October 2017, she is contributing her enthusiasm for and connections in theater to help our very own Harlequin Productions by serving on the board of directors.
Janet Mueller has been active in supporting new musical theater productions since 2013, when she and her husband started investing in Broadway production company Junkyard Dog Productions. The local connection became clear a few years later, when Harlequin Productions decided to put on a show that had started out in Seattle and had a run in New York.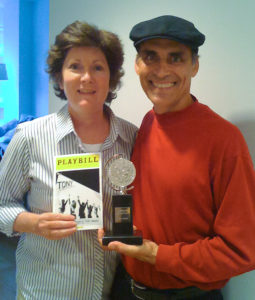 "Last year, Harlequin put on First Date, and that was the first show my husband and I invested in on Broadway, so we were very excited to see how they would do it here, and they did a fabulous job. The actors were great, and the set design was fabulous, and it made me remember why I liked it so much."
But that wasn't the first time Mueller had been impressed with the quality of Harlequin's shows.
"I had seen a few of the productions here, and some of them were just spectacular. We went to see Vanya and Sonia and Masha and Spike. We had seen it in New York, and it was just as good here as there in terms of the production. The quality of performances we have here is really stunning for a small theater in a small town."
Janet knew a few people on the Harlequin Board, and they encouraged her to think about joining. "I thought, 'well, if I can be part of keeping Harlequin alive in the downtown corridor, then I can help with something really important.' Theater is really important."
Mueller's interest in theater stems from her childhood, when her mother would take her to various productions. With her father serving in the military, Mueller's family was able to get tickets through the USO.
"When we lived in New York, we saw the Rockettes, we went to the Ed Sullivan show, Leonard Bernstein had a Saturday afternoon show for kids. And we always had records in the house of musical shows."
But it wasn't until her brother- and sister-in-law invited her and her husband to invest in Memphis, the Musical in 2011 that Mueller really began to be interested in musical theater. Memphis had a great national tour, which Mueller and her husband enjoyed as a way to travel the country, following their investment's journey. They even followed Memphis over to London, where it enjoyed a run on the West End and ended up winning an Olivier Award (England's version of the Tony Awards) for best choreography.
"I like how musicals are just a little bit different. I think it's a harder role to act, because you have to sing, and when you're singing you have to act. And in a lot of these you have to have some ability to dance as well."
Even though it's always been an interest, being this involved in the arts is somewhat new for Mueller, who spent 30 years in the aerospace/aviation industry. She retired in 2010 from her position at Boeing as project manager for the development and implementation of the Flight Test Operations Center in support of the 787 flight test program. Since then, she has been active in supporting various non-profits that provide educational and health opportunities to women and children, including Washington Women In Need (WWIN), Mercy Corp, and Jesuit Volunteer Corp.
She has also been stretching her right-brain capacity after so many years of left-brain work by getting more and more involved with theater. First, she and her husband supported several new musical theater productions on and off Broadway, including Come from Away (which tours to Seattle in October 2018!), First Date, Memphis the Musical, and Once on this Island.
Now, as part of Harlequin's board of directors, she's excited to be able to participate on the fundraising team. This past fall, she was able to work with Junkyard Dog productions to put together a package trip to New York to see Come From Away as a top-selling auction item for Harlequin's fall fundraiser.
What is it about the live theater experience that encourages Mueller to share it with others?
"I've always liked the surprise when you go in not knowing much about something, and it kind of just sucks you in and holds you there. There was a show at the 5th Avenue (in Seattle) called Jasper in Deadland. It was a new work and it was very bizarre, but at about the third song, I'm sitting in my chair and all of a sudden I realize, 'Oh my god, I'm just being sucked into this thing.' It was just one of those moments when you go, 'Oh my! I'm liking this!' when you don't really expect it."
You never know which show, or which element of a production is going to impress you, shock you, or make you question your assumptions. That's why Janet Mueller and her husband bought season tickets for Harlequin's 2018 season. Consider joining them, so you'll never miss an opportunity to be surprised by Real. Live. Theater. right here in downtown Olympia.
For more information, visit the Harlequin Productions website, call the Box Office at 360-786-0151, or stop by at 202 4th Ave. E in downtown Olympia.