Those celebrating winter birthdays not only compete with the weather, they also compete with holiday budgets and schedules. For savvy party-throwers who want to take advantage of the winter theme and save a bit of money in the process (especially compared to most indoor options!) take a look at these cold season-inspired birthday party ideas.
Hot Chocolate Bar Birthday
Decorations: This winter-themed party will be sure to get kids in the mood for cocoa. Decorate the party area with paper snowflakes and garlands. You can frost your windows and put a fake fire on your T.V.
Activities: Buy "indoor" snowballs (they feel like you're squeezing actual snow!) and have a snowball fight or ball-up white scrap paper for an even thriftier option. If weather permits, send kids outdoors for a game of "freeze" tag, and once you have the hot cocoa bar lined up, invite them in to create their own cup.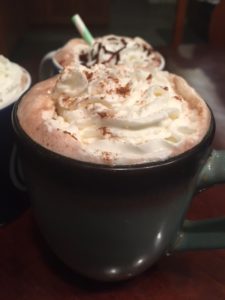 Snacks: Hot chocolate is the star player at this party and is available in different flavors—mint, white chocolate and caramel, for example. Reuse small jars and label them with the flavors of cocoa mix, then fill up bowls of toppings. Mini marshmallows, whip cream, chocolate sauce and sprinkles are all fun choices. Top off each masterpiece with a cute stir stick and voila! happy, warm-bellied birthday kids.
Party Favors: Find fun mugs at your local thrift store or dollar store and give them as party favors or use them to build individual "cup kits" for each kid to work on at home. Stuff each mug with a packet of cocoa, stir stick and individual servings of mini marshmallows. (Buy in bulk, and spoon mini marshmallows into colored plastic wrap.) Top with a name tag for each party-goer.
Winter Olympics Birthday
Decorations: If your little one has a February birthday, you may want to consider an Olympic-themed party. The Winter Olympics theme lends itself to a wide range of ways to weave in friendly competition. Olympic rings can be cut from paper in any size and used to decorate walls or tables. You can also paint paper plates and cut out the center. Put any ice skates, sleds or winter-themed decorations on display.
Activities: Floor hockey is always a crowd-pleaser. This version of the popular winter sport is modified for indoors. Gather household "hockey sticks" such as wrapping paper tubes, yard sticks and brooms, then designate goalies and teams. Cardboard boxes make great goals and sock balls or large yarn puff balls make great pucks. First team to five wins! To make it even more challenging, try playing a round on your knees.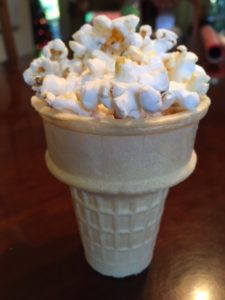 Sock skating is another indoor ice-arena idea. Invite everyone to bring their fuzziest, fluffiest socks, turn on some tunes, and let kids twirl and "skate" on the most slippery floor in the house. Only have carpet? No problem. Give each child a piece of card stock to place their bare foot on and they can "skate" all day.
For some fun brain-games or for older kids, try a Winter Olympics trivia challenge and get kids thinking about the host-country, history of the games and more.
Snacks: Olympic torches will bring out the champs in your guests. Fill a large bowl with popcorn, then let kids scoop their popcorn with an ice cream cone. Arrange candy rings (gummy are best) or donuts to resemble the Olympic rings. Special order decorated treats, such as a Winter Games cake, including the special birthday honorees name of course. Feeling especially crafty? Create cookies in the shape of medals with "gold" frosting.
Party Favors: Award gold, silver and bronze medals to the winners (the dollar store has you covered here) as well as consolation prizes for everyone else. Have an award ceremony picture booth with trophy props, ski poles, scarves, hats, and more. Get everyone's email address and send them their photos along with a thank you note.
Clothing Drive Birthday
Decorations: This is a good theme to bring out the nurturer in your birthday kid. Decorate with paper doll garlands, holding hands, and mother earth-inspired decorations, such as globes and animals.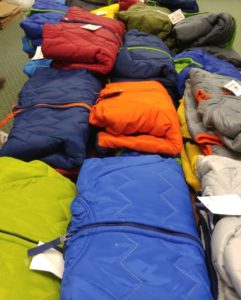 Activities: Guests can ask their friends and family ahead of time to gather gently-used clothing, then have sorting bins available at the party. Sort by season, age, gender or charity.
Snacks: This party is all about sharing, so offer plates that can be shared—pizza, nachos and other finger foods are good choices. Heart or coat-shaped cookies would add to the theme of caring and giving.
Party Favors: Remind each guest how awesome they are for contributing to the greater community by providing a handmade certificate of participation. You can also send a follow-up thank you card with information about the local charities your party contributed to. Browse our nonprofits stories page for more ideas on how and where to donate. Send home extra heart-shaped cookies to keep the giving spirit alive after the party.
Outdoor Adventures Birthday
Decorations: The great outdoors! Otherwise, if you plan to have an indoor outdoor adventure, just let the great PNW inspire you. Tape construction paper trees and branches to the walls. Add cutouts of gnomes, mushrooms or even sasquatch to build on the forest theme.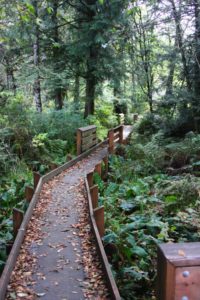 Activities: If weather permits, prepare an outdoor scavenger hunt for your guests. If the kids have phones, make it a photo scavenger list, and ask for pictures of the tallest tree they can find, signs of animals, or a specific plant, like Rhododendron. Explore your neighborhood and backyard, or take a group hike on one of these local, accessible trails.
If you stay indoors, consider learning how to tie knots, provide compasses to play with or discuss outdoor survival tips.
Snacks: Classic protein-boosters will help your adventure team. Think trail mix, beef jerky, cut fruit, granola bars, cheese sticks, etc. A backyard campfire with smores is a great way to keep it outdoors at home.
Party Favors: Print Washington state maps to give guests and encourage them to keep adventuring. Find inexpensive reusable water bottles, fill with a granola bar and carabiner and a name tag.
Thrifty Thurston highlights inexpensive family fun in Thurston County. The weekly series focuses on family-friendly activities throughout our community. If you have a suggestion for a post, send us a note at submit@thurstontalk.com. For more events and to learn what's happening in Olympia, Lacey, Tumwater and the surrounding area, visit our complete events calendar.