Submitted by Charlie's Safari
To the joy of Puget Sound kids of all ages, Charlie's Safari, the popular playland and party destination that closed in May 2016, has reopened at its new location in Hawks Prairie Village Mall, just in time for children to have some great indoor adventures this winter.
Charlie's Safari opened December 12 without fanfare at 1401 Marvin Rd NE, Suite 201, and the fun is again non-stop, say owners Kurt and Janel Kageler.
The old Charlie's Safari was a child's dream come true. Located near Regal Cinemas in Lacey, Charlie's was the place where children explored, climbed, crawled, jumped and slid through what seemed like an infinite playland. They celebrated each others' birthdays; went game-crazy in the video arcade; ate kid cuisine in Charlie's restaurant, then traveled home exhausted and awash in happiness.At Charlie's, they really knew how to throw a party. In 2012, South Sound Magazine readers voted Charlie's "Best in Birthday Parties."
Charlie's Safari also became a good community neighbor, hosting more than 100 parties for Make-a-Wish recipients, donating thousands of pounds of groceries to the food bank, providing Thanksgiving dinner for local families and much more.
A property sale and a new landlord with other ideas for the playland's space abruptly squelched this happy-go-lucky business.
But Kurt, an adjunct business professor at Saint Martin's University, and Janel, a teacher with the Tacoma School District, refused to let their dream die. That dream – to create a safe and exciting space where families could play together and create happy memories – had taken several years of planning, work and family sacrifice to realize, Kageler said. They just weren't ready to let it all go, and neither were their fans.
"Charlie's Safari is such a blessing to our community.  We were heart-broken when we had to close, but the community hung in there with us until we were able to reopen.  We have heard a lot of our community members telling us how much they missed Charlie's and are glad that we have now reopened."
The Kagelers placed much of the Safari's equipment and playthings in storage and began to search for another location. The ideal location actually came to them, when owners of the old South Puget Sound Community College' Lacey campus location at Hawks Prairie Village Mall began courting them to take over the spacious 16,000-square-foot quarters.
After architectural redesigns to fit the Safari's play equipment and features in the new space and overcoming several challenges, Charlie's Safari became a reality. Fellow businesses in the area stepped forward along the way to help the Kagelers get the new Charlie's up and running. Dan Tracy, owner of Tracy Construction Co., headed construction at the new site. L & E Bottling, U.S. Food Service, Olympic Telephone, AML Consulting, Morgan Transfer, ROIC and many others stepped up to help them get most of Charlie's original features up and running at its new location.
And several of the original Charlie's Safari employees returned to fill some of the business' 28-member crew, Kageler said.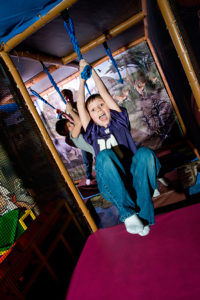 The new Charlie's Safari has the same buoyant colors, larger-than-life cut-out characters and lively atmosphere as the original, along with many of the same play features. These include a reconfigured enclosed playground that is a maze of slides, ladders, tunnels and crawl spaces. While the new Charlie's doesn't have a Tyke's Village or parents area, it contains the most popular features of its predecessor: Bounce houses, "The Watering Hole" restaurant, "Safari Freeze" ice cream shop, a video arcade, five private birthday party rooms and a large multi-purpose room where family movie nights, local school dances and other large events can take place. Older kids and even their parents can join in the fun at the Safari's two-story laser tag arena. There's even an outdoor area that will enable kids to enjoy some outdoor activities during the summer.
"Janel and I are so happy that we were able to work through some of the obstacles that prevented us from opening earlier, and we want to thank all of those who helped us get to this point. We know this is important to our local community, and we want to thank everyone who waited for us and are now enjoying Charlie's Safari again. It is great to hear the kids having fun again in our new location."
Charlie's Safari is open from 10:00 a.m. to 8:00 p.m. Sunday – Thursday, and from 10 a.m. to 9 p.m. Friday and Saturday. For more information and party reservations, call 360-292-1600, visit the Charlie's Safari website or go to the Charlie's Safari Facebook page.