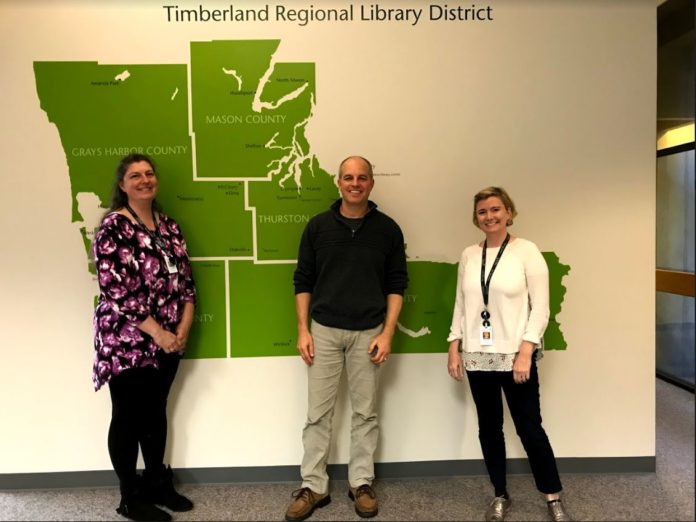 MyTRL is a virtual library card that provides access to all of the Timberland Regional Library's online services to students. This includes math, science and history resources, language study programs, ebooks, music, audio books, newspaper, magazines, practice tests and much more.
"Our goal was to get MyTRL in all 46 school districts in our five counties," says Jeff Kleingartner, community manager for the Timberland Regional Library. "We're at four or five now. It's really to equip students who couldn't come to the library to be able to get resources because some of these school districts don't have the breath of resources we have offered, so it's a supplement to what they're learning."
Currently, Olympia School District, North Thurston School District, Tumwater School District, Raymond School District and Gravity students have an e-library card. Chehalis and Mary M. Knight are anticipated to be available in fall 2018.
"Some of the really rural school districts have such limited budgets that they can't even approach the resources we have, so this is really bridging that gap for these kids that are thirsty to learn more," Kleingartner states.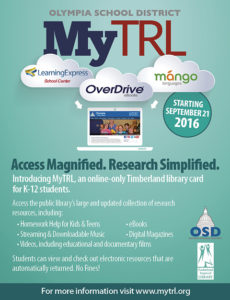 The idea first came up in December of 2015. After working for eight months, MyTRL was launched as a pilot program for a year in the Olympia School District. Since then, the program has expanded to other school districts and learning resources.
"It empowers the students to gain access to the information that they need to help them throughout school, from early learning to middle school and high school," says Kristina Kauffman, a librarian in the eLibrary at the Timberland Regional Library Administration office. "It really is a collaboration with the teachers to help them know about it, to use it and help their students use it. It's amazing what kind of information is out there that you don't have to Google. It's all peer reviewed and it's good, solid information that you don't have to wonder where the source is coming from."
"If you're a high school student and you need to study for the SATs, we have practice tests so you don't necessarily have to buy testing manuals which can be very expensive," explained Carisa Sullivan, eLibrary Manager for the Timberland Regional Library. "Also, if you're looking to reading a book for pleasure, we also have OverDrive and Libby, apps you can put on your phone. Instead of buying your book on Amazon, you can check it out from the library with your library card," says Sullivan, as she explained the variety of features provided through the virtual library card.
Out of the 90 databases available, some of the popular ones include Muzzy, Student Resources In Context, Science In Context and Universal Class. Muzzy is a language course made for preschool and elementary kids. Through Muzzy, the program is $10/month, or $100/year. With a MyTRL virtual library card, the entire program is free.
For science and math, Student Resources In Context and Science In Context are the best databases. Not only do they provide encyclopedia-like articles about a topic, they also provide students with lots of images, videos, multimedia, audio, newspapers and more about one topic, all gathered into one place. "It's all reliable information you don't have to worry about googling your topic and finding out it wasn't really true," explains Kauffman.
A popular one for parents and teachers is Universal Class. Universal Class provides over 500 online courses for continuing education and includes everything from accounting and education courses to soap making and Italian cooking.
Students can access MyTRL through the main Timberland Regional Library website, or directly at www.mytrl.org.
The student login can be found either at the student's school or on the school website. The Olympia and North Thurston School District student's login are posted on their websites.
Once logged in, students can find all 90 databases in Reference Databases under the Research tab.
The Timberland Regional Library also has a tool for anyone that has questions, called Ask A Librarian.  "If you have questions, contact us – that's what we do. It is our entire job to answer people's questions from the simplest ones to the most complex ones," Kauffman commented.
Parents also have the option to have their child opt out of a MyTRL library card and that can be done through their family access account in Skyward. There's no obligation.
"For students that don't have a regular library card, this e-card is a great way to get started with Timberland," Kleingartner states. "They can come into the library to get a full library card to check out books and other materials, but they don't even need a library card to come in and go to programs. Going to programs is free and this program is a great way to get a taste for the library and see if you want to come in for more."