Step into the Olympia Farmers Market and surround yourself with holiday magic. Use all your senses for maximum enjoyment. Friendly vendors may be bundled into puffy coats and wooly scarves, but their wares are openly displayed.
Every Saturday and Sunday from 10:00 a.m. to 3:00 p.m. through December, you'll find fresh produce, inspired art and jewelry, handcrafted cheese and treats for everyone on your list. Here's a sample:
Woodard Bay Pottery
The sparkling, crystalline glazes on Neeltje (Nellie) Vos' porcelain pottery need no shiny wrapping paper. Her individually crafted pieces are gorgeous. Nellie's been a pottery artist since the late 1960s. She turned part of her barn into a studio where she also makes all her own glazes. Born in Amsterdam and raised in Canada, Nellie met her husband at a national housing convention in Vancouver. They've been making their home in Olympia for years. You'll notice the beauty in each piece with variations caused by adjustments in firing and glazes. Vos balances her life creating pieces and spending time with her husband and grandchildren.
You can also reach her at nelvos@comcast.net or 360-754-4676.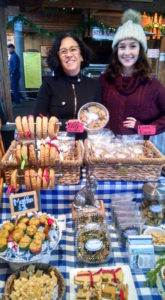 Do you have dogs in your life? Take a look at Lenore Cuskelly's high-grade treats. You'll smile at the bundle of pig cookies or decorated bagels. I suspect your canine friends don't really care if the shapes look like squirrels or bones or circles. They will get enthused by the tastes. Lenore told me that sometimes people walk by and are to taken by the display that they pop a sample into their own mouths, not realizing they are for the dogs! With ingredients such as kale, apples and sweet potatoes, it's no wonder.
There are holiday gift buckets and festive packaging – all perfect for stocking stuffers. Crossed Paws also makes dough to take and bake. With a cute cutter, this is a wonderful activity for young and old. If you get to live with a feline, bring home one of Erica's cat toys. It's a catnip soaked cork in a hand knitted cover. All my foster kittens and cats loved these toys.
Great Things in Glass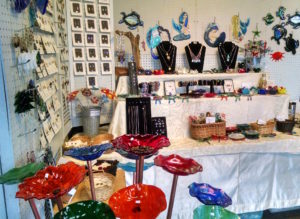 The beauty of Linda Russell's stall invited me to stop and look. There's a lot to see. A glass artist for over forty years, Russell makes every piece by hand from sheets of art glass. They are shaped, melted and transformed into earrings, bird feeders, necklaces, wall art and much more. The olive oil lamps are especially interesting. Inside the small glass cup is a copper wick holder. All you need to do is put in a small cotton wick and fill the container with olive oil. The wick will last from 24-48 hours. There's no smoke, no smell and in the event it gets knocked over, the oil won't catch fire. You can add a drop or two of essential oil if you want an aromatic experience.
Linda had retired from making stained glass, but one day bought a kiln. That led to a new pursuit with glass. "I like to make useful things," says Linda. You'll find soap dishes, décor for a hair ties and bird feeders. You can also reach her at warmglass@comcast.net or 360-923-4802.
The Fresh Approach 
Brighten your holiday baking and decorating with fresh cranberries. String them, boil them and whip them into your smoothie. Cranberries are nutrient dense and a welcome fruity change of pace. The Fresh Approach also has several types of mushrooms for your dining pleasures. Apple lovers are in luck, too. Kim Baxter noted there are fresh Honey Crisp, Pink Lady and several others. He suggested keeping them in the refrigerator. You can store them boxed in a cool place, but be sure there are no small holes for unwanted critters.
You'll smell the greens well before you reach Lynch Creek Farm's stall. It's fragrantly marvelous. For me, it's the epitome of the holidays – fresh greens. The family owned business has been a part of our community for decades. Long ago there were vegetables.
Now, the business has a focus on flowers and wreaths. The bulk of the wreaths are sold across the U.S. Their presence at the market lets you see and smell them and take them home immediately. Greens include noble fir, cedar, and pine with additions of bay leaf, Ponderosa pinecones, red berries and festive bows. The 18" decorated tree is just the right size for a small space. Deck your halls with garlands, wreaths, and centerpieces.
Restaurants
You can get food and drink reinforcements during your visit. The Market has a diverse line up of choices: Los Tuleños, Pithos Gyros, Soba Noodle, Heyday Café, Bavarian Wurst, Dinghey's Cuisine and Curry in a Hurry.
The Olympia Farmers Market accepts WIC, EBT and senior checks. You might consider supporting the local economy with an Olympia Farmers Market Gift Certificate. Have you seen the Sustainable South Sound Coupon Book? You can save up to $5,000 while doing your local shopping.
Sign up for the Market's newsletter and follow the Olympia Farmers Market on Facebook, Instagram and Twitter and tag your photos while there with #olympiafarmersmarket. Remember, the Market adds extra shopping days right before Christmas on December 22, 23, and 24. In January the market will be open on Saturdays only until the regular season begins in April.
See what seasonal magic awaits you. Happy Holidays!