Joel Mauritzen likes to laugh, joke around with friends. It was that propensity for chuckles that sometimes required friendly reminders to preempt the laughs with laps during Capital High School's swim practice. Swimming, Dean Sawhill, Capital's swim coach for the past seven years, would remind Mauritzen was the objective. Not laughing.
"I liked to goof around," Mauritzen said with a smile.
And now, as a senior, Mauritzen understands that there's a time and a place for jokes. That insight (and that maturity) is why he's now one of the swim team's three team captains.
"My role is to make sure everyone comes and has a good time," Mauritzen said. "And, that we all focus and we actually listen to Dean."
And not goof around.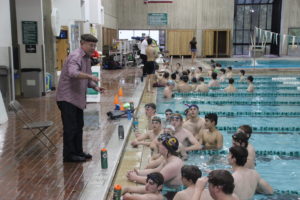 "Yeah, I had trouble with that last year," Mauritzen said with a smile. At times, he was the goof around guy but now Mauritzen is all business – in and out of the pool. He's in running start and attending South Puget Sound Community College's automotive program.
"I'm full time at SPSCC," Mauritzen said, "and it's a lot of fun."
Capital's other two team captains this year are Jake Ferris and Tyler Ortega. Like Mauritzen, they're both seniors and they've been on the swim team since their freshman year. That experience and commitment is why Sawhill picked them as team captains.
Ferris, who has been swimming since he was 10, is drawn by the comradery of the sport.
"The swim team culture is phenomenal," Ferris said. "Everyone is pulling for each other. Everyone wants to see their friends go fast. It's not just all about themselves. Even though is it solo competition. You're not out there by yourself. You're there for your friends."
And besides learning how to do the freestyle and butterfly strokes, swimming has taught Ferris a life lesson. He's learned that hard work equals success. That insight has helped him in the classroom and it's the reason why he has a 3.9 GPA. His only "blemishes" are two A-minus – one as a freshman and one last year in calculus. He's applied to the University of Washington, Western Washington University, UPS, Gonzaga and Stanford.
"In swimming, you really learn how to push yourself," Ferris said.
Like Mauritzen, Ortega is also in running start, taking classes at South Puget Sound Community College. Getting an early start in college is Ortega's way of shortening his ride to his end goal – to become an orthodontist.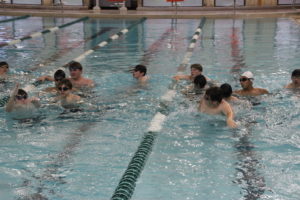 "So, I'll take away two of those years of schooling," Ortega said. "Get there quicker."
For Ortega, he likes the challenge of swimming and the time he gets to be together with his teammates. Besides the practice and the swim meets, the Cougar swim team has get-togethers throughout the season. The night before meets, the team gets together at a teammate's house for dinner.
"I enjoy hanging with my friends and swimming with them," Orgega said. "We always have a good laugh. Coach said he wants us to be more serious. He doesn't want us clowning around."
It's a matter of knowing when to focus.
Besides his propensity for cracking a joke and laughing, there's something else about Mauritzen that needed a little adjustment. At 6-foot-1, 270 pounds, he has the body for football. But, he'll tell you, he has the mindset for swimming.
"I've never played football," he said. "I love swimming. I love the competition. I love doing the 500. I always get a lot of cheers for it and I like the cheers."
The 500 meter is an endurance race, one that both challenges and rewards Mauritzen. "Yeah, I love it, but I hate it," Mauritzen said with a smile. "When I'm doing it I always ask myself why am I doing this? When I'm done, I always love doing it."
Ferris is drawn to water sports. He's tried basketball and football, but he always keeps coming back to swimming. And, there's another water sport that he likes: rowing. In the spring and fall, he rows with an Olympia club team. During the winter, he swims with his Cougar teammates.
Zach Oestiese, a junior on the Cougars' swim team, has grown as a swimmer since he first turned out as a freshman. Last year Oestiese, who swims the 100 breaststroke, the 200 IM, the 100 backstroke and the 100 freestyle, was voted his team's most improved swimmer.
Oestiese learned that how hard he swims in practice determines how well he does in meets.
"Last year, there were a couple of captains who really pushed me," Oestiese said. "They helped me to be better at swimmer. It's a mindset and a little help from the captains."
It's a mix of fun and hard work.
"There's going to be time for fun," Oestiese said. "But we all come here to work hard. You can't just goof around. You have to work hard."
That's been a winning formula for the Cougars.