As technology has become more prevalent in our lives, libraries have faded into the background as untapped fountains of knowledge. It can be hard for libraries to put themselves out there as a place of community, especially for young people. But there are groups of local teens working to bring libraries back to the forefront of teens' minds. Olympia's Teen Library Council, which meets and works out of the Olympia Timberland Regional Library, consists of an ever-growing number of teens, grades 7-12 who love the library and enjoy organizing teen programs.
The Teen Library Council (often called TLC by its 16 members) meets for an hour every second Tuesday of the month, October to May. Their job is to brainstorm, plan and execute library programs for teens during the school year. The council is led by Sara White, a Youth Services Librarian at Olympia, and is in its fourth year. Prospective members submit an application at the end of the school year and new members must interview with the facilitator to create a dynamic group.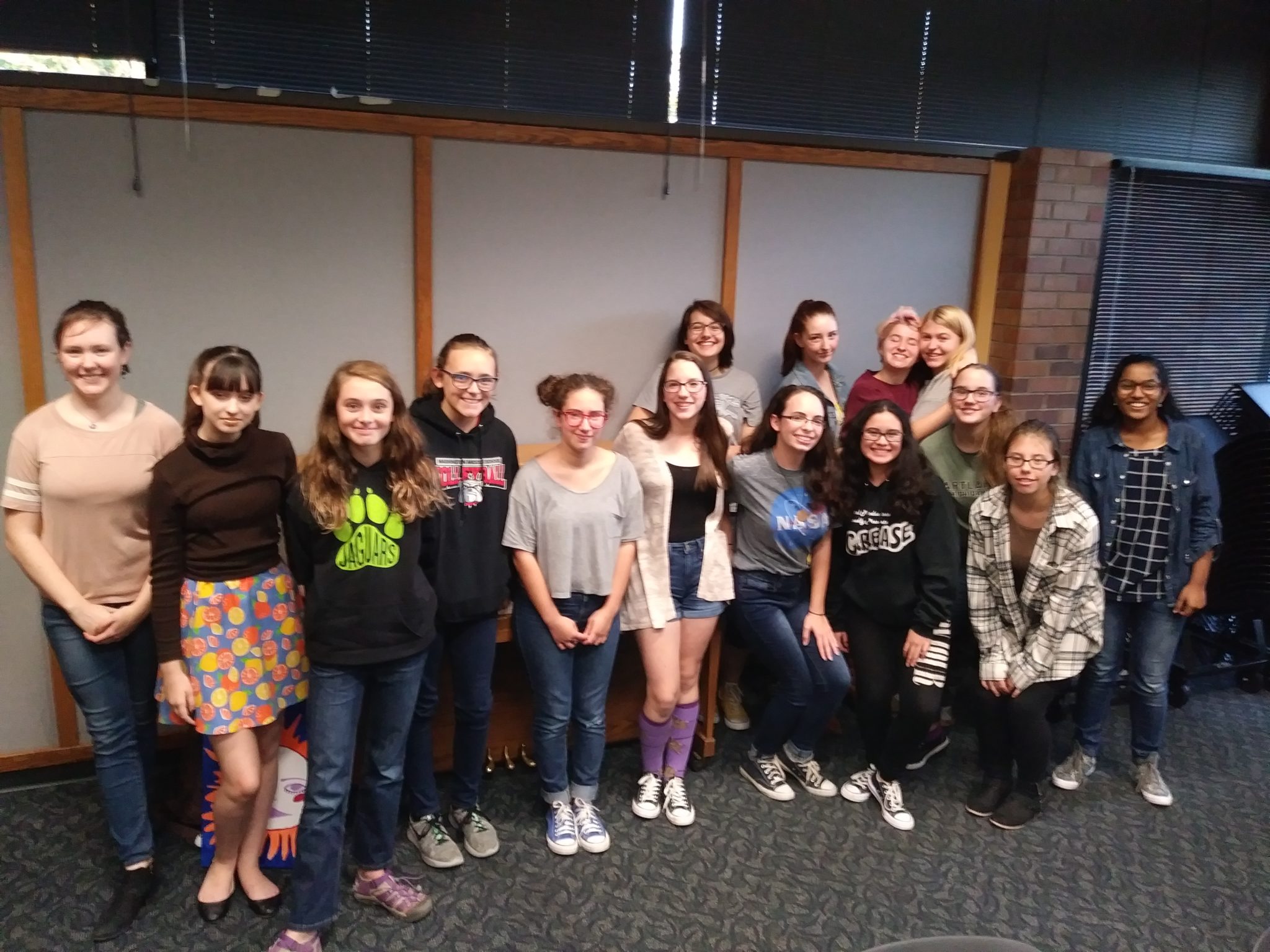 When the group officially started in 2014, it was comprised of five volunteers. Elizabeth Miller, a second year Running Start student and senior in high school, has been a member since TLC started. "I was pretty new to Washington and the library was actually my first source of friends," she reminisces. "I never really had a library experience back when I lived in Florida because I was so much younger and they didn't have a lot of teen programs." Miller says that making friends was easier at themed library programs.
The main job of TLC is to be a panel of library-savvy teens who want to share their ideas and create programs geared towards their peers. As the years have gone by, the group has gained members and personal connections have flourished. The friendships extend outside of TLC's monthly meetings. Their facilitator, Sara White, says, "It makes me so happy to see people making friends with people they never would have met anywhere else."
The group is diverse in their interests, hobbies and personalities, yet they come together in a positive way every month to talk about one thing they have in common – the library. "I feel like we have created a community for teens here that didn't exist before, which is really cool," White states, "I really feel like people can be themselves here."
Avery Savin, a new member of the Council, is a junior at Avanti High School. "It's really important to connect with your community in ways that are meaningful to you," she says, "and it doesn't hurt that it looks amazing on a college application." She also volunteered for the Summer Reading Program earlier this year, so she already felt familiar with the employees and community.
Aren Wright, a freshman at Olympia High School, joined as soon as they were old enough, which was TLC's second year. Aren and their sister had both volunteered for the Summer Reading Program also, so it seemed like a good fit. Aren says, "I liked the people I had hung out with at the library, so I thought there would be more cool people, which was true." Aren also needed volunteer hours for school, which is a common factor with many of the members.
The Teen Library Council's goal is to bring teens into the library for programs and to encourage frequent teen library usage. New member, Avery Savin, points out that, "it's nice to have a place where you can read for free. Libraries are a really valuable community gathering place that provide workshops and programs that help people connect with their communities, as well as serving as a resource for people who need internet access or access to books." Teen Library Council has started to create a community for teens, and it continues to spread to the rest of the library. White says before she started TLC, she would see teens only looking for books, but she wanted to bring teens to the library to do homework, or to just hang out.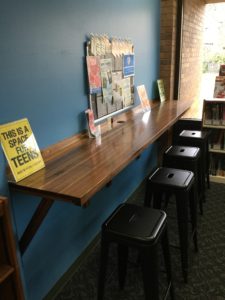 The Youth Services supervisor, Mary Rulewicz, notices a change in the culture as well. "I really appreciate how Sara [White] has allowed all decision making to come from teens," she says. "She facilitates and coordinates, but the ideas are from the teens." TLC is different from other volunteer programs because members aren't just doing work, they create projects for themselves. "Sara's facilitation and trust of the group makes it work. She works magic," Rulewicz says of White.
Olympia's Teen Library Council has inspired other libraries which is exciting for the group, especially for White and members who have participated since the beginning, like Elizabeth Miller. "As far as I know, in our library system, we are the first one [Teen Library Council]," White states. Centralia, Lacey and Yelm libraries have also since started successful Councils. The group has also inspired the library to continue improving the teen experience. A laptop bar was recently installed in the "Teen Zone," courtesy of local woodworker, Jay T. Scott
TLC's programs, like murder mysteries, coffeehouse open mics and a self-published literary magazine titled "Onomatopoeia" aim to transform the library into a gathering space for the greater Olympia community. If we can turn libraries into calm, loving places of connection and not places where kids get shushed, maybe we can better come together as a community.
Teens interested in this unique, school year-long opportunity can apply in September. Information is available on the library's website.