The holiday season is here. Seasonal window displays are appearing and holiday music is starting to play on the speakers throughout the area. Downtown Olympia is one of the best places to capture the holiday spirit. The local, small businesses throughout downtown are ready to welcome shoppers and families this holiday with unique, quality goods and delicious treats. And, it all kicks off on November 26 with the annual Downtown for the Holidays celebration.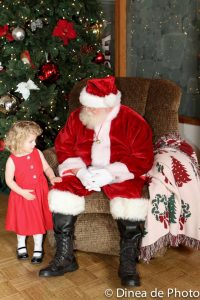 The Olympia Downtown Association (ODA) hosts this annual community gathering and this year, Downtown for the Holidays will last all month long, says Todd Cutts, Executive Director for the ODA. Sunday, November 26 will be the official beginning of a month-long celebration of the season and the day has something for everyone.
From 10:00 a.m. to 2:00 p.m., visit The Hotel Olympia (the former Urban Onion building) for free photos with Santa. At 10:30 a.m., noon and 2:00 p.m. enjoy performances from Charlie Brown Christmas by Illuminate along with scenes from Apple Tree Productions' upcoming holiday show, Annie. Kids and adults will recognize the classic songs and remember that "You're never full dressed without a smile" as they head outside to browse the windows and shelves of the downtown merchants.
Browse the Gingerbread Village at The Washington Center from 12:00 p.m. to 3:00 p.m. and visit with Mrs. Claus on free electric trolley rides that will ferry you throughout the downtown core from noon to 2:30 p.m. Grab your afternoon pick-me-up at Batdorf and Bronson on Capitol Boulevard and enjoy live music from local musicians throughout the day.
The highlight of the day is the annual Downtown Holiday Parade which begins at 3:00 p.m. at The Farmers Market and ends at Sylvester Park. Enjoy the musical sounds of The Edgewater Trio from the park's gazebo while you wait for the arrival of the parade, this year with more entries than ever. Expect to see annual favorites like the Salvation Army Olympia Corps, Thurston County 4-H dogs, the Capital High School marching band and classic Olympia fire trucks. Unique entries include local roller derby club the Oly Rollers, Lost Peacock Creamery complete with one of their amazing goats and local Dana Mahar being pulled through the parade by her 21-year-old miniature horse, Judge.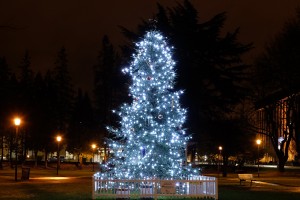 The afternoon culminates with the annual tree lighting and this year, the tree is a permanent resident in Sylvester Park. This summer, the live fir tree was planted and will be used for years to come for community gatherings.
While the community loves the parade and festivities on the kick-off day, the real celebration of community comes through shopping and support of our local downtown merchants throughout the holiday season. "The many small businesses throughout the downtown core are owned and operated by the people in our community," says Cutts. "These are your neighbors and friends that have invested in our community to make it a better place. It's worthwhile to make the effort support them, especially during the holidays."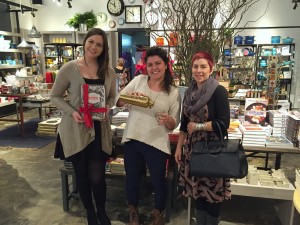 And the variety you'll find downtown might equal one-stop shopping for you this season. With shops offering options for everyone on your list, you'll be able to find just the right gift – one that won't be found in a big box store, so you can be sure your gift will be a unique surprise when opened. For the fashionista, swing into g.miller or Belleza Ropa. Culinary wizards will be thrilled with a cookbook or kitchen gadget from Compass Rose or pick up some classic barware at Blackbird Mercantile.
Book lovers will be thrilled with the anything from the curated selection at Browser's Books while kids (and kids at heart) will find joy with toys, books and more from Captain Little. Artistic types will find joy in a gift certificate to Let's Paint or find something inspired at one of downtown's many galleries. Help fill someone's home with holiday (or any day) décor from Drees, The Furniture Works or The Popinjay. Don't forget truly unique items only found at the many downtown antique store.
And, when you are weak from crossing off all those names on your list, fortify yourself with a sweet treat from Hawley's Gelato & Coffee or Encore Chocolates & Teas. Or, enjoy a leisurely meal while downtown at one of the many quality, locally-owned restaurants.
"Shopping, dining and enjoying entertainment downtown is more than just showing support for your local merchants," says Cutts. "It's a high-quality shopping experience that, when you really explore the options, offers thoughtful, unique gifts and services that you won't find elsewhere."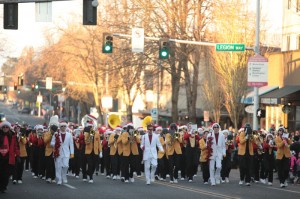 While you stroll, be sure to note the incredible window displays featured throughout downtown as part of Twinklefest, a window display contest where you can vote for your favorite. Voting begins just after Downtown for the Holidays.
Head downtown on November 26 for the kick-off to Downtown for the Holidays. But don't stop there.  Include the local shops and restaurants throughout downtown Olympia in your holiday shopping, dining and enjoying plans. Bring your friends and family with you and introduce them to some of the dedicated, local business owners working hard each day to make downtown Olympia a destination for this season – and every season.
Sponsored