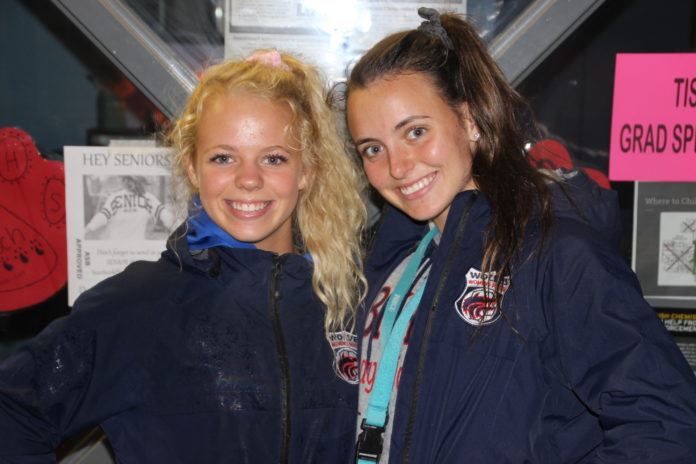 Besides being teammates on Black Hills High School's soccer team and playing on the same soccer team when they were in grade school, there's another bonding connection between Sydney and Megan.
They share the same last name – Lowe. They're cousins. And, they're good buddies.
"She's my best friend," Sydney said.
"We do things together all the time," Megan agreed. "We've been best friends since we were babies."
And that special friendship, plus the years of playing on the same soccer field, translates into something special during a game. They have this intuitive insight, an impulse where their cousin/teammate is going to be next.
"I feel because we've known each other our whole lives we have this connection," Sydney said. "I know that she's always going to be there. So that I'm going to be there. We just kind of sense it."
There's an anticipation on both girls parts.
"We just flow really well together because we all know how each other plays," Megan said. "I think we've always connected. We're always finding each other off the ball."
That insight equals goals for the Wolves. Both girls are returning all-league starters. And, after 13 games, Sydney led her team in scoring with 18 goals.
But Sydney, with her unusual knack for racing down the field with the ball, isn't just a scorer. She's also a passer. Like Sydney, Megan has speed to her game.
"Megan's strength is her pace," Black Hills soccer coach James Corbin said. "Her ability to attack players wide and her overall positive work ethic and attitude."
Like Sydney, Megan is both a scorer and a passer. "She's well balanced," Corbin said. "She can do both. For instance, we have one game and she comes out and scores four goals. And then, in another game, she'll come out and have two or three assists and no goals. She has a balance."
Sydney's strength is her ability to take players on and that skill hasn't gone unnoticed. She's been offered a scholarship to Central Washington University where her sister, Whitney, plays.
"Sydney definitely wins the ball for us and she's a goal scorer," Corbin said. "She is a game changer. Once Sydney walks onto the field, she draws double teams."
Sydney forces teams to respond to her and that opens things up for her teammates. "Our goal is to get as many people scoring this year and Sydney and Megan both compliment that ideology," Corbin said. "That's the direction we're trying to go." And the Lowe cousins are two big contributors to Black Hills' 14-3 start, holding first place in the 2A Evergreen League.
But it's no accident these Lowe cousins have a knack for soccer. First, there's a family gene for competitiveness. Both their dads – who are brothers – played football at Tumwater High School.
"Yeah, there's a lot of competitiveness in our family," Megan admitted. But it's more a commitment to be the best they can be. For Sydney, that's meant driving to a club team in Tukwila since she was in middle school with her mom and sister as "taxi drivers."
Three to five times a week, Sydney heads to Tukwila for practice from 8:00 to 10:00 p.m. That means she reaches home about 11:30 p.m. Club soccer doesn't overlap with her high school season, so that reduces her driving somewhat each fall. But there are still away bus rides for her high school games. Despite the busy schedule, Sydney is still an A student – just like Megan.
"I love being a part of a group of people who are like a family," Sydney said when asked what she likes about soccer. "I love the game so much – I've been playing it my whole life. I wouldn't know what to do with my life without soccer."
Besides the excitement of the game, Sydney's learned a life lesson from playing soccer. "It has taught me to work hard for what I want," Sydney said. "You put your mind to it, you can achieve anything. Also, it has taught me about time management."
Getting home late from a practice or a game can do that. Playing soccer at Black Hills has taught the Lowe cousins more than kicking a line drive shot into the back of the net. Corbin has made sure of that.
"For us, it's helping these young women find out who they are and to find their passions," Corbin said. "To help them develop the work ethic to go after it, how to make great decisions, how to be a great teammate, a friend, a family member."
As the clock winds down on the Lowe's last few games as teammates, they share a common goal. To do well in the state playoffs.
"We want to go as far as we can," Sydney said.
"Our goal is to win state," said Megan.