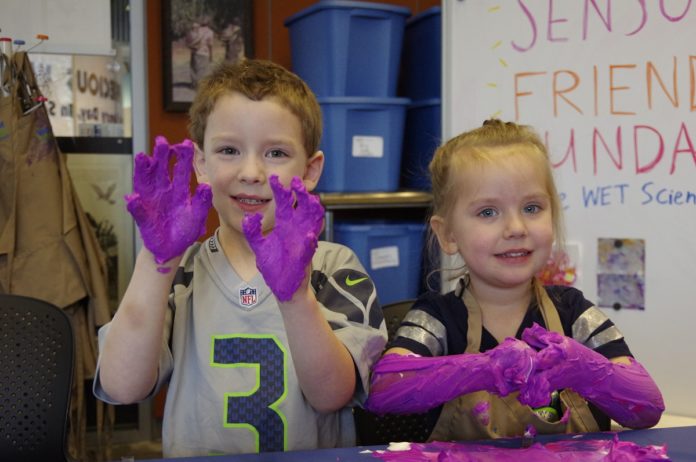 Because it's fall in Washington, when you read this article the weather could be seventy degrees and sunny or pouring down rain in buckets. You just never know what you're going to get. However, we do know the rainy season is upon us and daylight hours are dwindling. So, here are some indoor activities that are fun for the whole family and won't cost you this month's paycheck.
Explore the WET Science Center in downtown for free. Here you will find a variety of displays, games and activities for all ages. Even as a parent, you'll be surprised at what you can learn. Exhibits were updated this year, so if you haven't been in a while, schedule a visit.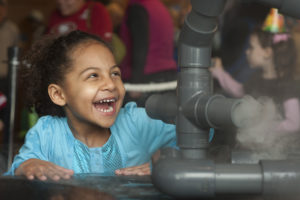 Head next-door to the Hands On Children's Museum for a day of fun. With military discounts and memberships available, plus Free Fridays once a month, it won't break your budget. And, their multiple exhibits mean everyone will be entertained. I highly recommend trying the two-story slide while you are there.
While downtown, pop over to the State Capitol for a tour to revel in all this amazing building's glory. From the impressive marble to seeing your local government in action, this is a great activity for all. Tours are free and offered on the hour weekdays starting at 10:00 a.m. to 3:00 p.m. and on weekends from 11:00 a.m. to 3:00 p.m.
For budding artists in the family, visit The Painted Plate and make your own pottery creations together. To make this not super thrifty activity a bit more budget friendly, make your painted item a holiday gift for someone you love. Our grandparents love their custom coffee mugs. Price depends on what you decide to paint and reservations are highly encouraged, especially on the weekends. Just for you parents, FYI, they do serve espresso, beer and wine. For the kids? Their hot apple cider is divine and there is ice cream, too.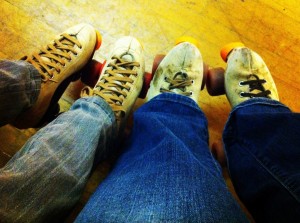 If you want something a little more active, take a short drive to Skateland out South Bay Road. A family favorite over the years, this roller skating rink may make you nostalgic for your youth. Don't forget to grab an icee or take your turn at the Hokey Pokey and turn yourself around.
Continue the nostalgia of the past with a trip to one of the area's bowling alley's. My favorite is Aztec Lanes because of the family friendly atmosphere, but also check out Westside Lanes and Tumwater Lanes for a great time.
Another activity for athletic types is the Cirque Climbing gym in Lacey (formerly known as Warehouse Rock Gym). With something for every level from beginners to pros, you won't be disappointed in what they have to offer. And, you might just find something new for the family to do together.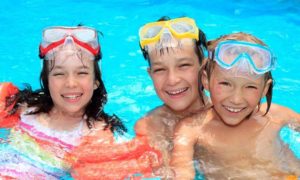 Take a swim in one of the great indoor pools here in Thurston County. Briggs YMCA and the Evergreen State College both offer open swim times for families at a reasonable rate year round. No need to worry about the weather, it's always summer inside.
Visit the Olympic Flight Museum at the Olympia Regional Airport where you'll learn the history of aviation and get the chance to see some of the most unique aircraft in the area. Even climb aboard a fully restored Huey helicopter to experience something historical, built with hard work by local volunteers.
Just south of Tumwater in the town of Tenino you'll find the Tenino Depot Museum, a hidden gem well worth the trip. Located inside the City Park, this hands-on museum is perfect for a rainy day, but make sure you call ahead as hours vary in the fall and winter.
Why not take in one of the area's great theatrical or musical performances in town? Whether it's the Olympia Family Theater, The Washington Center for Performing Arts, Olympia Little Theater, or one of Harlequin Productions great performances, there are plenty of viewing opportunities. And, don't forget the classic shows – including the free (to those 12 and under) Saturday Kids Club movies – at Capitol Theater.
Here in Thurston County we are lucky to be a part of the Timberland Regional Library system with many great activities to take part in at various locations. From an endless supply of great books to chose from to special presentations to weekly group meetings, make sure and check out their full calendar of events. Something for kids big and small (and adults, too).
Thrifty Thurston highlights inexpensive family fun in Thurston County. The weekly series focuses on family-friendly activities throughout our community. If you have a suggestion for a post, send us a note at submit@thurstontalk.com. For more events and to learn what's happening in Olympia, Lacey, Tumwater and the surrounding area, visit our complete events calendar.