It's become an annual tradition since Jackie Meyer was named head coach of the North Thurston High School volleyball program five years ago.
Each season, the older varsity players are paired up with younger JV and freshmen teammates for the entire season – participating in a variety of functions, one of which is the Big Sister, Little Sister Tournament.
The one-day event has the groups play against each other in a three-on-three round-robin setting, and it's quite the undertaking as a lot goes into it. Communication, marketing, set up – there's a lot of moving parts.
Since its inception, Meyer has tasked her seniors to oversee the festivities.
"We've never done captains since I've been here, that's not my thing," Meyer said. "We've always done senior leadership."
Which is great if you have a sizable senior class to shoulder the load.
The Rams, however, sport just one senior volleyball player this year – Lauren Bailey.
The truth is, Bailey is more than enough.
"She's a firecracker," Meyer said. "She's my sixth period TA and that's definitely on purpose. She just gets stuff done. She does so much for us both on and off the court."
Bailey sings a different tune about her involvement in the yearly inter-squad tournament. "I just did the posters," Bailey stated, almost not wanting to take credit.
A beat follows, then she comes clean with full disclosure.
"And some other stuff, I guess," Bailey added.
"Stuff" as in the organization of the event, the arrangement of the matches and many of the details which goes into making an event like this a success.
"It's just a lot of fun to get the team together. These are the things I will remember (about being a part of the team)," Bailey said. "I want to be included in everything. I just want to help make the program fun."
That's been more than accomplished according to Meyer.
"It's been my favorite (season) in my five years here. It's just been a fun group to be around," Meyer said. "Just being able to come to the gym with a group of girls who are excited to learn every day, work 110 percent every day. They don't question anything, they just go out there and play. It makes it a lot of fun."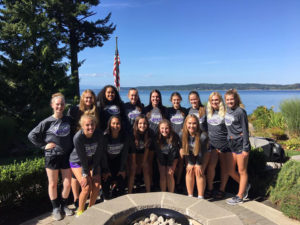 Things got off to a less than fun start this season for the Rams, a state playoff team last year, as they were immediately hit with some bad luck right out of the gate. North Thurston lost outside hitter Jocelynn Porter, the team's only other returning senior outside of Bailey, for the year after the 5-foot-10 outside hitter suffered a torn anterior cruciate ligament in right knee during the very first day of tryouts.
"That was really rough. Those two have always just been my rocks," Meyer said about Bailey and Porter. "Jocelynn is still doing a lot of leadership since she got back from surgery, but to lose her on the court is a lot for Lauren to deal with."
It was a lofty responsibility that Bailey admits took some time to adjust to.
"I felt a lot of pressure in the beginning, but it's something I've learned to deal with," Bailey said. "I love Jocelynn so much. She's always with us, but it's crazy that I'm the only senior when we're out there playing."
On the court, Bailey's contributions to the North Thurston program are equally prized. A jack-of-all trades, the 5-foot-8 Bailey has the versatility, athleticism and smarts to be successful anywhere – traits that makes her invaluable for a young Rams team still finding its footing.
"She's one of our diverse players this year. She doesn't have a set position. She just kind of bounces around. She does a really good job of that. She's ready to be plugged in anywhere," Meyer said. "She doesn't worry about the technical stuff of volleyball. She just plays. She just goes in focused and goes all out. That's one thing I love about her and that's what her teammates love about her."
Last season, Bailey primarily played outside hitter. During her freshman and sophomore campaigns she played middle. With the emergence of some younger players, she's back to middle blocker in 2017, but with the readiness to take on any position on the floor.
"Wherever they need me, I'll play. I just want to be out there. I don't care. I just want to be a part of this team," Bailey said. "It's such a good thing that we have here. It's interesting going from a state team last year to losing six seniors and rebuilding our team, but I just love how close everyone is. The coaches are so involved. Not everyone's program is as close as we are, so whatever I can do to help, on or off the court, I'm going to do it."