Christy Johnson is a senior at Tumwater High School whose interest in a career in education has led her to spend her third period as a peer tutor for the students of in life skills class. This program follows a typical six period, five day a week schedule, but provides special attention to the specific needs of its students. Each student is able to improve their vocabulary during English, learn how to manage money in math, enhance their cooking abilities and be active during P.E. The latter is where Christy comes in.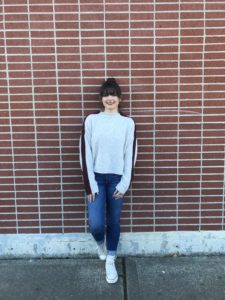 During P.E. class, Christy helps the students to engage in activities and have fun doing so. Whether they're doing spin on stationary bikes, playing basketball or playing badminton, the goal is always to get the students up and moving. Christy identifies her role as a peer to tutor as that of providing guidance, as most of the students are self-reliant. This guidance takes the form of instructions and encouragement during physical activities, but also as social support in and out of the classroom.
Being there for the students socially is one of the biggest impacts that the peer tutors have on the life skills class students. Jane Runge, the life skills program coordinator, details that peer tutors provide the students with "genuine kid to kid interaction" which "enhances their lives" by allowing them to communicate with people their own age and expand their social skills. Christy also notes that the students "want to talk, they want to have that interaction."
She explains how being a part of the class and putting in the effort to communicate with each student and to understand them has shown her what joyful people they are and has caused many beautiful friendships to blossom. Christy says, "There's a stigma that these kids are missing out, but they're not." Instead, Christy leaves class everyday inspired by their positivity and fearlessness in being themselves.
The benefits of the lifeskills program really are a two-way street in how the interactions benefit both the students and peer tutors, allowing each group to grow in different ways. Each student learns social cues and boundaries from the peer tutors, while the peer tutors in turn gain awareness, causing everyone involved to reap the joy from these genuine interactions. This mutual benefit creates strong bonds between the two groups and leaves peer tutors like Christy "grateful for the experience."
The peer tutors are also a vital piece to passing on greater awareness to their fellow students at Tumwater High School and beyond. "These students should be just as involved as others in the school community," says Runge. Whether it's sharing their experiences with their family and friend, or advocating for the program outside of the class, the peer tutors let people know about who the students are as people.
Runge's mission for the life skills program is not only to spread awareness, but also to prepare the enrolled students for post secondary education. "Where they will be living, where they will be working, how they will be having fun" are the factors that drive how she runs the program.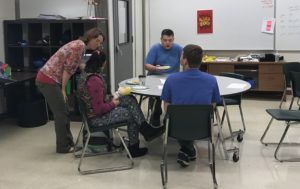 To prepare the kids for a productive and more independent future, Runge has adapted the program to contain more school and community involvement. This is done during the "life skills time" of fourth, fifth and sixth periods. During this time students conduct in-school service projects, such as helping manage all of the recycling bins in classrooms, or take field trips out into the community, such as library visits. "My main goal is to help students and their families by giving them skills toward independence," she shares.
While Runge knows the program creates a significant impact on the students enrolled, she says the influence of the peer tutors is key to their success.  The deep impact of their social interactions with the students is what prepares them for the biggest part of their future life – relating to and communicating with other people.