Halloween is a holiday that means different things to different people. For some, it's an evening of spooktacular frights and a dark autumn night. For children, like my four-year-old daughter, it's all about costumes and bowls brimming with candy.
No matter your preferred method of celebration, head out across Thurston County to take in the Halloween spectacles, frights and trick-or-treat fun.
Saturday, October 28, 2017
You don't have to wait until Tuesday night to dress up and collect delectable candy. There are plenty of opportunities the weekend before Halloween to begin your celebrations. If you have youngsters, start your Halloween with the Hands on Children's Museum's Boo Bash. This is a fright-less event focused on Halloween inspired activities for the whole family. Face painting, fresh pressed apple cider, glow-in-the-dark art and story time are some of the highlights of this annual tradition. The fun runs from 10:00 a.m.- 5:00 p.m. The bash is included in the price of admission and is free to museum members.
Saturday afternoon will be packed with fall fun at Fall Festival & Trunk N' Treat at First United Methodist Church of Olympia. This free, family-friendly event focuses in on seasonal games, crafts and, of course, treats! Attendees are encouraged to come dressed in their costumes and to bring their friends along for the hours of entertainment from 1:00 p.m. – 4:00 p.m.
Tuesday, October 31, 2017
Businesses in downtown Olympia will host a bounty of treats on all hallows eve afternoon from 3:00 p.m. – 6:00 p.m. during the "Here be Dragons" Halloween event. This annual treasure hunt for candy sends young superheros and ghosts from store to store searching for dragons. Once found, children gain entry tickets into a grand prize drawing for a treasure chest containing a variety of prizes. Find a full list of participating businesses in this year's annual Downtown Olympia Trick-or-Treat online.
The Capital Christian Lacey campus will play host to their annual Trunk or Treat bringing enough candy to satisfy even the hungriest goblins and ghouls in Thurston County. This experience allows children to gather candy without knocking on unknown doors while meeting characters of all shapes and sizes along the way. All of the trunks are themed, making for an even more memorable encounter. This free event begins at 6:00 p.m. at 4431 Martin Way E.
If you're looking to gather candy without having to go out in the cold, check out Mall-O-Ween at Capital Mall. This spooktacular evening makes for indoor fun where costumed children can trick-or-treat their way through all of the stores in the mall, filling their treat bag along the way. Along with the trick-or-treating, there is also a costume contest, cupcake decorating, pretzel making, face painting and even free Halloween photos. This is an especially good option for the littlest monsters. The fun begins at 5:00 p.m. and ends at 8:00 p.m. in plenty of time for bed.
Living in the state capitol has it's perks and one of them is trick-or-treating at the Governor's Mansion. This year, Governor Inslee and First Lady Trudi Inslee will have the mansion decked out in a Ghostbuster's theme and will be passing out candy to trick-or-treaters from 6:00 p.m. to 7:30 p.m. on October 31. Lines can be long to plan to arrive early. If you are wondering, "Who you gonna call?" on Halloween, the answer just might be Governor Inslee.
If neighborhood frights are more your delight, there are some must see hoods on the list filled with incredible decorations from twinkling to terrifying. First, clamber to the top of Tumwater Hill to the Smolinksy House for frightening screams. If you dare to enter there are spooky sights that take homeowner, Scott Smolinksy weeks to prepare and rumor has it he has new and even more frightening additions to the display this year.
Another must visit neighborhood is the historic South Capitol area. Children flock to these haunted, historic homes for unprecedented frights and sweet delights. The houses here are dressed for the occasion with cemeteries, skull, and pumpkins aplenty. Don't miss the Pumpkin House, an Olympia tradition on the corner of 18th Ave S and Water Street SW. Bring along a donation for the Thurston County Food Bank in exchange for the incredible display.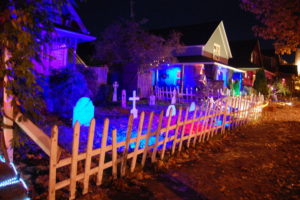 Finally, if you are looking to make the rounds for the most candy in the least amount of time, check out the Horizon Pointe neighborhood. This Lacey neighborhood is filled to the brim with children knocking on one door after the next. Bring your fangs to bite into a cauldron full of candy at each stop.
No matter what you and your family decide to do on Halloween, make it a memorable night with these spooktastic trick-or-treat sights. And, as always, be sure you travel in a group and stay safe.
Thrifty Thurston highlights inexpensive family fun in Thurston County. The weekly series focuses on family-friendly activities throughout our community. If you have a suggestion for a post, send us a note at submit@thurstontalk.com. For more events and to learn what's happening in Olympia, Lacey, Tumwater and the surrounding area, visit our complete events calendar.