The reasoning behind the Palmers' move to Yelm from Walla Walla last year was simple – they wanted to be closer to their family.
Little did son James Palmer know when he arrived in town, he was actually getting two sets of families – one being blood relatives and the second being the Yelm High School football team.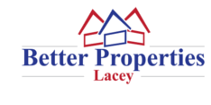 "We're so close," said Palmer about his Tornado teammates. "We all became friends in no time at all."
Fellow senior Jacob McCown remembers when he first heard about Palmer's arrival and wasted little time forming a welcoming committee.
"When we found out we had a new kid coming into the program, we immediately took him in," McCown said, "and we lucked out. He's a hitter. He can play. Great kid, great player."
The same can be said about McCown as, according to head coach Jason Ronquillo, "Both kids are cut from the same cloth."
And Yelm is certainly reaping the rewards of that.
"They're both fabulous captains. They are doing everything right," Yelm coach Jason Ronquillo said. "They're just great leaders for our kids. For the underclassmen to be able to watch them and see what it takes to be a leader is really valuable for our team. Plus, they both have motors on them and that's what we love. If you don't have a motor, you don't get on the field."
Entering the season, the 3A South Sound Conference was believed to be a two-horse race between defending champion Timberline and Peninsula, last year's conference runner-up.
However, behind the exceptional play of McCown, who starts at both cornerback and running back, and Palmer, a starting safety who also gets plenty of touches on offense, Yelm has thrust itself into the conversation and the team is now thinking about something it hasn't thought of in quite some time.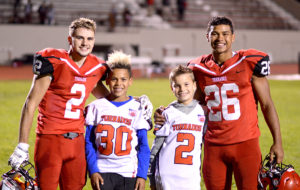 "The mindset for the entire team is just playoffs," McCown said. "I've never been to the state playoffs. I don't even know how long it's been since Yelm has even made it to state."
The Tornados' lone state playoff appearance in school history actually came 30 years ago in 1987. That squad crushed Monroe, 62-20, in the first round before losing in the quarterfinals to eventual champion Tumwater.
It's also been 11 years since Yelm advanced to the district playoffs.
McCown and Palmer are set on ending the drought.
"The playoffs are big for us. It's our top goal," said Palmer, whose late-game heroics helped the Tornados edge Gig Harbor, "but we're focused on the next game, thinking about the next play. We're watching film and trying to get better every day."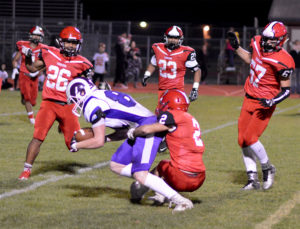 After dropping its season-opener, a 36-33 non-conference setback against Bethel which saw the Braves score the game-winning touchdown late, Yelm rattled off four consecutive victories, including SSC wins over Shelton (56-14), Gig Harbor (21-17) and North Thurston (42-12).
"I think it was a good thing we lost that first game because we can learn from it," McCown said. "We're just continuing to roll and everyone is just getting better and better."
It's hardly been a two-man show this season at Yelm, however. Quarterback Kyle Robinson has emerged as one of the area's top signal callers. The junior has thrown for more than 1,200 yards and 11 touchdowns through the first five games, registering a trio of 300-yard games along the way.
"We just have a lot of playmakers," McCown said. "Everyone is hungry for the ball, hungry to get into the end zone. We just want to win."
Austin Osso has a team-high four TD catches, while fellow junior Kodee Gifford has also come up huge this year, none bigger than his 131-yard receiving, 3 touchdown performance in the Tornados homecoming win over North Thurston.
Then there's McCown, who continues to make big play after big play on both sides of the ball.
"He's a workhorse. He's an engine. He never slows down," Ronquillo said. "He continually works, and that's not just in games, that's at practice too. He shows up every single day and he works hard. Nothing phases him."
Not even when he goes at it with Palmer at practice, which is a common occurrence, but something they each agree only makes them better.
"We're the biggest competitors. It's always me versus him in everything we do," Palmer said. "We're always competing against each other in practice no matter what we're doing. We'll call each other out. I'll tell him I'm the best. He'll say he's the best. We're just always pushing each other."
It's a never-ending battle, however, that has brought not just them, but the entire team together.
"The last few years the team has been close, but definitely not as close as we are this year," McCown said. "That's really helped us on the field. Off the field we're always hanging out. We all love each other and I think that's made a big difference on the field."
The Tornados next game is set for Friday, October 20 at 7:00 p.m. as they face Peninsula High School from Gig Harbor on their home turf.