There was minimal reaction among the squad when Sydney Bonauto provided the Olympia High School girls' swim and dive team with details on the upcoming night's spaghetti feed.
"Trust me, they won't be this quiet later on. Once we get there," said senior captain Lacey Wright, "we're a lot more fun."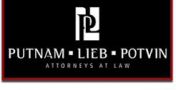 In their defense, when Bonauto reminded her teammates of the social gathering the girls had just exited the pool to end practice, exhausted after swimming 5,000 meters.
"We're not showing it now," Bonauto, a junior, said, "but everyone really gets excited when we get together and do this. It's one of those times we get to have a bonding experience out of the water. The time in the water is really great, but the time we spend out of the water together is actually what makes being on this team so special."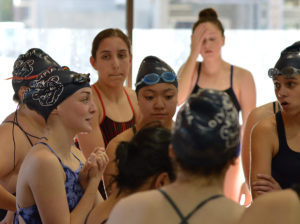 At a pre-season meeting, which featured the team and their family members, a request was made for parents to sign up to host dinners in between meets throughout the year.
With the Bears having a full slate of meets almost every Tuesday and Thursday during the fall sports schedule, the desire was to have a team meal on Wednesdays – all they needed was enough people to volunteer and do some cooking.
That, as it turned out, was not a problem.
"It was really surprising how fast the dates filled up. So many people volunteered to do it," Bonauto said. "We had the entire season covered in no time."
So, once a week the team bellies up to the dinner table and digs into seven pounds of pasta, a little garlic bread and plenty of laughs.
"I think the best times are when we do stuff like that as a team or just when we're on the bus rides to our away meets. There's so much energy," said Wright, who placed fifth at the Class 4A state meet last year in the 500 freestyle and was a state participant in the 200 free. "When we're in the water we're working hard, but when we're on the bus going somewhere it's all about having fun."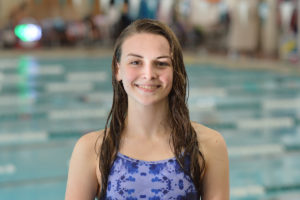 Before she entered the program, Bonauto remembers people telling her the team bonding aspects would actually overshadow the swimming side of things.
"I never understood what they meant until I actually was on the team as a freshman and I was immediately embraced," Bonauto said. "No one knew me that first year, but they instantly made me a part of the team."
That's been the objective for the Bears for quite some time now, something the program has prided itself on and something Bonauto and her fellow upper classmates attempt to continue.
"We try to welcome the freshmen every year. One continuing goal of ours is to welcome in the new batch of people no matter how fast they are," Bonauto said. "We did, however, get particularly lucky this year with how great our freshmen are, but we would have welcomed them in even if they weren't."
A strong freshmen class, featuring Rebecca Norman, Lauren Wilson and Elisa Myers, have helped the Bears put together a stellar season.
"We have so many young people that are doing so well," said Wright, who plans to swim at either Oberlin College in Ohio, Allegheny College in Maryland or Colby College in Maine next year. "It's just a wonderful group. As a team we've been doing an amazing job at getting personal bests at almost every meet. I couldn't ask for a better team."
A victory over Sumner, which finished ninth at the 4A state meet in 2016, improved Olympia to 9-1 overall and 5-1 in the highly-competitive 4A South Puget Sound League. The team has registered 100 or more points at every meet except one – that coming during their lone loss, a 108-69 setback to state power Curtis.
The Bears also captured the annual South Sound Relay title, winning four out of the 11 total events to finish with a meet-high 1,083 points – more than 100 points ahead of runner-up Puyallup.
Olympia received first-place finishes in the 2×200 relay from Wright and Wilson (4:17.53), the 2×100 fly relay from Wilson and Bonauto (2:13.20) and a pair of titles from Emma Song and Myers, who teamed up to triumph in the 2×100 IM relay (2:13.49) and 2×100 breast relay (2:28.65).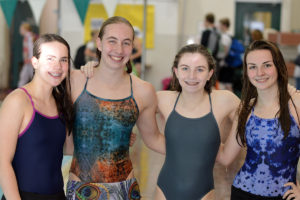 "We have a large, talented and young team," said head coach Mel Smith of the 44-member squad. "There are 17 freshman and 13 sophomores on this year's (team). Our captains have done a great job of leading the Lady Bears to a 9-1 record. In addition to Wright and Bonauto, the other captains are Emi Grant and Emma Song. Grant has double duty as captain and senior class president. Song is an inspiration to all the swimmers with her loud cheers and team support. Song is also a key component of the Bears' district qualifiers. She has qualified for district in the several events."
The team participated in the SPSL 4A qualifier meet at Puyallup High School on October 13 and on October 12, the Lady Bears completed their dual meet season with a 113 to 57 victory over South Kitsap. The team finished their dual meet season 10 wins and on loss.  Next up for the Bears is SPSL 4A League Championships at Rogers High School in Puyallup at 3:00 p.m. on October 21.
The state meet will be held November 10 and 11 at the King County Aquatic Center in Federal Way.