As summer fades and autumn drives us indoors, it's sometimes hard to believe that in Washington, 5.3% of residents are homeless. Though the National Alliance to End Homelessness reports recent "decreases in every major subpopulation: family homelessness, chronically homeless individuals and veteran homelessness," it's still a critical issue in our community.
Homeless Backpacks began more than a decade ago to combat the hunger and food anxiety of homeless students in local schools. Hungry students are proven to lack focus, and suffer from anxiety, depression and chronic illness according to the American Psychological Association. But there are easy ways to help, thanks to the dedicated people at Homeless Backpacks.
Saturday, October 21 is the 12th annual Bountiful Harvest Dinner and Auction, held at the Lacey Community Center on Pacific Avenue. Since 2006, this night of fun has raised one-third of the organization's overall annual budget, says event chair Kelli Schueler.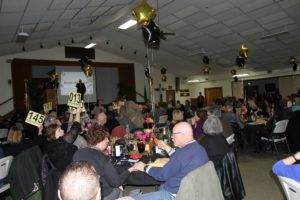 Opening with appetizers and champagne, the evening includes a silent auction, plated dinner by Elyse's Catering and a live auction full of donations from businesses and individuals throughout the community. To keep things rolling, the night's Master of Ceremonies is local celebrity and 'Voice of the Seahawks' Randy Rowland – the Seahawk's Public Address announcer for over 25 years. During the meal, "a student shares their personal journey though the Homeless Backpacks program," explains Schueler.
In the past, the Bountiful Harvest Dinner brought in approximately $60,000 for the organization but this year they're aiming higher. "Our goal is $80,000 to $100,000 as we're branching out further into more rural, elementary and middle schools and increasing the number of students served," says Schueler.
To help with this, generous sponsors have covered all event expenses leaving 100% of ticket sales and auction proceeds for funding. With an all-volunteer staff and zero government grants or assistance, the banquet is crucial to hundreds of students across Thurston County.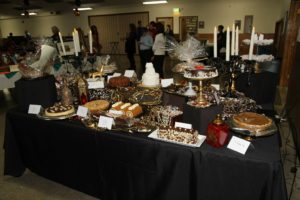 This year's Bountiful Harvest hopes to "focus on gratitude," says Schueler. "We'll have a VIP table to honor some of the people who made this possible." Sponsors include Washington Water Service and Century Link.
On the night of October 21, doors open at 6:00 p.m. Tickets are $90 and though they're offered on a first-come, first-served basis, walk-ins are always welcome. Can't attend but want to help? Event sponsorship opportunities are available by calling Kelli Schueler at 253-228-2496 and donations for the silent or live auction are also welcome. For questions on accepted items or to arrange pick-up, call Kelly Wilson, Homeless Backpack's founder and chairperson, at 360-556-2135.
Want to contribute on a more regular basis? One time and monthly recurring donations can be arranged online in any amount, anonymously or dedicated to a loved one. They also always need donations of foods including tuna, chili, juice boxes and instant oatmeal, as well as grocery store gift cards to help over holidays and long weekend breaks.
Schueler and others also see the night as a call to action to spread the word. Volunteers are needed throughout the year to help Homeless Backpacks with shopping, assembling bags of food and delivering them locally year-round. At the beginning of each school year, Homeless Backpacks typically serves more than 500 students each week. Every weekly bag costs approximately $8 and by the end of the school year, the number of needy students exceeds 700.
Interested volunteers—individuals or groups of fellow employees, clubs and students—are welcome to contact Homeless Backpacks by calling 360-628-8631 or visiting them online to fill out the volunteer form. Find photos of the most fun you'll have serving your community on the Homeless Backpacks Facebook page.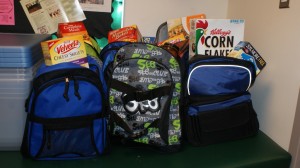 Poet Ella Wheeler Wilcox once said, "With every deed you are sowing a seed, though the harvest you may not see."
Shopping for ravioli and granola bars, stuffing endless bags of snacks or attending a festive gala may not seem important, but these simply activities are vital to the lifelong health and learning of children throughout our region. Help Homeless Backpacks make a difference in the lives and futures of students for years to come by attending this year's Bountiful Harvest Dinner and Auction.