Supporting a healthy, local food economy in Thurston County means going beyond buying organic and sustainably grown food (though both are good places to start), and investing in the long term viability of local farms and food producers. The South Sound Food System Network (SSFSN) plays an integral role in bringing together growers, producers, marketers and local agencies to support that process.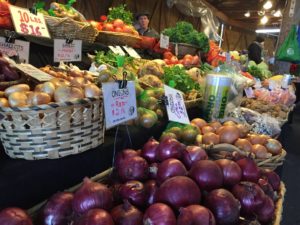 One of the people working behind the scenes on these efforts is Aslan Meade, business and investor relations manager for the Thurston County Economic Development Council (EDC). Aslan is one of the co-chairs of SSFSN and has been involved in local food work for the past five years. His position at the EDC was created, at least in part, to have a specific focus on boosting our food economy.
Aslan is passionate about this work. "Food production is one of our region's top five industries. These are our neighbors and we want them to be successful – to be able to earn their living through this work of feeding our community, to save for retirement and put their kids through college."
As community outreach manager for the Olympia Farmers Market, Mary DiMatteo gets to see the impact of a local food economy on a daily basis, as local farms engage in direct sales with a customer base that is motivated to support them. "Consuming foods purchased directly from farms guarantees that your food will taste better and provide nutritious, whole food for your family," she says.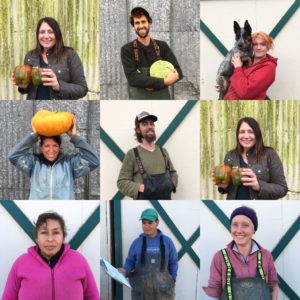 Mary sees part of her role as creating inclusivity and accessibility in the local food system. "Farmers markets proudly accept EBT/Quest, WIC, and Senior benefits. The Olympia Farmers Market is also working with our community partners to establish a Market Match program for EBT recipients," she shares.
Annie Salafsky and Sue Ujcic of Helsing Junction Farms have long been champions of the local food system. They started their farm in 1992 and grew their Community Supported Agriculture (CSA) program from 75 to now well over 1,400 members. As farmers, they want consumers to understand that when we buy local food directly from farms, the farmer receives 100% of the proceeds. When we shop at larger stores, the farmer typically only receives 30%, with 30% going to the wholesaler and 40% to the retailer.
When we engage in direct sales, Annie and Sue say, "It allows farms and small producers to pay their employees a living wage and focus on better farming and business practices. It helps to keep farmers in business and farmland secure for future generations. This also keeps money in the local economy, which strengthens communities, as that money is reinvested in other businesses and services."
By doing our weekly shopping at the Farmers Market, Mary says that "it ensures a high standard of food safety and food has traveled a significantly shorter distance to reach the consumer."
Annie and Sue echo this. "Most of the time, produce at farmers markets and from CSAs has been picked within twenty-four hours of purchase. Food imported from far-away states and countries has traveled an average of fifteen-hundred miles and is a week to ten days old before it reaches supermarket shelves."
Tracy Smaciarz runs Heritage Meats, which has been in business since 1977, having taken over for his father in 1996. Tracy has been involved with SSFSN for almost two years and he brings a lens to what local food means when you go beyond produce, as well as what it means to be a local employer. "I believe that small farms are the backbone of America," Tracy shares. "By supporting local meat growers, we are all able to sell throughout Western Washington. And by specifically purchasing Heritage Meats' products, you keep 18 people employed in Rochester. We are one of the largest private employers in our area."
Tracy takes pride in being able to contribute to our local food economy in a unique way. "There isn't anything easy about the meat industry. But when you work hard and provide food for folks who love what they are consuming, it gives you a great sense of accomplishment."
For all of these local food system participants, choosing to work as a food producer is both simple and complicated in equal parts. "As an organization, [The Olympia Farmers Market] seeks opportunity in the challenges we collectively face," says Mary. "Few things are as rewarding as standing behind people and businesses I believe in and watching great business models take off with success."
Mary DiMatteo shares some tips for consumers to get the best value for our dollar when shopping locally:
Plan meals and recipes in advance.

Use the South of the Sound Community Farm Land Trust's Farm Map and talk with farmers to find out what is abundant and in season.

Don't purchase more than you can consume in four to five days, to avoid food waste.

Sign up for a Community Supported Agriculture (CSA) share with a local farm. Pre-purchasing CSA's enables farmers to cover expenses over the growing season and members get a discount on their produce. 

Utilize your EBT, Market WIC or Senior Checks, or Market Match Program.

Learn preservation techniques like freezing, canning and dehydrating.
One key aspect of building a healthy, local food economy is growers and producers supporting each other. Aslan, Annie, Sue, Mary and Tracy unanimously named Sunday Sash and the team from Oly Kraut as one of their favorite local producers siting their commitment to using locally sourced produce and helping to revive local production and distribution models. Annie and Sue also shared their love for some of our area's dairy producers. "We love Flying Cow Creamery, Black Sheep Creamery and Domina Dairy, all of whom we partner with, offering their handcrafted cheese and yogurt to our CSA members."
To learn more about how you can support our local food economy in Thurston County, register for this year's South Sound Food Summit, taking place on October 20 and 21 at South Puget Sound Community College.
The Summit opens with a "Local Flavors Tasting Salon" on Friday evening, featuring locally produced food and drink and live music. Saturday will be a unique, day-long event designed to "celebrate, educate & engage our diverse south sound community using an Interactive, hands-on, family friendly approach to our local food system."
To read more about the South Sound Food System Network, you can check out this past article and this Q & A article answering the question, "Why does everyone deserve to eat well?" Keep up to date with the SSFSN on their Facebook page and website.