If you are ever feeling slightly down, be sure to spend time with Tori Fairhurst. Her natural effervescence fills the space around you, and there is hope. Tori is the community engagement representative for Be the Match, the National Marrow Donor Program matching marrow donors to those in need. The only challenge for you while being with Tori is finding a moment when she is not in motion, which is not that often. A better idea would be to join her on one of her adventures.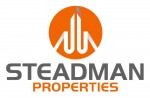 Tori Fairhurst is a perennial go-getter. When she is in – she is all in. Take the three-day cancer walk. Tori has done the 60-mile walk six times, enrolled her sisters to walk and raised thousands of dollars. She has been a team captain and a crew captain. She also participated in the American Cancer Society Relay for Life six times. Her mother had cancer and her sister Mary Fairhurst, Washington State Supreme Court Chief Justice, is a survivor.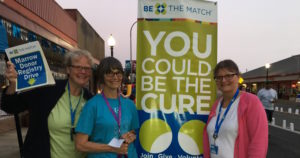 For another fund-raising event, Tori even swam across Lake Washington. "I love to splash," said Tori. That was a lot of splashing.
Tori's concern for others first expressed itself while she was in high school when she donated blood for the first time. The thought of saving lives has spurred her to be a continuous donor throughout adulthood. During a college blood drive, she was asked if she would be willing to be a bone marrow donor, too. Tori responded, "Of course. Why not?" Who knew that her future work would be intimately tied to both blood and marrow donation?
That did not happen right away, however.
After graduating from Gonzaga University with a degree in public relations, Fairhurst worked with L'Arche USA, an organization that provides homes and workplaces for people with and without intellectual disabilities in order for them to live and work together. She worked within a community for four years in Spokane and for a year in Ireland. "It was a beautiful experience," she remembers. A move to Olympia led to continued work with adults with disabilities.
In 2000, she went to work for the organization now called Bloodworks Northwest as the blood drive scheduler. Saving lives is clearly meaningful work. The job of getting people to participate was a good fit for her. Last year, however, an opportunity with Be the Match came up. The organization's value and mission resonated with the core of her being. "It's what I would do if I could do anything," she reports emotionally and with enormous heart.
What, more specifically, is Be the Match? It is the national marrow donor registry where volunteers are ready to say "yes" to a patient in need. There are 70 diseases that can be cured (yes, cured) with a marrow transplant. Interestingly, only 30% of people have a match in their biological family. When you join the registry, you do a simple cheek swab, sign a consent form and agree to donate to any patient. 20% of patients are children.
"There is only one registry – Be The Match – in the United States," explains Tori, emphasizing the important work being done by the organization. "If someone joins the registry at a blood center or through another group, all of the swabs come to us at Be The Match. There are several groups that do recruitment across the country but Be The Match is the only national registry for the United States."
For clarity, this is not a blood-type match. It is by tissue-type, which is inherited. Patients are most likely to find a match with someone with similar ancestry. Be the Match is looking for healthy people between the ages of 18 and 44. It is free to sign up. Most matches come from this age group. If you are aged 45 to 60, you can still register, but you must do so online and pay a typing fee of $100. If you are 61 or older, you are, as Tori gently explains, overqualified. Many of the criteria that prohibit some people from donating blood do not apply to marrow. Read more here to learn the full medical guidelines.
Donors do not incur costs. Be the Match provides travel as necessary to the nearest facility. A small percentage of donors give marrow from their hip, which might leave you with a little soreness but no lasting health issues. This is often necessary for a child's treatment. Most often the donation is given at a blood center. The process is similar to donating plasma or platelets. One in 430 people become a donor, becoming "The Match."
Imagine being the person who could cure someone's cancer. Please take a few moments and sign up right here, right now. Thurston Talk readers get their own special link.
Tori manages the territory that includes most of upper Washington and Alaska. She is literally on planes, trains and cars a lot of the time. There are people to meet, events to coordinate and sites to visit. Since she interacts with so many people along the way, she started carrying swabs with her. It is never a pressure situation. It is all about talking to people and letting them know what is possible.
People generally ask, "Can I do that?" She answers, "Do you want to?" It is really easy. You can even contact Tori directly at tori.fairhurst@nmdp.org.
See Tori explain marrow donation with Be the Match in this nine-minute video.
Chances are, Tori will inspire you, too.