There are very few places you can go and there is something for every member of the family, even the little ones. The South Sound YMCA is that place. It's perfect for keeping the whole family engaged and active. Each family member can choose something that peaks their interest – from cooking to climbing – no need for the kids to all do the same thing.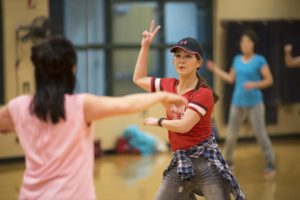 "The YMCA has always been focused on families," says Jake Grater, the Y's Executive Director. "We are the place to be for families to recreate and become healthier, stronger and connected – together."
To this end, the programs and classes are choreographed so everything is aligned. "We have coordinated all the adult and kid's activities together to make it easy and convenient for the family," Grater says.
The Y has taken the guess-work out of working out. This means your family can come in at the same time – no juggling schedules – and each member can decide what activity they would like to do. No forcing one child to take swim lessons simply because his brother wants to and you are already there. At the Y, one can swim while the other climbs or learns the art of cooking. And, you are free to pursue your passion as well.
The bulk of the family programming on the weekdays starts around 5:30 p.m., giving parents and kids a chance to get home, grab a snack and head to the Y together.
What's Available at the South Sound YMCA
Once you arrive, what are some of the options for your family? You will be astounded by the number of classes and programs. There are too many to list here, we offer a few highlights and you can browse the full list of offerings online.
Y Kids Zone
The Y Kids Zone has something age-appropriate for kids 3-months to 13-years-old. For the youngest children, the "Playcare" program provides fun physical activities, positive relationships and enrichment activities. It's taking the idea of childcare to the next level.
In the "Explore & Create" program, children ages 5 to 8-years-old can participate in activities catered to their age – from chess and science opportunities to drama and cooking.
Finally, at the Briggs Y you will find "Hangtime at the Y," which is geared for 9 to 13-year-olds. "There are STEM and STEAM projects, physical activities and homework time for the older kids that fits their age and development," says Christy Parks, the Y's Senior Director for member experience. Kids can also choose from activities such as swim lessons or open swim, rock climbing, ballet and even martial arts.
Adult Classes
For the adults, there is an extensive list of activities including group exercise classes – over 100 per week, small group training, personal training and more. There are classes for adults at all physical levels. Options include:
Strength Training Together TM
Indoor cycling
Yoga – several kinds including Chair, Gentle, Ashtanga and Yin
RizzmicTM
ZumbaTM
MixxedFitTM
Turbo Kick – kickboxing and dance moves
Pilates
Tai Chi
And much more more
"The idea is there is something here for everyone in the family," says Grater. "This means once or twice a week, the family can exercise, recreate and build relationships together."
FitPath
All adults who join the Y are encouraged to take advantage of FitPath, a free 30-day program where they meet with one of the Y's professional wellness coaches up to three times to orient them to the Y, set goals and create their own personal path to fitness. "Our whole goal in Fitpath is to help you find your own personal path to achievement through the Y," Grater explains.
All members, when they join, will receive a phone call from a wellness coach within the first 24 hours to schedule their first meeting.
 A Great Value
Unlike most gyms, there are no contracts at the SSYMCA, and their membership rates are affordable. Regular membership for a family of two adults with children is only $85.50 a month, with a one-time joining fee of $65. Other membership pricing is available on the YMCA website.
"If we can help a family commit to a workout and connection routine once or twice a week, they will do really well meeting their own wellness goals, becoming a stronger family in the process," says Grater. "Nationally, we have found that there really is a sweet spot using the Y between once and twice a week, so our whole goal is to make it as easy and as valuable as possible to get the families in here that often."
As a not-for-profit organization, the Y's goal is healthy families and accessibility is a must. The YMCA has a unique pricing structure, the Personal Pricing Plan created to ensure the Y is affordable for all. The plan offers a discount on membership dues based on a family's household income. More information can be found on the pricing chart here.
For more information on family memberships or programs, visit the South Sound YMCA website, or stop by one of their locations.
Briggs
1530 Yelm Hwy SE in Olympia
360-753-6576
Downtown Olympia
510 Franklin Street SE, in Olympia
360-357-6609
Sponsored