Drones are the new "it" gadget. Our local remote control (RC) store offers plenty of models, hobby groups meet regularly and students at the New Market Skills Center are building and flying drones. This community is buzzing with drones of all kinds.

The definition of a drone is evolving with the technology, but it is essentially a flying robot that is either pre-programmed to do a series of movements or managed "live" by a pilot using a remote control. Drones are also called quads (4 blades), multi-rotors, unmanned aerial vehicles (UAVs) and unmanned aircraft systems (UASs).
This summer, high school students at New Market built and flew drones in less than three weeks under the direction of Victor Kores, New Market Drone Technology instructor.
"I started five years ago in RC and my background's in aviation, so I like things that fly," says Kores who began this unique, leading-edge program.
"We learned how to troubleshoot drone problems, and everyone in the class had their fair share of problems," said Ericka Baxter, a senior at Black Hills High School. "Although frustrating sometimes, it always felt good when you finally figured out what the problem was."
"I find many things interesting about drones," said Baxter. "They have so many capabilities that humans don't have. They can take cool videos, transport things and even help rescue people."
How to Get Started
To get started as a drone hobbyist, visit RC Hobbies which carries a wide variety of drones and parts as well as offers drone repair.
"I invite customers to get on our 3D virtual simulator and pop up a variety of drones to try, then see how easy or difficult it can be," says Dennis Richards, store manager. "The newer drones are self-leveling so if you just keep your hands off the stick, it pretty much stays in one place."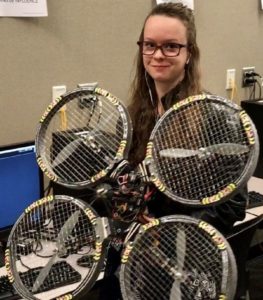 "You have to want to fly them," continues Richards. "If you have a desire to learn it, you're going to be able to pick it up. Some drones have the technology to take off on their own, fly on their own or even fly a GPS-coordinated route."
Not all drones have cameras, shares Kores. He advises starting small and cheap without a camera, learn how to fly that model and then try a larger or more complex drone with a camera and transmitter. Also purchase a flight simulator to practice, says Kores.
Another tip is to read about drones online and join a local RC flying club such as Hot Start Helis, Puget Sound Silent Flyers or Thurston County Miniature Aircraft Association. RC clubs provide a flying space, peers to learn with and people to guide you.
Stay under 400 feet elevation, make sure you can see your drone at all times and manage your battery power so your drone can return to you, advises Kores.
Purchase Needed Licenses 
Purchase an Academy of Model Aeronautics (AMA) license prior to joining a club. The license is free through age 19 with registration and includes insurance and other benefits.
If you are buying local, ask your hobby shop about Federal Aviation Administration requirements for registering your drone as well to ensure compliance. You may also need a ham radio license to operate a video transmitter, says Richards. Research your situation, type of drone and how and where you are going to use it.
Where to Fly and Not to Fly 
First, learn where you cannot fly your drone. The FAA created "B4UFLY" – a free computer/smart-phone app that zeroes in on a geographic area, explains Kores.
The app does not cover everything off-limits, so also do some research online. Try Yahoo, Facebook, Google and Reddit.com, according to Russ Wood, a Hot Start Helis member. Read blogs, talk to other drone enthusiasts and use good judgment first and foremost. If your drone crashes, you need to be able to retrieve it, reminds Wood, who retrieved one drone from under 10 feet of water.
Avoid flying near or over government buildings, ports, national parks, railroad tracks, crowds of people or within five miles of an airport. Many state, county and city parks, and sight-seeing areas are posting no-fly signs for RC devices. Be aware of any posted restrictions before you fly.
Commercial drone pilots are in a whole different league, flying through national parks or over weddings thanks to special permits and a highly skilled pilot guiding expensive equipment. If you are a noncommercial hobby drone pilot, get permission to fly on private property and research public property to make sure it is legal to fly over since laws are constantly changing, reminds Kores.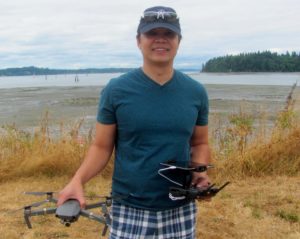 If you have a mini drone, you can fly in your house or yard, says Kores. RC flying club fields and events are also a good option and many drone pilots are content with these locations, particularly while they are still learning to fly.
Once you are adept, you might try flying (with permission) over mudflats at low tide or on private land around ponds, through fields and over bluffs.
The sky is the limit – up to 400 feet!