Fall in Thurston County is one of the most beautiful seasons of the year. The leaf colors become brilliant as the late afternoon sun shines brightly through the clouds, painting the perfect scene for family fun. Look beyond the pumpkin patch for an experience that is sure to become a seasonal tradition for you and your loved ones.

First, hit the trail for a day hike through the foliage. If you're willing to drive further out of town, be sure to check out the Hoodsport Trail. This 1.5 mile loop through the trees follows a creek between Hoodsport and Lake Cushman. It's an easy walk for families with young children. If you're looking for a more moderate trail, head out to Lower Lena Lake. If you want to stick closer to our own backyard, Tolmie State Park and Kennedy Creek both offer trails with premium seasonal views.
Cooking together can be a great way to experience fall. A local farmer's market is a great place to start. Discover the seasonal fruits and vegetables available to bring home to your kitchen. Next, learn to cook up a delicious meal by signing up for a cooking class. Bayview School of Cooking offers classes for adults and kids centered around food for the season from Creamy Pumpkin Soup to No-Bake Apple Pie. GRuB is also a great spot to learn more about the available food of autumn including during several events focused on the harvest.
After a savory meal, it is time for dessert! Leave the bags of Halloween chocolate at home and instead visit a local chocolatier. Savor the flavor of a hand-made chocolate from BitterSweet Chocolates. They offer a wide-variety of flavors to please any palate. Looking to pair your chocolates with something warm? Stop in to Batdorf and Bronson's Capitol Boulevard location to pair your sweets with their locally roasted brews. Not a chocolate fan? Hawley's Gelato & Coffee on 5th Avenue satisfies both the sweet tooth and the need for caffeine in one stop.
Take your java in a to-go cup and take your travels out on the Thurston Bountiful Byway. Download the map and make way along the county-wide route (or just part of it) for an experience chasing autumn through our beautiful county. Explore local farms, biking trails, wineries and craft beer. Historical landmarks are scattered throughout the route making this journey an experience inclusive of our county's past, present and future.
If your family is in need of thrills, head out to My Morbid Mind in Lacey. The frights here are unmatched. If you have younger children that want to experience a haunted house but don't want to suffer from nightmares, choose one of the "lights on" events on October 28 and October 31, 2017 from 5:00 p.m. – 6:45 p.m. The cost is only $3 for your little ones to partake in a bit of spooky Halloween fun.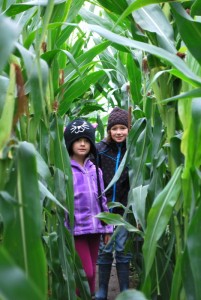 Rutledge Corn Maze also brings the excitement of the season to children of all ages. Tour the maze during the day for the younger kids and come back at night for a haunted fright. Take on zombies with a paintball experience available until midnight on Fridays and Saturdays during October.
End your quintessential fall fun with a trip to Lattin's Cider Mill. Their cider and bakery items are always fresh for the season. Their annual Apple Festival begins at the end of September and takes place every weekend through October. An animal train, face painting and wagon rides can be enjoyed during the festivities. Be sure to visit the animals that call the mill home and pick a perfect pumpkin before you leave.
Fall is prime time for enjoyable activities around our county. For even more ideas, check out our events calendar for the latest happenings throughout Thurston County.
Thrifty Thurston highlights inexpensive family fun in Thurston County. The weekly series focuses on family-friendly activities throughout our community. If you have a suggestion for a post, send us a note at submit@thurstontalk.com. For more events and to learn what's happening in Olympia, Lacey, Tumwater and the surrounding area, visit our complete events calendar.