The Puget Sound, or Salish Sea, is the largest estuary in the United States by volume and second largest by shoreline. An estuary is an area where freshwater and saltwater meet, which creates a diverse ecosystem. With a variety of marine life, geology and history to learn about and explore right in our backyard, the South Sound Estuary Association (SSEA) opened the Puget Sound Estuarium in 2007.
Their mission is to "foster learning opportunities that inspire people of all ages to connect with, protect and enjoy the unique estuary environment of Puget Sound." Their board of directors and staff hope to inspire the community to engage in activities that promote the health, conservation and restoration of the Puget Sound estuary.
Through unique programming, the Estuarium offers opportunities for both youth and adults to learn and play. The facility, located in downtown Olympia, is open on weekends from 11:00 am – 4:00 pm. Inside, you will find saltwater aquariums, interactive learning activities and rotating exhibits, such as the upcoming "Sea Stories." Admission is $5.00 per family, $3.00 for adults and $1.00 for youth.
When it comes to the marine animals on display, executive director, Sasha Medlen, says, "Everything in our tanks can be found in Puget Sound. We have a collection permit, but a lot of what we have is saved from places like the Department of Fish & Wildlife. If they accidentally catch something or find an injured marine animal, they'll bring it here."
Hermit crabs, shore crabs, feather dusters and goby are just a few of the marine creatures that can be found in the tanks. There is also Bonnie & Clyde, the sculpins; Elvis, the coxcomb; a group of anemones named after different types of squash and Lefty, the kelp crab. Sasha says, "We name our animals because they're our ambassadors. Kids come in and name them and develop relationships with them [on return visits].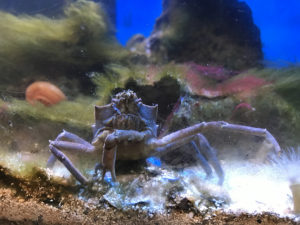 Lefty lives in the large predation tank, which they call the "Thunderdome." Sasha says, "There's a lot of drama in this tank. When we first got Lefty, she had three missing arms, and she came here and molted, so we had her complete molt on display until it started to fall apart. She eventually grew them back, and we could compare her body to when she was still missing her limbs."
In addition to the animals, staff member are working on an exhibit showcasing different types of plants that can be found in the estuary, as well as how animals live among them and use them as food or camouflage. Beach naturalists are creating pressings from kelp and other plants for display.
Originally called the South Sound Estuarium, the new permanent facility was established in 2015, and the SSEA decided to change the name to the Puget Sound Estuarium, to focus more on the marine life found in the sound, as opposed to one specific location. Sasha says, "There's no ecosystem barrier between north and south Puget Sound; it's one big estuary."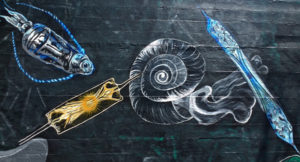 The SSEA has its sights set on an even bigger facility in the future. "Whether or not a bigger facility happens all depends on community interest, support and funding," says Sasha, "but we'd really love to move down by the Hands on Children's Museum and LOTT to be a part of a museum/aquarium/family activity area downtown. That area is also on the water, so there's the possibility of using the water from the Sound or from LOTT in our tanks."
They have already completed a strategic plan and begun exploring the possibility of a capital campaign to fund the project. They are also considering completing a feasibility study first to help determine things like the size of the facility and the amount of funds they will need to raise. Sasha says, "It's exciting to think about, but it's definitely down the road. We need to fill this place up to the brim first!"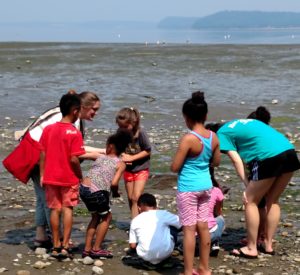 The Estuarium also hosts "Meet the Beach" events at local beaches throughout the summer, where volunteer beach naturalists teach participants about intertidal life at low tide. "Pier Peer" takes place at Boston Harbor Marina and offers a unique opportunity to view marine life at night using underwater lights. According to Sasha, "The animals are attracted to the lights, so they all come around when we put the lights in." Pier Peer is one of their most popular events, so be sure to register ahead of time.
Whether you are participating in one of the Estuarium's programs or out looking for marine life on your own (something they encourage), there are a few things to keep in mind. "If you touch or pick anything up from an estuary, you want to be really gentle," says Sasha. "We recommend two-finger touches, especially for creatures like fish that aren't supposed to leave the water."
She adds, "There are a lot of animals many people don't even realize are out there. Like barnacles, for example. You think they're just hard things on shells, but they actually are alive. When the tide's out, you can't really see them, but when the tide's in and they're submerged in water, they come out and do their thing."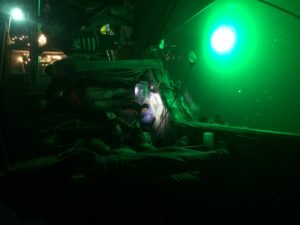 The Estuarium also partners with LOTT's WET Science Center to host the Discovery Speaker Series, with presentations by marine science experts. Recent topics have included "Road Culverts and Fish Passages," with Paul Wagner from WSDOT and "Geology and Glacial History," with Wendy Gerstel from Qwg Applied Geology.
To learn more about the Estuarium, stop by the booth at various community events throughout the Puget Sound, attend the annual "Turn of the Tides" festival in December or visit the Estuarium's Facebook page to keep an eye out for all upcoming events, classes and announcements.
Sasha Medlen participated in an interview on Thurston Community Media's Mission Non-Profit series with host Andrea Capere. TC Media and Melton share more about the mission and educational offerings of the Estuarium in these videos.