As a stay-at-home parent, I know it is important to get out of the house. Hunkering down with your little one is perfectly fine on occasion, but exercise and fresh air can help combat depression, fatigue and loneliness. With this in mind I packed up the stroller, crammed the diaper bag with essentials and ventured out with my son in tow.

Here in the Pacific Northwest we have a healthy number of beautiful areas to stroll with your kiddo. Here are a couple of classics, a few hidden gems and curious attempts my son and I went on recently to get out of the house and keep our days interesting.
And before you hit the trail, here are a few reminders for trail etiquette. Keep right unless passing. If you find yourself passing others, please say "on your left" or "passing on your left" when doing so. Even if there is plenty of room, it is nice for others to hear a warning. If on a path not wide enough for both directions, the person going uphill has the right-of-way. You will appreciate this when you are trying to push your little one up the last bit of a trail and do not want to lose momentum. Lastly, whatever you pack-in please pack-out.
The Classics
When driving in downtown Olympia, you will discover that almost all roads lead to the lake. In the shadow of the capitol building and filled by Tumwater Falls above, the lake is a meeting place for those that feel a pull towards water with no desire to swim.
There are multiple points to start from. We parked on the street near Water Street Café but Marathon Park along Deschutes Parkway has plenty of room. The path has well-maintained gravel with plenty of room for multiple strollers to walk side-by-side. With nearly no bumps until a bridge that cuts across part of the lake, this trail means that your child is safe to pass-out and stay asleep for as long as he wants. Mine sure did.
At a leisurely pace, we completed the 1.64-mile loop in about 42 minutes. There are public bathrooms at one end of the bridge in Marathon Park and many benches along the way to take a breather or take in the view.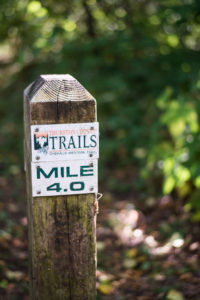 This 22-mile trail spanning a large section of our county was a must for me. You can access it from multiple points along the way or either end. We started at mile four, just off 26th Avenue between Lilly Road and Sleater-Kinney.
This trail is big – really big – and heavily used, so you will not be alone. On our stroll we encountered bike riders, high school cross country athletes, sweet old neighborhood couples and so many more. For a 3.27-mile out-and-back head south from the 26th Avenue trailhead and make your turn back at the bridge that crosses Martin Way. The trail is paved and has very slight rolling hills that are difficult to notice until you are tired (i.e. on your return trip). At a healthy 17 min/mile we were finished in an hour or so. If you want to extend your time or need a break, there are benches at multiple spots. Or, challenge yourself to a longer walk – the trail goes on and on.
The Hidden Gems
Did you know there is a large trail system around SMU? This gem includes a walking path around two ponds at the base of the Abbey Church. This walk is a slightly bumpy beauty my son absolutely loves to be pushed on.
Park at the lot behind the library on Abbey Way and walk toward the hill. On your left you will find the ponds. Follow the rocky trail straight toward the larger pond and it will take you all the way around. For a bit more of a workout, take a left on the grass trail about three fourths of the way around until you hit a paved road. Go right to travel uphill past the cemetery and you will return to Abbey Way. Thankfully, your car will be downhill.
This large gravel path with paved extra will be a little over 0.75 miles and we completed it in just over 14 minutes. This was without stopping or enjoying the beautiful trees that surrounded us. Taking your time, you could easily be there in 30 minutes to appreciate all that Mother Nature has provided.
I will admit the falls are not very "hidden," but many do not think to bring their strollers on this trail. Situated just south of Capitol Lake, the falls have public restrooms, grassy areas for play and beautiful views of flowing water in many spots.
At the falls you have a decision to make. If you stay to the left of the bridge, you can do an out-and-back that is smooth but will require a healthy return push uphill. Turn back at the bridge at the end of the falls unless you are looking for some work.
Your other option is to turn right and cross the bridge. This loop is 0.63 miles but includes two spots that you will have either to negotiate carefully or physically pick up your stroller to cross. These are not dangerous spots, just possibly difficult, depending on how comfortable you are with your stroller and how heavy it is packed.
We completed this trek without stopping in 16.02 minutes. You can easily spend an hour at the multiple falls gushing along the river and cascading by the trail. There are benches and grassy areas to use for your comfort.
Curious Attempts
"Let's go try a nature park trail," I said to my son, and being under a year old, he did not have much to say back. This trail starts at 1700 San Francisco Ave NE and Marion St. NE. There are other entrances, but this is the main one. Parking is on the street or in a grassy lot parallel to the entrance. There are large signs at each entrance, but no other signage on the trails. If you keep to the widest trail at all times, you should be fine.
The trail begins with a short but steep dip down to a fork. Take a right over a small bridge-like structure and in no time you will arrive at a second entrance at Lybarger St. It is such a short distance that I would not even mention it except it includes a nice bench on a small hill overlooking the park. This would be a great spot for a break or a few minutes of fintrospection.
To the left of the fork begins the longer trail. While the path is thoughtfully maintained, you will go up and down some hills and weave a little. There are bike paths and small walking paths that shoot off, so stay on the most maintained section. Your turn around point is at Edison St. To go further would require you to be on a very narrow bike path.
Returning is about equal in terms of hills until the very end. The drop-in that you experience at the beginning feels like a burn on the way out. After just over a mile of trekking, you and your stroller will be tested by the last bit. We completed the 1.28 mile trail in 25 minutes.
This trail is the most difficult we went on. Park at Meridian Neighborhood Park in Lacey and travel northeast on Campus Glen Dr. away from Willamette Dr. In about a minute or two you will come across trails on both sides of the road. On the right it will take you to an overgrown bike path that no stroller will survive. Cross the street and you will find a Lacey Parks' sign. The entrance is deceptive due to the smooth, well-groomed ground and the width of the trail. This quickly changes into hills, bumps with tree roots and multiple rocky areas.
I considered turning around but I pushed on. My son loves a bumpy trail, but this was one proved a bit much for his under-one-year-old tolerance. Seeing the opening at Campus Park Dr. we took a right and another right at the next street, which happened to be Campus Glen. A smooth sidewalk proved perfect to end the trip.
The trail section was just over a mile, and the trip back took 0.6 miles. In total, the 1.63-mile push set us back 32 minutes and was an adventure to remember.
To all the fellow stroller-pushing parents out there, I hope you will enjoy some of these options that might offer a new adventure with your little passengers.
Thrifty Thurston highlights inexpensive family fun in Thurston County. The weekly series focuses on family-friendly activities throughout our community. If you have a suggestion for a post, send us a note at submit@thurstontalk.com. For more events and to learn what's happening in Olympia, Lacey, Tumwater and the surrounding area, visit our complete events calendar.