Historically, children would enter their family business to carry on its legacy. But this type of generational passion seems rare in our twenty-first century, patchwork quilt economy. When we find it, though, the excitement generated by those involved is truly contagious.
For more than 100 years, the YMCA has given families a welcoming place to exercise, play, and learn. Locally, the South Sound YMCA's two branches, Downtown Olympia and Briggs YMCA, strive to "work tirelessly every day to nurture the potential of kids, improve the nation's health and well-being, and give back and support our neighbors."
Nowhere is this more evident than the life and mission of their Aquatics Coordinator Jackie Barratt and her family. A third-generation swimmer, coach, participant and teacher, she keeps the YMCA's classes and pools full to the brim.
Barratt's love of the water was unavoidable. Her grandmother coached her mother's synchronized swimming team for many years at the YMCA. When her mother grew up, she taught water exercise classes, often with baby Jackie in a pool-side baby carrier. Jackie herself learned to swim at an early age. "I don't ever remember not being in or around the pool, I always loved coming to the Y."
In school, she competed with an elite synchronized swimming team—starting as young as age 8—and later on the Tumwater High School swim team. Barratt found that competing "gave me a connection with my school" and provided the opportunity for amazing travel. From 1994 to 2002 she earned her way to national synchronized swimming competitions in Florida, California, Hawaii, New York and more.
At age 15 she turned her YMCA volunteer hours into a paying job, both lifeguarding and teaching swimming lessons. This continued through high school and in college, she continued her aquatic endeavors at a nearby athletic club. With her mom's help, she always had a home at the South Sound Y, coming home to work on holidays and over the summer. Between coaching, camps, lifeguarding and classes, Barratt has worked for the Y for more than 20 years, often with attendees who remembered her as a baby.
Currently, Barratt oversees the South Sound YMCA's thriving aquatics program as well as their synchronized and speed swimming teams. "Hundreds of kids come to the Y every day for lessons," says Barratt, with approximately 70 currently on their swim team, but she's always hoping for more.
"We have a lot of opportunity for growth," she admits and hopes to add more morning programs for homeschoolers, preschoolers and others in the coming year. While the downtown branch is "my home away from home, there's more space at Briggs," she explains.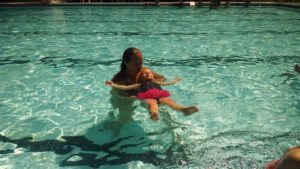 With this in mind, the South Sound YMCA is hoping to develop additional classes, lessons and attractions to the bustling Yelm Highway location bringing even more families to the facility, hopefully fostering a love of the water and teaching a critical safety life skill.
One new offering is geared towards young competitive swimmers. The YMCA's 'Introduction to the Swim Team' class is perfect for middle and high schoolers wanting to try out for their school's team. By learning what will be expected from a seasoned pro, students can smoothly transition in a low-stress environment enabling them to be ready for the next level.
Outside of work, Barratt has been happily married for almost nine years and is mom to two young boys. She and her family love to swim—naturally—and travel. She often brings the boys to youth sports programs at the Y so they can try a variety of new activities and of course, they are in the pool.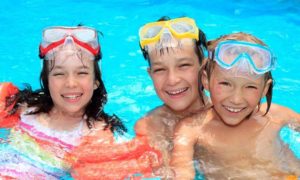 Having studied history in college, Barratt loves to read historical fiction and "daydream about what might have happened if history had gone another way." Lucky for us, Barratt's path was clear from the start and our community is richer for it.
It's been said that "A mentor enables a person to achieve. A hero shows what achievement looks like." To have both, so near at hand, is a true blessing. Especially when that blessing keeps our kids safe and sound, if just a little soggy.
You can read more or enroll in any of the South Sound YMCA's water-based classes, teams and camps online or by calling 360-357-6609 or 360-753-6576. Suggestions on new classes or aquatic activities? Email Jackie Barratt directly at barrattj@ssymca.net.
Sponsored