Bingo is one of the most popular games around and has been for almost 500 years. Its early form as an Italian lottery-style game became a teaching tool in 1800's Germany before morphing into today's officially recognizable form in the American "Roaring 20's."
Casino research estimates that in recent years "some $70 billion is spent every year worldwide in land-based bingo halls around the world." They stress that the old-fashioned format has changed, however.
"These days…bingo has ramped up the pace of the game and offers more formats than you can shake your bingo wings at. There's 90-ball bingo, 80-ball bingo, 75-ball pattern bingo, speed bingo, chat games, penny bingo, linked jackpot bingo, bingo-slot hybrids, and more. You can play bingo harder, faster, at higher volume, and with more variation than ever before."
Locally, one of the hottest bingo games in town is hosted by Little Creek Casino Resort in nearby Shelton. Their monthly bingo events are fun-filled ways to play, laugh and win. This year they're proud to host their first two-day, $165,000 Bingo Tournament on Saturday and Sunday, September 9-10.
"We have never done a bingo tournament before," says Stacy Visser-Wolf, Little Creek's Keno manager and event organizer. "I've had players talk about going to Vegas, playing in one, and having lots of fun so a friend and I went down to Vegas and played in a bingo tournament ourselves. People were right, they are a lot of fun! Mind you we didn't win, but just the excitement of possibly winning $2,000 every game and the Blackout (where all numbers on your card are called) of $25,000 made it thrilling. There's a crazy feeling you get when you're on a roll and you see your number in the window. Bingo players know this feeling and they chase it."
To enter the Little Creek tournament, Players Club members have a couple of game play options. We offer two different buy-in options: a $175 buy-in that gets you two days of bingo only or a $355 buy-in that gets you two days of bingo and two-night stay in the hotel. We are also offering a half off for 'Daubin in the Dark' Friday September 8, so registered players will only pay $25 instead of $50.  This is our black-light bingo event. We have a DJ and drink specials ­– this session is so much fun."
Players Club members must be over 21 but there's no charge to join. Simply fill out the online form or visit the Players Club desk to enroll and receive your membership card. Once signed up, you'll receive discounts, birthday offers, pre-sale event tickets and more.
The tournament is more than a fun weekend getaway. "The crazy part of this tournament is our Black Out worth a total of $40,000. We will be looking for the first Black Out worth $25,000 then there is a second chance of $10,000, and then a third chance of $5,000. If someone bingos the $25,000, then we keep going for the second and the third chance," says Visser-Wolf.
Win or lose, schedule a trip to the Seven Inlets Spa to ease the rigors of bingo elbow or dauber wrist. Real ailments? No, but worthy of a massage, facial and Mint Melon Mojito Body Wrap just the same. Once you're rejuvenated, pop by the Creekside Buffet or many other delicious resort dining options.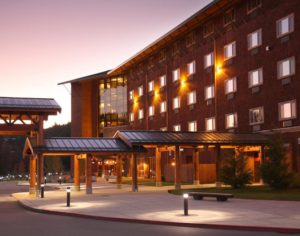 September 9 – 10 is also the weekend Little Creek hosts their free Wine and Jazz Festival. Relax on the golf club's driving range for live jazz, decadent treats and stunning summer sunsets.
For an hourly breakdown of tournament game times and prize payouts, visit the 'Daubin for $$$' event page. There you'll find specifics on the Northwest's largest bingo tournament and can purchase entry tickets online. Call 800-667-7711 with event questions or to book your newly renovated hotel stay or RV spot.
The evolving history of bingo keeps us on our toes with its ever-popular variations. Come enjoy the game at its finest, thanks to Little Creek Casino Resort.
Sponsored