Submitted by Adopt-A-Pet
Meet Schotzie!   She is a cute, sixty-nine-pound lovable German Shepherd/Lab mix.  Schotzie quickly became a volunteer favorite with her sweet disposition!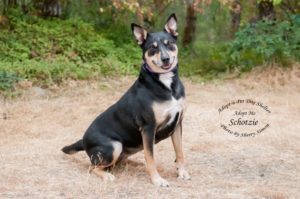 Her beautiful coat is a nice combination of black and tan with a white chest.  Her face is a mask with a polka dot over each eye!   Schotzie loves fetch, car rides, walks, and companionship!  If you can provide her with love, a securely fenced yard, exercise, and a grain-free diet, she might be just the dog you are looking for!
Adopt-A-Pet has many great dogs and always need volunteers. To see all our current dogs, visit the Adopt-A-Pet website, our Facebook page or at the shelter on Jensen Road in Shelton. For more information, email thedoghouse3091@hotmail.com or call 360-432-3091.