As I drive down Lynch Road about halfway between Olympia and Shelton, it is hard to imagine what it must have been like hundreds of years ago. However, pulling up to Little Skookum Shellfish Growers, I am reminded of times gone by when I am greeted by a stately Cape Cod style home overlooking the small bay and expansive property. Although much has changed over the years, roots still run deep here. Lisa Bishop and her husband Brett are the current owners, and she tells me the business and property have been in his family since 1883.
It all started when the California gold rush failed to produce for Jeremiah Lynch, and he headed north. What he found was a bay called Little Skookum and he decided to homestead here. It was not long before he discovered the bountiful shellfish on his tide flats and began to harvest and share them with the community, planting the roots for a business that would span generations. "Back then it was all bartering. He would shuck the oysters and then trade for whatever they needed. It was the farming life," Lisa explains.
When Jeremiah's niece, Marguerite Bishop, inherited the property she made a few upgrades including constructing the beautiful home still on the property, built in 1932. Lisa says to this day people still share their stories about Marguerite. "It was the Bishop Farm. Everyone in the area knew Marguerite. She was the grand dame of the neighborhood, with fancy dishes, servants and even a bell." She lived the life of luxury and her husband kept the farm running. Lisa takes me inside the original shucking house where, "he would stand and shuck and throw the shells out the window onto the beach and then pass through the buckets of good meat."
In the late 1970s the torch was passed again. Marguerite had decided it was time to sell, because she had no children to pass the property to. In fact, former Washington State Governor Dan Evans showed interest in the property, but some unusual stipulations caused him to walk away. "The deal was she wanted to live in the house until she died, and he didn't want that. Because, really, who would? Except my father-in-law, Frank, who stepped in and bought it, allowing Marguerite to live out her last years on the farm," says Lisa.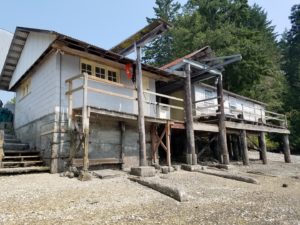 Once Frank was in charge, he decided to form a partnership with his children, ensuring the property would stay in the family and at the same time forming Little Skookum Shellfish Growers. It was the end of one era and the beginning of a new one. After bringing on one wholesale customer, word of mouth spread and today, more than fifteen customers rely on their company every day. In fact, you can find their shellfish all over the world. "I've been in Chicago eating at a restaurant and had our product," shares Lisa.
To increase volume, it was time to begin seeding their beaches. "It's just like farming. If you've got a piece of land, and you want to have good production, you need to put in seed. We buy oyster and clam seed from hatcheries and are able to plant them like you would carrot seeds and let them grow up." But it does not happen overnight. Clams take at least two years to mature and oysters nine months to a year before they are ready. You also have to make sure the water temperatures and tides are just right.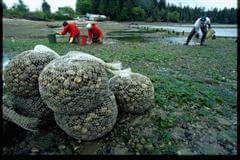 Little Skookum grows mostly Manilla clams and some Pacific oysters on their more than fifteen acres of tidelands. "Someone whose word I value highly said he believes that in the United States, this is the most productive bay. I'm not sure about the world, but possibly," Lisa says. The demand is huge, according to Lisa, but it has gotten tougher over the years to get the seed to plant. Even so, they still ship out about 9,000 pounds a week, and the demand is double that.
Originally Lisa and her husband were not a part of the shellfish company and it was not until 1989 that they joined the rest of the family. When health issues forced the head of operations to step down, Lisa was offered the position and she got to move into the home she had always admired. "I took some crash courses and learned as much from my brother-in-law as I could before he stepped down. Then I kind of hit the ground running. I thought it would be a temporary job and it's been 20 years."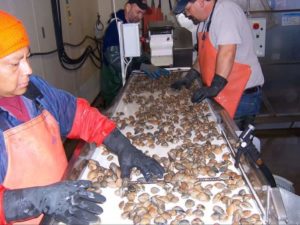 Fortunately, there are very loyal employees at Little Skookum Shellfish Growers who have helped to ensure its success. Carl is Lisa's right-hand man and has been with the company for forty years with no plans to retire. "He's the mainstay here. Five or six days a week, working all hours of the night. He's a God-send. The water and the employees are what make our company."
And that is why when I ask Lisa where she hopes to see Little Skookum in the next ten years, she responds, "I don't want to be huge. It's still going to be a family farm. And when I say family I mean all the guys out there, all the guys out on the beach and the girls. They're family and I care about what's going on with them and always will."