Submitted by Rebekah Finn for Harlequin Productions
In 2008, I had the incredible privilege of seeing the award-winning play August: Osage County at the National Theatre in London. We watched as, onstage, three generations of an American family struggled through the resentment and secrets they had pent up for years. The next day, we would be flying home to our own American families after three months of studying theater and literature abroad. Most of us were twenty-year-old kids, having just spent the longest time away from our parents ever. We missed our families and were ready to go home for the holidays, but we each privately wondered what our homes had in store for us after so much time and distance. Would our relationships be different? Would we fight with our parents? Would our siblings think we'd changed? Would we be happy to be home?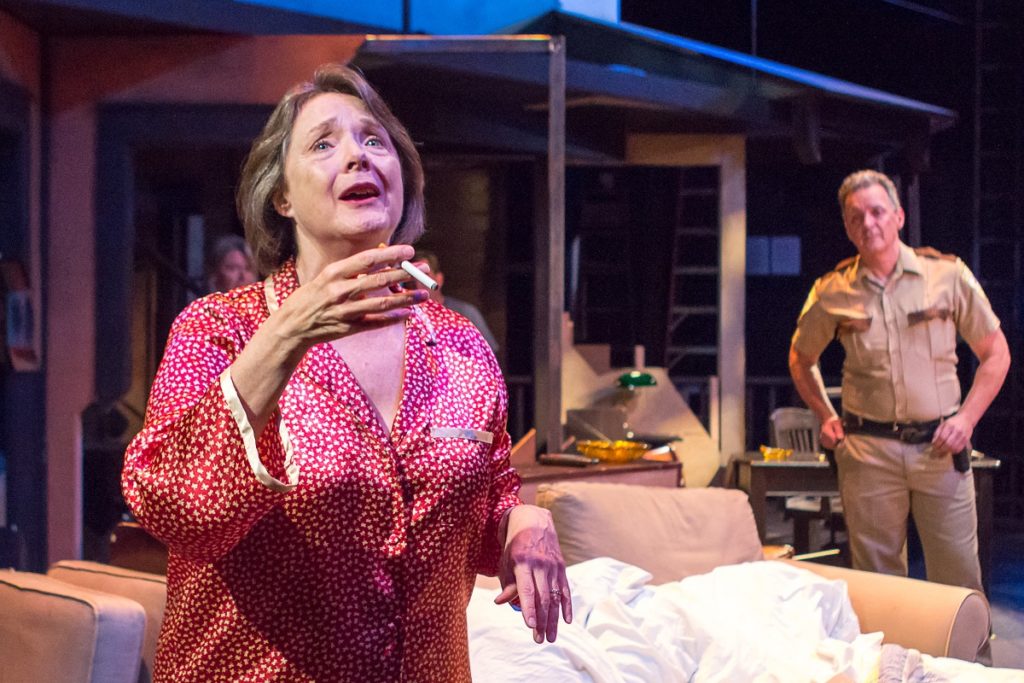 Sure, all these thoughts had been swirling somewhere in the back of our minds, but Tracy Letts' incredible writing in August: Osage County had a way of pulling the emotions of our family relationships to the surface. Further driving the point home, we had been studying T.S. Eliot all semester, and the references to Eliot's poetry in the play gave the final stitch, sewing together our studies and our personal lives.
"This is a classic example of art mirroring life," says Aaron Lamb, who is directing the local production of August: Osage County with Harlequin Productions. "The family relationships, the problems and interactions, while specific in the play, are so recognizable to any great American family."
And isn't this part of the point of any piece of art? To show us a new way of looking at ourselves and our world? To laugh, to cry, to give an outlet to our emotions? My theory is that these are the reasons this particular play became so popular so quickly and even won a Pulitzer Prize. Indeed, this is a very well-known play in the theater community, and Harlequin Productions has wanted to put it on for many years.
"The difficulty is the size – the cast is large, the set is large, it's long, it's a lot to rehearse, so it's a big undertaking," explains Lamb, "but we've finally nailed it down."
Not to say that it has been an easy path since beginning preparations. It has certainly taken its toll on its director's energy level, but he is very proud of the work of the entire cast and crew, saying:
"We have a very skilled cast. Every member is of a very high caliber." One name you may recognize is Ellen McLain, who is known for voicing GLaDOS in the video game Portal and will be playing the devious Weston matriarch Violet. Well-known Seattle actress Angela DiMarco will be playing one of Violet's daughters, Karen Weston. They are also joined by beloved Harlequin regulars Jason Haws, Ann Flannigan and Russ Holm, plus Doug Fahl, John Forbes, Dana Goodknight, Bill Johns, Janette Oswald, Mackenzie Platt, Brian Pucheu, and Jenny Vaughn Hall.
"Directing this show is similar to an opera, because it's huge. With thirteen people, a set with seven rooms and three levels, it's a lot to orchestrate. And textually, the script is almost like music, so it's a way of shaping and phrasing text and spoken word in a similar way to phrasing a piece of music."
The title of the play gives us the setting. It is a hot summer in Osage County, Oklahoma when the Weston family is reunited over the disappearance of their patriarch, the esteemed poet Beverly Weston. You may recognize the plot and title from the 2013 Hollywood production starring Meryl Streep and Julia Roberts. While I've heard mixed reviews from the common cinema-goer, the film itself was nominated for multiple awards including Oscars, Golden Globes, BAFTAs, and Screen Actors Guild awards.
Lamb's comment on the film? "If you've seen the movie and didn't like it, maybe that's because it can't really speak to you in the same way as it was intended to on the page, so give it a shot here [at Harlequin]. If you've seen the movie and did like it, you'll probably like this better because this was its intended medium."
How will this production be different from the movie and other interpretations of the play?
"My philosophy in approaching this piece as a director is to tell this story without trying to add to it. I'm staying really close to the page. It's a piece that speaks for itself, and I need to honor that and not try to overpower it with my ideas," explains Lamb.
And I can personally attest to the fact that this text will speak for itself. If you let it, this play will be an incredible emotional experience for you. Come to the theater and find out what I mean.
August: Osage County opens on August 24, 2017, at the State Theater in downtown Olympia, and runs through September 16. Get your tickets at the Harlequin Productions website or call the box office at 360-786-0151.