Back in 2010, Northeast Olympia Neighborhood residents Daniel Landin, Shari Trnka and Marie Poland were looking for a way to bring their neighbors together to celebrate and cultivate community. After a few brainstorming sessions, the idea for the Love Our Local Fest was born.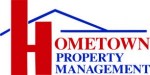 In the festival's seventh year, what began as a neighborhood gathering has now blossomed into an event for our whole city to come together to "celebrate local musical talent, local foods, local artisans and healers, and creative skill-sharing." This year, Love our Local Fest will be held on August 27 from 1:00 p.m. to 9:00 p.m. As the event takes place at the intersection of Bethel and San Francisco streets on the Eastside (near Roosevelt Elementary School), members of the Northeast Neighborhood Association are still an important part of putting on the event.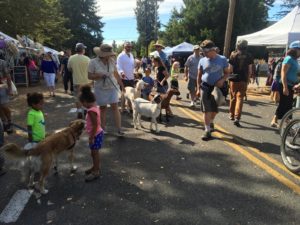 Co-organizer Ashley McBee, a six-year Olympia resident, shares, "Over the years, the core group of coordinators has fluidly evolved with the event to include humans from all the neighborhoods in our community – with each sharing a unique skill set that takes Love Our Local Fest to new heights." Gail O'Sullivan of Fertile Ground Guesthouse and Ground Inn is a twenty-one year resident of Olympia and and one of this year's co-organizers. She adds, "The support of the neighbors has been critical in making this event smooth and orderly."
Last year, organizers attained official 501(c)3 non-profit status and began a formal partnership with The Commons at Fertile Ground, which serves as their fiscal sponsor. This now makes the festival eligible to receive grants and donations to help with event costs. "Having a home to ground us for the rest of the year has made organizing and potlucks so much easier," Gail adds.
Organizers estimate there were between fifteen-hundred and two-thousand attendees at last year's Love Our Local Fest. Event attendees can expect a variety of vendors and activities on hand this year. "Supporting our local economy means supporting our neighbors' livelihoods and directing our dollars at the improvement of our own community." says Ashley. "Attendees can directly impact their local economy by purchasing products and services from more than sixty artisans and healers and the businesses that sponsor the festival. The pieces of Love Our Local, from the composting toilets (which were an amazing hit last year!) to the vendors we choose – are supporting local economy, fostering creative action and minimizing our environmental footprint."
"The main goal is to celebrate the clever, artistic, devoted people who make up this amazing town," continues Gail. "It's so encouraging to see how many ways people are making a living, changing the world and providing hope. If Olympians 'live in a bubble' this is the bubble within the bubble!"
Some of the highlights of the festival will be the local musicians who will perform throughout the daylong event. A few of the groups that will be on hand this year include Luna Melt, Artesian Rumble Arkestra, The Pine Hearts, The Psychedelic Shadow Show, Cavegreen, Skrill Meadow, Daniel Walker, The Buddha Magoo, as well as a performance by Dream Spirit Fire-dancing Troupe.
Organizers also believe in the importance of individual health and self-care for overall community wellness. With that in mind, there will be a "Healing Haven" at the event, with a variety of holistic professionals on hand. Attendees can pay for on-site services like shamanic healing with Liz Randol of Spiritpath Transformational Healing, acupuncture with Callie R. Blackwood from Flourish, psychic readings with Linda Jollo, reiki and aura readings with Pat Brack of Sacred Perspectives, introductory coaching with Trillium Awakening Olympia and massage with Jamie Brayshaw of Full Circle Health and Healing.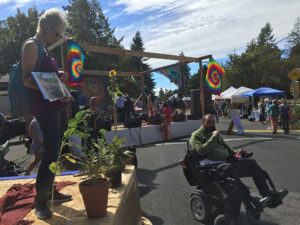 In addition to the Healing Have, artisan booths, food vendors and music, there will be twenty community group and non-profit booths at the event. Attendees can learn more about how these agencies support our community safety net and sign up to volunteer. "Each participant has been encouraged to incorporate a hands-on approach to their booth this year, so people can have more fun without spending any money," says Gail.
Other free activities during Love Our Local Fest will take place in the Commons area, where Ashley says, "participants can enjoy live art and participate in skill-sharing workshops hosted by Arbutus Folk School. We are excited for the Commons to be another avenue to build resiliency and foster creative action."
Above all, organizers stress that this is an event driven by and for our community. "For this one day a year, we have fun, we celebrate, we support each other, we learn, we engage, we get the feel goods," says Ashley. "We come with light hearts and open minds and leave with full cups. Attendees (and organizers) continuously testify to Love Our Local Fest's power to bring us together – for this one day and beyond. Love Our Local is a grassroots, volunteer driven community event. We openly welcome and depend on community members to step forward with their skills, time and financial support to keep this event going."
If you are interested in volunteering, organizing an activity or becoming a coordinator please contact the Love our Local organizers through their website or Facebook page. Donation boxes will be at the event and the new non-profit requests people to give what they can to support the continuation of this free event in 2018.