While I hate to admit it, summer is drawing to a close and school starts up again in a few short weeks. If you haven't finished (or started) your back-to-school shopping yet, the Centralia Outlets are a great option to get everything done, all in one place. The first stores originally opened in 1988 on the west side of I-5, just off Harrison Street in Centralia. In 1992, the owner at the time added a new complex on the east side of the highway and the current owners completed another round of renovations for all the stores from 2006-2008. Now, the complex boasts thirty-two outlet stores with a wide variety of goods, many with great selections of kid's clothes and back-to-school gear.
Renate Johnson, marketing and property manager for the Centralia Outlets, shares, "If you want to save money on your kids clothes, this is where you want to be. If you like name brands and if you like saving money, shopping at the outlets is a perfect fit. Everything is at least twenty-five percent off retail, every day. Then, during the back to school season, there are additional specials throughout the shops. Our stores carry sizes for kids in kindergarten through college – everyone who's going back to school is covered."
A few great options include Gymboree Outlet, which carries clothes babies up to age eight, Children's Place, which carries infant up to size 16 and also carries school uniforms. Two favorites are GAP Factory and VF Outlet, which have clothes for the whole family. Now that there's no longer a GAP in Olympia, many families are happy to find GAP's wide range of sizes and high quality at outlet prices in Centralia. Don't miss clearance specials in all outlets for extra savings.
Volcom and Aéropostale carry styles for teens and young adults and Under Armour Clearance House and Nike Clearance Store have athletic wear, helpful for both after-school sports and for kids who prefer to wear athleisure styles for school. Many of these same stores also have a great selection of backpacks and water bottles.
If you are looking for shoes, in addition to Under Armour and Nike, New Balance Factory Store has a selection of sizes for kids and teens and Famous Footwear Outlet has non-athletic options for all sizes from dress shoes to casual to stylish boots for fall.
To encourage kids to accomplish their twenty minutes of reading at home done each day, Renate suggests checking out the new Book Warehouse which has a great selection of children's books. Kitchen Collection offers storage options and gadgets to make packing those school lunches easier and Hanes Brands Outlet has you covered for socks and underwear.
If you want to stretch your dollars even further, Renate says, "Anytime you come over a holiday weekend like Labor Day, all the stores have huge discounts and you can't go wrong. It's just before people go back to school – it's perfect. Anytime the outlets have a sale, it's really a sale." Under Armour, Nike, and Polo Ralph Lauren are all clearance stores, Renate notes, which means things are generally priced at thirty to fifty percent off the lowest ticketed price offering even deeper savings.
"We're only about 25 minutes from Olympia," Renate says, "so it's easy to visit anytime. Weekends are always busier, so weekdays are great to avoid crowds. All outlets open at 9:00 a.m. where many shopping centers don't open until 10:00 a.m., so buzz down and get here when the stores open to maximize your day." Outlet store hours start at 9:00 a.m. all days except Sunday when they open at 10:00 a.m.
There are some hidden gems in Centralia as well, if you want to make a day of it. Renate recommends grabbing lunch from one of several adjacent restaurants and then heading over to nearby Fort Borst Park. "It's fun to take the kids. They have swings, trails and a little lake."
Another option is to head into downtown Centralia to the historic McMenamins Olympic Club for lunch and a movie, their midday showing typically features family-friendly shows and  you can settle into comfy couches and chairs after your morning of shopping for bargains.
For additional back-to-school shopping deals, check out the online coupon options for Centralia Outlet shops. Many have in-store coupons you can print or show from your smart phone.
Once you have your kids outfitted for a new year, remember there are great options for passing on the gently used clothing and gear your child has outgrown. Little Red Schoolhouse Project especially needs coats, socks, underwear and school supplies and you can find your local Buy Nothing Project group on Facebook too, where you can offer up what you don't need.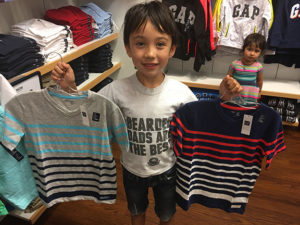 With only a few weeks left until the kids head back to school, why wait to shop at the last minute? Head to the Centralia Outlets now and ensure you are ready for those first day photos.
Centralia Outlets
I-5 Exit 82
Monday – Saturday 9:00 a.m. – 8:00 p.m.
Sunday 10:00 a.m. – 7:00 p.m.
Sponsored