Submitted by YWCA Olympia
They have changed policy. They have increased access to education.  They have stood in the face of adversity. They have made impact locally and internationally. They are Women of Achievement.  YWCA Olympia is pleased to announce that nominations for their Annual Women of Achievement Celebration will be accepted from now until August 18. Past honorees have included Barbara Clarkson (SPSCC Trustee, Co-Founder Black Alliance of Thurston County), Sandi Roberts (Senior Services Estate Store Volunteer), Senator Maria Cantwell, Prairie Rose Hyde of Alaffia, former Washington State Senator Karen Fraser, and Olympia Federal Savings President & CEO, Lori Drummond.
Established in 1994, the YWCA Olympia Women of Achievement Award is one of the most prestigious honors for women in the South Sound and seeks to recognize the amazing accomplishments, professional contributions, and public service performed by women in the community. This award recognizes those who embody outstanding leadership qualities, are exceptionally committed to their community and/or profession, and live or work in the greater South Sound area.   We are accepting nominations for women in our local community who, in the legacy of former WOA Honorees, are working to eliminate racism and sexism to empower women, have advanced the political, social and/or economic status of women and girls, and embody our vision of a world where all people are valued, live free from oppression, and thrive in a just society.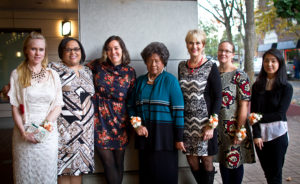 We are also seeking nominations for employers who are actively working to create a more equitable workplace. We encourage nominations for both private and public businesses as well as large and small companies in the South Sound (Thurston, Mason & Lewis Counties). Honored nominees may also be considered based on a number of additional criteria that have been identified by the YWCA Workplace Equity Initiative.
Nomination deadline: Friday, August 18 at 5:00 p.m.
Note: the Young Woman of Achievement Nomination/application is due September 15
Nomination forms and an online application is available on the YWCA website.
Honorees will be formally announced to the community in early September.  The Annual Women of Achievement Gala will take place on Friday, November 10.  For more information about Women of Achievement, contact Cherie Reeves Sperr, Community Engagement Director at 360-352-0593 or crsperr@ywcaofolympia.org.