As a military wife, Brenda Waldrop traveled the world, sampling local restaurants wherever her husband was stationed. "I've had pizza everywhere," she maintains.
So when Waldrop says that she's never had anything like what's offered at Yelm's Pizzeria La Gitana, that's saying something. "Their product is pure," she says. "When I was growing up, my mother was a cook and she made homemade pizza all the time. Whatever part of the country we lived in, she would try to get the best ingredients. It's the same way here."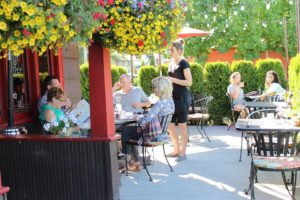 Within the last year, the Yelm location added pasta to the menu after consulting with chefs from Romania, France, Italy and New York. "We have a lot of friends who work in kitchens around the world and they give us recipes and tips," says owner Marian Licxandru. "We worked for six months to get everything just right." The menu now includes spaghetti carbonara, which Licxandru describes as 'breakfast with spaghetti', and spaghetti Bolognese. "It takes six hours to simmer and do the sauce," he says. "We make it twice a week. We started out making one batch but now we make four."
Waldrop and her family have been patronizing the restaurant's Yelm location since it first opened. Part of the draw is the ambience, she says. "They want you to be happy. You are very important to them when you walk in that door. It's so relaxing and they're so prompt with their service. It feels great to go there and know you're not only going to get a good product but they're personally concerned about what you like and what you want."
For Licxandru, guests are like family. "Whoever comes in here, they need to leave happy," he says. "It's like people coming to your house." His business partner Alin Stanciu who manages the Yelm location takes that concept to another level. "He's so friendly that it sometimes takes him half an hour to get from one end of the restaurant to the other. If he comes to a table, he hugs everybody," says Licxandru.
Aside from friendly staff, the outdoor patio also plays an important role in the ambience. Surrounding by green hedges that create an effective barrier to Yelm's main street, the patio includes heaters for cooler evenings and live jazz on Saturdays. Instead of using pesticides on the hedges, Licxandru brought in a type of spider that preys upon another spider that would normally jeopardize the plant. "We could have put oil or other chemicals on it, but people eat here," he says. "We're not going to do that."
His goal is to create a sense of being elsewhere, even in the middle of town. "It's that feeling you get the moment you step into this green patio with the umbrellas and flowers," he says. "We really like it when people come in and say, 'We had no idea this little oasis existed in Yelm.'"
The idea for pasta came to Licxandru once the patio was complete. "We were serving pizza, but there was something missing," he says. "We had the patio and seating was so generous. What if we did pasta too?" Adding the option meant rearranging the kitchen and putting some items in storage, but it's paid off. "Now our customers are pushing us to do lasagna," he says.
In the coming months, he plans to come up with additional pasta recipes. "Innovation keeps you alive," he says. "We get bored doing the same thing over and over. I've discovered that I like pasta without cheese and most of our white sauces have cheese in them, so we're going to create some recipes based on that."
Experimentation is also part of the customer experience, says Waldrop. "When you're trying to decide if you want the white sauce or the red, the staff will let you try it. They'll even let you try the wine. They really want you to be satisfied."
She enjoys bringing her family into an atmosphere free of distractions. "One of the biggest things that I like is that you can sit with your family and there are no TVs blaring at you," she says. "We can get so rushed, but at La Gitana when you settle down and look across the table, it's like, 'Hey, I know you.'"
At first, she worried that children might be bored by the lack of technology but her fears were put to rest. "The staff are right there to help you with anything you need," she says. "Even the wee ones are fine with a piece of paper and a crayon so their parents get to sit down and eat."
Relaxed and happy patrons are exactly what Licxandru and Stanciu had in mind. "We're not a stop, eat, leave place," they say. "Come in, have an experience, take your time and then go away and think about the experience. There's a lot of passion that goes into it."
For more information about Pizzeria La Gitana, call (360)400-2929 or visit www.pizzerialagitana.com.
Sponsored