Submitted by Pizza Klatch
Pizza Klatch, a 501(c) (3) nonprofit organization based in Thurston County, Washington, is searching for its next Executive Director.  This is a full-time, salaried position.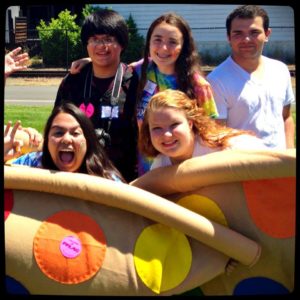 For more information on the responsibilities and duties this position as well as employment details, please download the full job listing and send a resume and three references to Pizza Klatch Board President Marissa Rathbone, marissa@pizzaklatch.org.
Our Mission
To foster resiliency in LGBTQ+ youth and create a safe and positive school experience through support, education and empowerment.
Our Vision
LGBTQ+ youth will be empowered to self-advocate, build community, develop confidence, and easily access resources as they explore and develop their identities.  School will be a positive and supportive space where LGBTQ+ youth are accepted and celebrated – free to learn without violence, harassment, discrimination, suicidal ideation or self-harm.
Pizza Klatch offers weekly support groups for Lesbian, Gay, Bisexual, Transgender, Queer and Questioning Youth (LGBTQ) and their allies in Thurston County, Washington.  PK provides free pizza, two trained facilitators for each group, and a convenient and safe forum for discussion and education.  Presently there are   19 Pizza Klatch groups at 11 local high schools, attended by 8-25 students per lunch, approximately 300 youth per week.
Organizational Goals
●    Decrease suicide and suicidal attempts of LGBTQ+ students.
●    Reduce bullying in schools, reduce self-harm and risky behavior.
●    Help students to feel strong enough to intervene when they witness bullying.
●    Lend support so LGBTQ+ students feel less isolated in the school setting and will be more apt to graduate.
●    Educate group members on various subjects and resources related to gender identity, sexual orientation, and social justice.
For more information about Pizza Klatch, check out the Pizza Klatch website.