It may be hard to believe, but the Olympia Farmer's Market can trace its roots back 170 years. And, its hardest working advocates, the Friends of the Olympia Farmer's Market, make it their daily mission to keep growth, vision and community partnerships alive by preserving and sustaining the market's rich traditions and goals.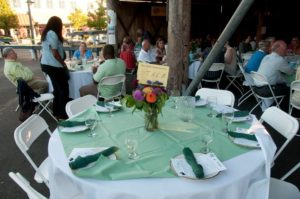 One way the Friends of the Olympia Farmer's Market achieve this, is through their annual Taste of the Market event. On August 15, attendees will be given the opportunity to experience the market in a whole new way. Friends of the Market board member, Peter Lesser, describes the transformation:
"Guests will see round dinner tables, place settings, white table cloths, wine glasses, white chairs and major local food vendors set up to serve you delectable treats. Attending allows you to enjoy a smorgasbord of the finest cuisine from dozens of local restaurants, bakeries, wineries, breweries and coffee roasters. There will be live music to enjoy, prizes to be won and time to connect, with friends, new and old."
Now in its 18th year, the Taste of the Market has grown in reputation, selling out earlier and earlier each season. With only 400 seats available, it's important to buy your tickets as soon as possible. Tickets are $60 each and can be purchased online at the Friends of the Market website, at the Farmer's Market itself or at both the Westside and Downtown branches of Olympia Federal Savings.
For over a decade, Olympia Federal Savings has been a proud sponsor the Taste of the Market event. With over 100 years of history rooted in our community, Olympia Federal knows the value of sustaining local businesses and the positive impact such action has on the economy.
Oly Fed's marketing and public relations manager, Ryan Betz, speaks to the importance of supporting the market.
"The Olympia Farmer's Market gives back to the community in countless ways. It starts as a platform for small businesses and growers, an affordable and accessible means to sell their products. In the end, you have not just thriving businesses, but a destination that brings people from all walks of life together, that infuses the Olympia waterfront with life and vitality."
Special to this year's event will be a tribute to the recently passed, Mr. Steve Wilcox, a veteran supporter and vendor of the Olympia Farmer's Market. "Steve was a founder of both the Friends of the Farmer's Market and the Farmer's Market itself. As a vendor at Sea Blossom Seafood, he was a force of good in both organizations as well as the larger community and will be extremely missed," Peter shared.
Olympia Federal Savings and the Friends of the Farmer's Market encourage you to check out this year's event. When you support the Olympia Farmer's Market, you are supporting something bigger than yourself. You are sustaining local vendors, independent artisans and organic farmers who in turn, give us fresh organic produce, meats, seafood, unique gifts, fresh cut flowers, live entertainment and so much more.
Additionally, funds received through community support are used to promote sustainable agriculture through educational grants, awarded to individuals studying these practices. To find out other ways your donations have positively transformed the market, visit the Friends of the Farmer's Market website.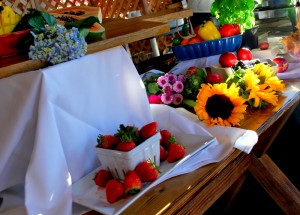 "Taste of the Market gets better and better every year," added Peter.  "There is always something new to try and old favorites to count on."
So, make plans to join Olympia Federal Savings and the Friends of the Farmer's Market on August 15 at 5:30 p.m. for an evening of creative dining, tasty treats and sustainable tradition.
Secure your tickets today at:
Olympia Federal Savings (Westside and Downtown Branches)
In Person at The Olympia Farmer's Market
Online at the Friends of the Olympia Farmer's Market Webpage
Sponsored