Of all the little luxuries life affords us, dining out is far and away my favorite. I love the way every restaurant smells differently. I admire the careful creativity in food styling and presentation at an upscale eatery. But I equally relish in the simplicity of a perfectly executed grilled cheese in a diner.
When it comes to dining out, I paint with a broad brush. I delight in a fancy brunch brimming with mimosas. And I have been known to indulge in a happy hour cocktail accompanied by small plates and appetizers. Oftentimes these joyous experiences are scattered far and wide across many establishments. But with the addition of The Governor's Cellar to Olympia's dining repertoire, one can revel in culinary glee from sun up to sundown in one place.
Chef and owner of The Governor's Cellar, Lanette Miles, doesn't miss a beat when it comes to cuisine. "I want the food to be pretty, but it also has to taste really good," says Miles. As a graduate of Seattle's Art Institute and owner of catering company Contessa, Lanette has acquired an expertise that is unparalleled in the Olympia food scene. Her attention to detail and creative flavor pairings yield a menu that is both colorful and deeply satisfying. If I may, I'd like to take a moment to brag about their menus and encourage your prompt sampling of them for yourself.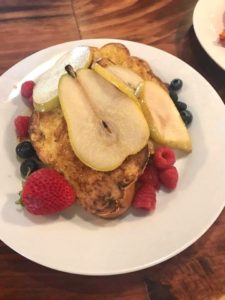 Let's start with the most important meal of the day, breakfast. I love my morning meal for so many reasons. The first of which being that it is the only meal where you are essentially allowed to consume dessert and have it count as part of a balanced three-meal-a-day diet.
The breakfast menu at The Governor's Cellar is not limited to sweets, of course, but if one has the option to partake in Pear French Toast with brown butter, one should take that option. If savory is more your speed, the Green Chile Biscuits and Gravy or Bacon Sliders might be the menu item for you. Lighter fare like oatmeal and fruit salad are also available. For special occasions or a weekend brunch, just add a mimosa.
There is an hour of the day that I believe most of us are familiar with. It is an hour that beckons us from outside the office and gets us through the last pile of paperwork on our desks, allowing us to wrap up the workday. That hour is one we have quite appropriately deemed "Happy Hour."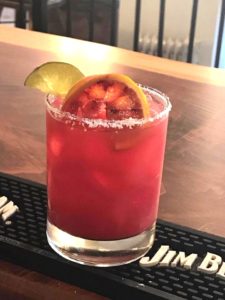 Lanette is no stranger to this beloved hour and has been so kind as to offer us Olympians a happy hour menu at the Governor's Cellar that will wet your whistle and satisfy your appetite. Daily from 3:00 p.m.-6:00 p.m. the bar serves cocktails like The Lobbyist and The CEO in addition to local beer and wine selections. Munch on a mélange of meats and cheeses and spicy fireball buffalo fries. Happy Hour at The Governor's Cellar is perfect for unwinding after work or catching up with friends.
The dinner menu at The Governor's Cellar is just as exceptional as each of the other menus. Offerings are composed with as many locally and organically sourced products as possible. The dinner menu changes seasonally to ensure the freshest possible ingredients.
Miles recently released the summer dinner menu which features mouth-watering options like Strawberry Balsamic Grilled Chicken, Lemon Pappardelle and Mango Chipotle Roasted Pork. Lanette also features vegetarian options such as zucchini ribbons, which are served alongside foraged wild mushrooms. Dinner at the Cellar is ideal for date night, girls' night out or simply an evening away from the home kitchen.
The Governor's Cellar offers a sophisticated dining experience while maintaining a comfortable, welcoming atmosphere. The décor is elegant yet simple. The service is pleasurable and the food is impeccable. The Cellar is located on the main floor of The Governor Hotel. While they are a separate establishment, the hotel offers free parking for the restaurant in the hotel garage. Street parking is also readily available.
To stay up to date with seasonal menu updates and to see more of the beautiful culinary concoctions Miles puts together, follow The Governor's Cellar on Facebook and Instagram.
If you've made it this far in the article without hopping in the car and racing downtown to sample from one of The Cellar's treats, I am impressed. While I don't condone noshing from dawn to dusk in one sitting, I do urge you to put The Governor's Cellar on your must-try list for this summer.
With so many menu items to choose from, I can sympathize with the impossibility of choosing just one. Which is why you should try them all.
Now if you'll excuse me, I'm off to The Cellar. Cheers!
The Governor's Cellar
621 Capitol Way South
Olympia WA 98501
360-951-1300
Sponsored