Submitted by TOGETHER!
TOGETHER! and Tumwater School District have been partnering to provide free sports physicals and back-to-school immunizations for students, as part of the Community Schools program, since 2015. This year, 34 medical volunteers served over 250 students in the biggest Back to Basics event yet!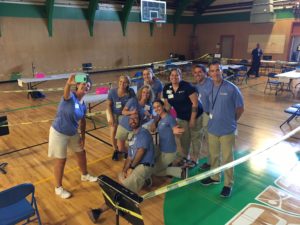 Back to Basics would not be possible without a lot of help. This year's medical volunteers came from Tumwater Family Practice, Providence Tumwater Valley Physical Therapy, Olympia Orthopaedic Associates, Providence Sports Medicine, St. Peter Family Medicine, Tumwater Vision Health, and Tumwater School District's own Health and Wellness Department. More community volunteers, including many TSD and TOGETHER! staff members and friends, helped with set-up and directing families through the clinic. Representatives from CHOICE Regional Health Network, Sea Mar, YMCA, TOGETHER!, TSD Health & Wellness and Tumwater High School ASB provided information about community resources and primary care services to families as they exited the clinic. Food for volunteers was provided by Trader Joe's, and financial support for the expansion of the event from Kaiser Permanente, Tumwater Walmart and the City of Tumwater.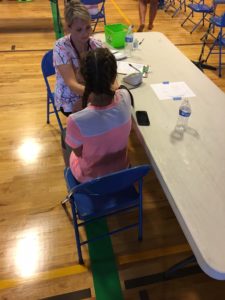 If you missed Back to Basics, don't worry! Low-cost sports physicals will be available at St. Peter Family Medicine Clinic, 525 Lilly Rd. NE, on August 8 at 5:00 p.m. The fee for this clinic is $20 per student.
TOGETHER! is a local nonprofit organization that advances the health and well-being of all youth through impactful programs that align with their core values of equity, mobilization, and systems change. They partner with schools, local governments and other community organizations to provide services such as free after-school and drop-in programs, in-school resource coordination, health promotion, and substance abuse prevention. For more information about our programs and how you can be involved, please visit the TOGETHER! website.