The Lowe family is a bit of an institution in Thurston County. Their history begins in Tumwater at the brewery and in Shelton at Simpson Lumber. Today, fifth generation Lowes are tearing up the soccer fields at local high schools. I sat down with Tommy Lowe of Greene Realty to learn more about his love of the real estate business and learn some Lowe history along the way.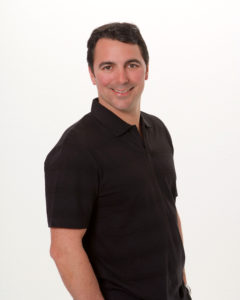 Tommy's grandfather worked at the Olympia brewery and Tommy fondly remembers visiting him at work during the noon hour. The brewery workers would be enjoying their lunch along with the beverage of choice – Olympia Beer.
His great-grandfather, paternal grandfather and uncles all worked at Simpson Lumber in Mason County in the days of the steam donkey. A steam donkey is a winch run on a boiler engine used to transport logs before the invention of diesel powered tractors. Tommy's father worked for the State of Washington and he and his wife raised their five sons in Tumwater.
All five Lowe boys were very active in sports and attended Tumwater High School. A wrestling mat in the upstairs rec room and a makeshift goal post created the ideal spot for all the neighborhood boys to hang out at the Lowe house. According to Tommy, football practice was a piece of cake compared to an afternoon in the Lowe's backyard.
After high school graduation, Tommy went to work for Washington State Fish and Wildlife. He built fish ladders and worked with salmon restoration for five years. He loved being outdoors and his next job involved fighting forest fires with the Department of Natural Resources. While he was working for the State he was also buying land in Littlerock and building houses on five-acre tracts on the side. He realized that he was good at the real estate side of things during this time and decided to obtain his real estate license.
In 2007, Tommy Lowe retired from the State and began to sell real estate full-time. Shortly after his decision to quit his salaried job, the market crisis of 2007 hit. While he briefly questioned his decision-making Tommy was not afraid of hard work. He continued to stay busy, learning about short sales and helping people negotiate through the challenging times.
His competitive nature and work ethic saw him through the lean times and today his business is thriving. Team Lowe is busier than ever and he has hired an assistant to help him with open houses and paperwork leaving Tommy time to work directly with his clients.
"I love the real estate business because, at the end of the day, it is all about people and I love working with people," shares Lowe. For most, purchasing a home is the biggest transaction they will make in their lives. It is also one of the most emotional. Tommy enjoys the emotional aspect and making connections. "I love hearing about the history of someone's home and understanding the attachment to that house," he explains.
Tommy has been working at Greene Realty for almost decade and can't imagine being anywhere else. "Jim Greene and I first met on a ski bus and I loved his energy," explains Lowe. "He strives to be the best and, coming from a very competitive family, I was happy to hook my cart to Jim's wagon—I have never regretted that decision."
The agents at Greene Realty are collaborative and take care of the other agents as well as taking care of the greater real estate community. Lowe is proud of the work that Greene Realty does with their charity, the Greene Giving Fund. All agents contribute to the fund and, at the end of the year, select a non-profit organization to donate the accumulated money. The fund reflects the culture that Jim Greene has fostered within the business and that Tommy appreciates as a lifelong resident of the community.
Tommy can work all aspects of real estate with Greene Realty. He does everything from commercial and residential transactions to working with local builders on new construction. His own experience in land development makes him an expert in vacant land as well. Tommy has done it all and he wouldn't have it any other way. "Everyday is different, every transaction is different and they are all important."
The real estate business allows Tommy Lowe the flexibility to work from his car or even his boat while enjoying the community he calls home. An avid outdoorsman, he can often be found crabbing on the Puget Sound with his brothers or backpacking with his son, Rylan. His daughter Megan plays soccer for the Black Hills Wolves and I recently spotted Tommy on the sidelines of a "friendly" match against Olympia High School. Tommy loves living and working in the playground of the Pacific Northwest.
For more information on Green Realty or Team Lowe call 360-528-4160 or email info@greenerealty.com
Sponsored