Submitted by Thurston County Public Health & Social Services Department
Do you like your house to shine and want to make sure that it's as healthy as it is clean? Do you take pride in your roses and need to know how to deal with aphids?  Do you strive for a healthy, green lawn and want to protect your pets and children from toxic chemicals lurking in many lawn fertilizers?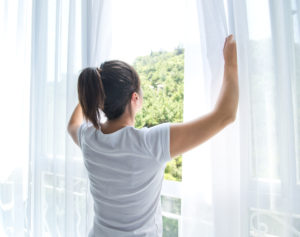 Good news! You can get useful home and garden tips delivered to your inbox every two months. Thurston County Public Health & Social Services Department has recently launched a new e-newsletter designed to keep you in the loop with the best home and garden tips, whether you are dusting, landscaping, or controlling pests in your yard. The newsletter is full of inexpensive, time-saving, and practical tips for creating a healthy living space, both inside and outside. Get suggestions to improve indoor air quality, reduce allergy and asthma triggers, deal with mold, and learn safe and healthy ways to care for your garden and lawn.
When asked why Thurston County Environmental Health is putting out a newsletter on the topic of healthy homes and gardens, Jennifer Johnson, Thurston County Education and Outreach Specialist, explains "We want to make our education program more accessible to the people of Thurston County and this tool directly delivers helpful information about what they can do inside and around their homes to make themselves healthier!" Cynthia Taylor, another newsletter contributor adds, "The e-newsletter is a fun, interactive way that Thurston County can fulfill its mission of promoting healthful, social, economic, and environmental conditions for all residents. We want people to know how they can easily reduce hazardous materials in their lives."
Each newsletter features six sections: Home, Garden, Lawn, Dig Deeper (with links for more information), Question and Answer, and a list of Local Events and Classes.  Here is a sneak preview of from the Home section in our August edition:
What is in dust?
Insect parts
Pollen
Spores
Dust Mites
Skin and Hair Particles (from people and pets)
Animal Dander
Soot
Pesticides
Chemicals (flame retardants, plasticizers)
Bits of auto tires and brake pads
Lead, arsenic, cadmium, copper.
Dust is an allergy and asthma trigger and it's one of the main ways we are exposed to toxic substances like lead and arsenic. That's why taking measures to reduce dust in your home is important. It's especially important if you have small children, because their bodies are just developing and they spend a lot of time near the ground where the dust hangs out. If that isn't enough to motivate you to dust your home and vacuum weekly, did you know that dusty surfaces are more likely to grow mold on them? Mold can thrive with a consistent source of moisture and dust. One way to prevent mold is to wipe down surfaces in areas where moisture and humidity are common, like the bathroom, kitchen, and around windows and doors.
Subscribe today and tell your friends. Subscribe here, e-mail healthyhomes@co.thurston.wa.us, or call 360-867-2582.