The Four Square Mile Music Festival, named for one of Tenino native Adam Craig's songs about his hometown, is this weekend, July 28 and 29, 2017. Adam and his band are excited for the sixth year of the growing event, fresh off a tour with Luke Bryan and a year full of musical milestones.

On February 4,, 2017, Adam Craig achieved a country music singer's dream, performing at the iconic Grand Ole Opry in Nashville, Tennessee. One might think this accomplishment would mark the top for the country singer, but according to Adam, things aren't slowing down at all.
"A couple weeks before the Opry performance we kicked off our year with Luke Bryan at Crash my Playa in Playa del Carmen, Mexico. The single 'Just a Phase' came out a few days after that on February 6. It's been really cool to have a single out on country radio and now we're in the top 40, which is absolutely insane. This whole year has been crazy," shares the singer whose upbringing in Thurston County has left a strong mark on his music and life.
"I was up in Chicago a couple weeks ago playing a festival and the Grand Ole Opry had a stage set up there. I was invited to play a couple songs and then they informed me I would be playing the Opry once again," Adam says.
He again took the iconic stage on July 8. For the thrill of seeing "Tenino, WA" published on the Grand Ole Opry's webpage, visit Adam's Biography which sings high praise for his vocal abilities and lyrics that capture not just the happy or sad, the good or the bad, but all the in between where real life exists. The biography goes on to say that Adam Craig is "… going to signal another shift in the genre, and bring the good guys back."
"I'm pretty sure that Tenino, Washington has never been mentioned on the Grand Ole Opry stage, until now," laughs Adam.
On June 23 Adam performed at a Chicago White Sox for Country Music Night as well. "I grew up playing baseball and football. Now, I've been lucky enough to be in the country music industry," Adam says. "But, so often it seems that if you're a country singer, you wanted to be a baseball player or if you're a baseball player you wanted to be a country music singer. You're both looking at the other side of the fence, saying 'you're job is so awesome.'" And though playing his music and the national anthem was an honor, the highlight may have been throwing out the first pitch.
With all the excitement and milestones Adam has seen this year, you might thing a return to Tenino may seem a bit of a letdown. You'd be dead wrong. The local boy is always excited to return and play for the home crowd
"I cannot wait to play the set this year at the festival," says Adam. "It's going to be such a fun time. We've learned so much from Luke Bryan and Brett Eldredge after being on tour with them this year. I just can't wait to get home and play our songs."
With the single 'Just a Phase' in the top 40, Adam Craig is amazed to hear the audience singing along while on tour. However, folks at the Four Square Mile Music Festival have been singing along for years.
"This is our sixth year at the Four Square Mile Music Festival and people knew the songs for all the other years – I mean all of them," says Adam with a smile. "It's always great to go back to play and sing with everybody. I cannot wait."
Adam says he'll be playing his favorite songs at the festival including songs he's recorded, but not yet released. "Those are always my favorite because they're like fresh baked cookies; they always taste a little better than two-day-old cookies. The newest songs and the one's you have just recorded – those are your favorite."
The opening line-up on Friday July 28 includes Ty Adams, a singer-songwriter from the Pacific Northwest, performing an acoustic set. The former lead singer of Aces Up, Ty played the festival before and the crowd loved him. Dylan Jakobsen, a singer-songwriter out of Seattle, is new to the festival. His current single, "Silverado" is charting at #48 on the Music Row CBO chart.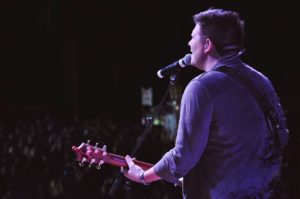 Saturday July 29 the Olson Bros Band, a high energy Olympia-area country/rock band, returns. Also joining the line-up is Northwest favorite Aaron Crawford.
If this is your first time to the Four Square Mile Music Festival here is what you'll need to know according to coordinator Kristi Burke.
"The festival is general admission and lawn chairs, blankets and strollers are welcome. We have some amazing food being served up by Tenino native Bryce Hughes of Simply Organic Café and Catering. He's making BBQ boxes this year and we cannot wait to try it. The Tenino PTA is also serving  hot dogs, chips, pop, water and candy. When the sun goes down, it cools off quickly, so bring a jacket or sweatshirt with you. After 9:00 p.m., you cannot re-enter if you leave and no outside food or drink are allowed."
The most amazing part of the festival is that it's all for a good cause. Proceeds go to the Adam Craig Foundation which donated over $50,000 in the last five years back to the youth of Tenino. The Foundation has contributed to the needs of every Tenino school, from tables to tablets to musical instruments as well as to community sports programs and the Tenino Quarry Pool.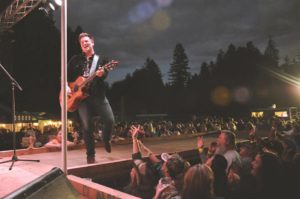 "It's different every year," says Adam. "When we started this, we based it around my interests – music and sports." The Foundation has donated guitars to fifth graders in the school district, an instrument not typically available to students. "I didn't pick up the guitar until I was 18," says Adam. "How old are you in fifth grade? Eleven? If you are picking up an instrument, one you can really get into, that early, who knows where it will go?"
For Adam, it has gone all the way to the top and the local boy has made it big, playing the biggest stage in country music – twice. Yet, each year, he returns to his favorite stage and favorite fans right here in his hometown of Tenino.
Four Square Mile Festival
July 28 – 29, 2017
$15 per day, presale / $20 per day at gate
$25.00 weekend pass
Free for ages 12 and under
Purchase tickets online or at Tenino MarketFresh  or Hedden's Pharmacy in Tenino.