Submitted by Judy Welsheimer for Fantasia Twirling Corps
From the capitol of Washington to the capitol of Wisconsin The Fantasia Twirling Corps rocked the dome at the 2017 United State Twirling Association's Baton Twirling Championships on July 10-15 in Madison, Wisconsin. The team of 15 girls ranging from 6- to 16-years-old competed at the 6-day event held at the Alliant Energy Center in Madison.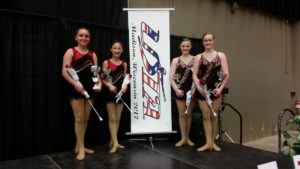 Charlize Dixon and Zara Yokoyama, both 12, won the Juvenile age division Solo Pairs. This is their first national cup win. Twins Katiana & Kirsandra Welsheimer, 16, are the reigning Junior Solo Pairs Champions. Katiana & Kirsandra also won the Junior Dance Twirl Pairs Cups.  Solo is a routine that must have certain elements, aerial skills (toss tricks), rolls, contact material,  horizontal and vertical material, as well as exchanges between the two members.  Solo is the base skill routine for twirling and has been adapted to Solo pairs, two twirlers performing a synchronized solo twirling routine.
Many of the twirlers placed in the top 7 of their national events with Zara, Anna Mae Archer and Danika Dixon moving onto the semi finals round for their events.
Along with the national competition, a separate Festival of the Future competition was held for beginner and intermediate level athletes. In this portion of the competition twirlers Kalista Johnson, Emma Ross, Sophia Gomez Knight, Anna Mae Archer, Natalie Jonen and Charlize Dixon won first places.
Our Juvenile twirl team of 8 members captured first place in their Beginning Twirl Team division.
During their visit to Wisconsin, the team also had tome for a bit of site seeing. They had adventure to the Caves at Mount Horeb, cheese tasting and exploring downtown Madison and its capitol building.