Please your eyes, astound your taste buds and honor the health of your body while supporting a local business as well as a local farm. Susie Kyle's expanding enterprise, aptly named Yummy Local Foods, offers discerning customers optimal choices for ready-to-eat foods.

When you stand in front of Yummy's stall at the Olympia Farmers Market, behold the vibrant green salads topped with yellow and blue edible flowers. Susie smiled and said knowingly, "Tastes as good as it looks!" She will invite you to sample the garlic-basil super sauce. It makes a bold introduction to your mouth; then the juices start flowing, literally and figuratively. Ideas pop into your head. Yes, it is a salad dressing, but you can taste it on pasta, atop your scramble eggs, slathered inside your sandwich or used as a grilling marinade. One customer imagined it on her pizza. It is made with extra virgin olive oil, fresh basil and garlic, balsamic vinegar and a few seasonings. Yummy is passionate about the quality of all the ingredients.
Yummy's foods are made in Yelm in a commercial kitchen near Kyle's home. The story of Yummy's evolution includes many elements that stretch over time and space. Since 1995 Kyle has been living on an organic farm. She told me, "I fell in love with farming," though she had not planned to be a full time farmer. In the early days of the Olympia Farmers Market, she sold the potatoes she grew. Kyle was, however, very interested in protecting farmlands and a healthy food supply, and she became an advocate. She was concerned about her own eating, and said, "I didn't want corporations making my food choices." Her activism made it clear that local farming was aligned with her beliefs. Her notion, she said, was, "If I did it for others, I'd be more likely to do it grow my own food."
About six years ago Kyle was making garden burgers for a sports facility in Chehalis. She was selling her super sauce and protein peanut butter bars. One day she realized she had developed a brand of foods.
It was time to take the class from Enterprise for Equity, a microenterprise initiative that helps people with limited incomes start and sustain small businesses. This process helped her gain the confidence to expand her business and engage with three working partners. She began acquiring equipment and figuring out ways to increase production. Her son, Brad McCulloch, his fiancée, Erin Cole, and friend, Tischia O'Farrior, work together. All the recipes and products have been fully developed and market tested. Susie's daughter, Mari Mankamyer, owns and operates Mari's Farm with her husband Tim Mann. They now grow many of the ingredients for Yummy's recipes and provide the salad greens.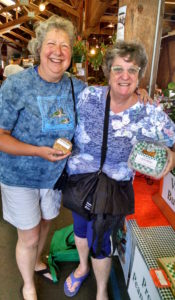 Visit the Olympia Farmers Market to find the garden salads, garlic-basil super sauce, peanut butter bars and veggie burgers. I have eaten an array of non-meat burgers and appreciate having an alternative to beef. Some are pretty good. However, by the time they arrive on my plate they have been thoroughly processed, frozen, packaged and traveled. Yummy's burgers are delightfully fresh with recognizable ingredients like carrots, kale and pumpkin seeds. They also contain cheese and eggs. Most ingredients are organic and/or local. Yummy's vegetable burgers are already fully cooked, but I sautéed mine to a golden brown with a dab of organic butter. Yes, it was very yummy, and tasted like something I would have made at home had I dedicated the time and energy to do it.
The full product line includes various quinoa salads, soups, dips, fermented vegetables and two cookies: salted chocolate chunk and old-fashioned oatmeal raisin. Returning customer, Lynn Grotsky, loves the peanut butter bars. "It's my favorite cookie of all time. It's really fresh, hearty and has a fabulous texture."
To purchase, visit the Yummy Local Foods stand at the Olympia Farmers Market or click on their website and make an online purchase.
As a nutrition educator and health enthusiast, I hold the vision that everyone is buying healthful ingredients, preparing them at home and enjoying meals together. Realistically, I think many people want to do this but are challenged by time, energy and living their lives. I love opportunities to purchase food that is ready to eat yet is not packed with chemicals and preservatives. The bonus is that Yummy's foods are made by people nearby by who care about all of us eating well. Now that is delicious.
You can also find Yummy products at the Yelm Food Co-op, Yelm Farmers Market and Mackey's Gas Station (Dylan's Corner).
See you at the Market!
Eat Well – Be Well