Do you have a child who loves playing video games? If so, you may be one of the many parents seeking ways to engage your kiddo away from their game console. And if that activity can combat summer learning loss and get them out of the house, all the better. Lucky for you, Saint Martin's University has a new summer camp teaching advanced computer science skills perfect for gamers. The new video game development camp for kids ages 11 to 18 teaches beginning game development and design through hands-on activities.
Camps run July 31 through August 4 and August 7 through 11. The one-week day camps will be held at the Saint Martin's University Lacey campus in the new Panowicz Foundry for Innovation and E.L. Wiegand Laboratories. No prior experience is necessary. Just a love of gaming and a desire to take that passion to a new level.
"For a kid who loves to play video games, building them is even better," says Saint Martin's University professor Mario Guimaraes, Ph.D., chair of the computer science program and the camp's primary instructor.
Previously, Guimaraes taught a similar camp in Georgia with great success. There, he ran four camps a year for three years. The camps are important, he shares, because they expose youth to skills that they can use for new technology jobs in the future. Getting them interested while young is the key.
"We wanted to reach out to the community and introduce more students to technology early," says Guimaraes. "The earlier you get kids interested in STEM-related subjects, the better. It also gives them a safe place to spend part of their summer interacting with other kids with similar interests."
Students will be using GameMaker, producing two-dimensional games. Attendees who show more advanced skills or who complete their games early will be introduced to Unity, which can produce three-dimensional games. The attendees will learn basic problem solving skills as well as the basics of video game development. Guimaraes adds that while they obviously won't learn everything related to the field in one week, they will learn practical skills they can take with them and use in other computer science-related subjects.
Saint Martin's University computer science students will be helping as well. "Having the Saint Martin's students on-hand helps us give one-on-one tutoring to the campers since we expect to have attendees at many different levels," Guimaraes explains. In addition, it will give high school-aged attendees a chance to speak with college students and ask questions about university life.
The Saint Martin's students get something out of it, too. They will learn how to help with the instruction of younger students, develop problem solving skills, and get experience in tutoring.
Just last year, the Saint Martin's computer science program was moved from the College of Arts & Sciences to the Hal and Inge Marcus School of Engineering as part of a program redesign geared toward aligning it more fully with the current job market. The university created a stand-alone computer science department, hired new faculty and charged them with creating a new curriculum with the goal of accreditation through ABET (Accreditation Board for Engineering and Technology Inc.).
"Being ABET accredited makes the graduates more employable because it's a mark of quality," says Saint Martin's University professor of engineering Dave Olwell, Ph.D. Olwell is also dean of the Hal and Inge Marcus School of Engineering and helped create the video game development camp with Guimaraes. "It's very difficult to get a job after graduation in a computer science field if you graduate from a school that's not accredited. We want to make sure our students have the best chance at employment upon graduation, so that's why we are pursuing the accreditation."
The computer science ABET accreditation requires a more substantial foundation in mathematics and sciences than the university had offered before, and additional courses have been added to the program, explains Olwell. The computer science major now features combined tracks in software, web, and mobile application design and development. There's also a newly developed major in information technology.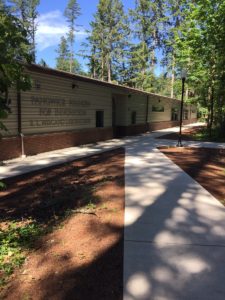 The computer science program at Saint Martin's is designed to give all students a solid analytical foundation, strong computational skills, and allow them to complete a capstone project that is relevant to current industry needs.
"This is why we are so dedicated to our outreach programs including the STEM activities with the Boys & Girls Clubs and our new summer camp," says Olwell. "We want to make sure students understand that they can be successful in math and how important math is in the technical fields. We want to get them fired up enough that they'll say [during the school year], 'Yeah, okay. I will study my algebra.'"
Saint Martin's offers many events throughout the year that give school-aged students a chance to see real-life applications of STEM subjects, encouraging them to pursue these fields when they enter college.
Enrollment is open now for Saint Martin's University's two video game development camps this summer. Early sign up is recommended as space is limited. The cost of the camp is $199 per student per week. To sign up, visit the Saint Martin's University website.
Sponsored