Super Heroes and Stunts take over the Hands On Children's Museum during the month of July as part of the Summer Splash! Festival which includes themed adventures, live stage performers, animal guests and special museum activities, sponsored by Olympia Federal Savings.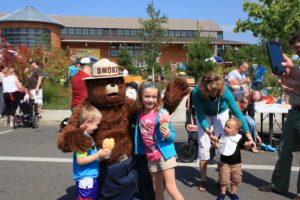 The Summer Splash! Festival is the Museum's signature education event and features three months of exciting interactive learning experiences designed to engage children and alleviate summer learning loss when kids are out of school. Other July activities include silk-screening super hero capes, soldering super robots and sewing super hero sidekicks—all in the new MakeSpace.
The Museum will also feature special exhibits during July including the chance to paint a vintage camper, climb a rock wall and explore a T-28 airplane from the Olympic Flight Museum. Nature Play happens every day in the Museum's Outdoor Discovery Center with Chicken Talks, Mud Pie Mondays and children's garden activities.
Throughout the month, special guests will be onsite to help bring Super Heroes and Stunts to life. On July 19, and 26, Danger Room Comics will offer comic book readings. And of course, you can't have a superhero-themed month without superheroes.
Superheroes from the Portland Superheroes Coalition will visit July 22 and Emerald Kingdom Costume Characters and Part of Your World Princesses will be there on July 23. Smokey Bear will also be making an appearance, a classic hero for our woods and earth.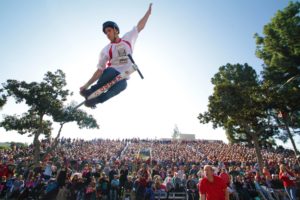 In the outdoor space, HOCM will be overflowing with super-powered activities all month long. The popular rock wall will return July 18 and 19 where your child can scale a wall just like Spiderman. Also, outside will be a Superhero Obstacle Course and Astro Splash Ball.
Face painting will be offered daily where children can get a superhero themed makeover or a design of their choice and a superhero-themed photo booth will be on-site so kids can take home a memory of their super day at the Museum.
Don't Miss Special Guests
July 6-8, check out The XPOGO Stunt Team, considered the world's best extreme pogo crew, holding 13 Guinness Book of World Records. These high-flying professional athletes, often soar over ten feet in the air on extreme pogo sticks, performing flips and tricks. The team has been featured on numerous media outlets including Ellen, ESPN, Disney, the Today Show and the Tonight Show, among others.
Along with the XPOGO team, the Museum will also feature Hero, the Super Collie, the world's youngest champion trick dog, performing July 21 and 22. The five-year-old Border Collie and his trainer, Sara Carson, have appeared on The Late Show with David Letterman, the Purina National Dog Show, Family Channel and Pet Network commercials.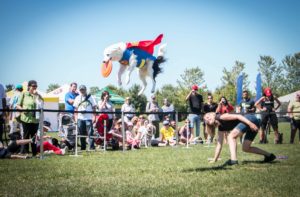 "Both of these are really exciting guests and we can't wait for them to perform here," says Amy Brockman, Senior Development Manager at the Hands On Children's Museum. "The whole family will enjoy watching them."
The best part? All Summer Splash! activities, make-and-takes and special performances are free to the public with Museum admission or membership. The Museum offers Free Friday Night the first Friday of each month from 5:00 to 9:00 p.m. This month's free evening falls on Friday, July 7.
For a full schedule of Summer Splash! events, visit www.hocm.org/summersplash or call (360) 956-0818.
Sponsored