Jack Gerhard is moments away from competing in the biggest race of his life and he can't stop laughing.
It's the opening day of the 2017 US Rowing Youth National Championships in Sarasota, Florida and the mood among the participants prior to the start of the time trial for the men's pairs is best described as intensely serious.

"Everyone is dead focused," said Gerhard, a recent graduate of Capital High School.
Save for Gerhard's Olympia Area Rowing teammate, Nick Taylor.
"He's cracking jokes," Gerhard said. "This race will determine whether or not you go to the semifinals, and Nick's telling jokes. Our club is kind of known for being screwy at starts."
Ask Gerhard what he remembers most about his introduction into the world of rowing four years ago and he doesn't need much time to provide an answer.
"You're wet, cold and miserable," a grinning Gerhard said, "and all you want to do is quit."
The reason he didn't?
"You meet the people here and they keep you in it," Gerhard said. "I've met my best friends at this club over the last four years. The great thing about rowing is there is a lot of downtime when you're not out on the water. You get really close to your teammates."
So close, in fact, that one would know the perfect time to inject some humor into a potential nerve-wracking situation in an attempt to take the edge off. And it worked.
Gerhard and Taylor, a 2017 graduate of Olympia High School, became the first OAR members to medal at nationals after placing third in the men's pairs on June 11.
The placing advanced the duo to the 2017 Under 23 World Championships Trials, underway now in Princeton, New Jersey. The competition began June 26 and runs through June 30.
Winning athletes will earn the right to represent the United States at the World Rowing Under 23 Championships, which will be held July 19-23 in Plovdiv, Bulgaria.
"It's going to be 19-year-old Nick and I taking on these 21- and 22-year-old college guys," said Gerhard, who has competed at nationals the last three years. "It's more about getting that experience (then where we finish). It's another box to check. No matter how we do, it's something that can never be taken away."
Gerhard and Taylor secured their place at the World Trials by stopping the clock in the men's pairs at nationals in a time of 6:58.016 – less than a second in front of a team from the Tacoma-based Commencement Bay (6:58.666).
The top three finishers in each event advanced.
"Everything is behind you (in rowing). Your destination is behind you. You can't look to see where you're at you need to row," Gerhard said about whether or not he knew if they cracked the top three. "We both thought we got it, but you never know when it's that close. They weren't even a second behind us. We asked some spectators who took third and when they said Olympia Rowing and we started celebrating."
The celebration continued onto the podium where Gerhard and Taylor received their third-place medals and an inquiry from the second-place finishers.
"Right after we all got our medals they said, 'No one cracks jokes before races. What's up with you guys?" Gerhard recalls.
Gerhard and Taylor advanced to the finals after three days of close competition on Mercer lake in New Jersey. In the finals on Thursday, June 29, the pair took third in the nation in the Men's U23 Lightweight 2 finals. A placing they can be proud of, bringing home a medal for OAR.
Teammates Stephen Vogan and Johathon Kneeland, also in New Jersey for the competition, took second in the U23 Men's 2x final on June 29.
It's that family-like bond that sets OAR aside from other programs, added Gerhard. "It's phenomenal the retention rate Olympia Rowing has," Gerhard said. "A huge factor is the people here."
Gerhard's introduction into the sport came about unexpectedly. As a freshman, he paid his first visit to the West Bay Olympia marina with his mother and uncle.
"I was probably already 6 foot at the time. I'm this tall skinny kid and one of the (OAR) coaches came up to us and said I should try out for rowing," Gerhard said. "I had no idea what to expect and just showed up one summer. It was a fluke basically that I got involved."
A stroke of luck that now has him completing against some of the best rowers in the world.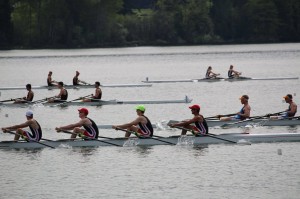 "A lot of people handle it differently," Gerhard said about rowing. "Once I start rowing it's a serenity for me. It's a safe place. Once I'm on the water everything else goes away."
The world trials are just the beginning of a hectic summer for Gerhard as he will attend the University of Washington in the fall where he will row for the Huskies.
"The great thing about their program is nothing is solidified. They'll cut people very quickly. So, my seat is not guaranteed," Gerhard said. "I have to work very hard the first three weeks to make sure I keep it."